News
Progressive World Expo 2030 Busan cooperation
Preparations for hosting the World Expo in Busan, such as the second presentation planned for June, are now well in hand. With respect to his pledge to support the hosting of the expo, president-elect Yoon Suk-yeol has established a task force under the presidential transition committee. Local and national gover-nmental entities carry on public collaboration efforts with hopes of creating an exponentially sustainable and worthwhile national identity.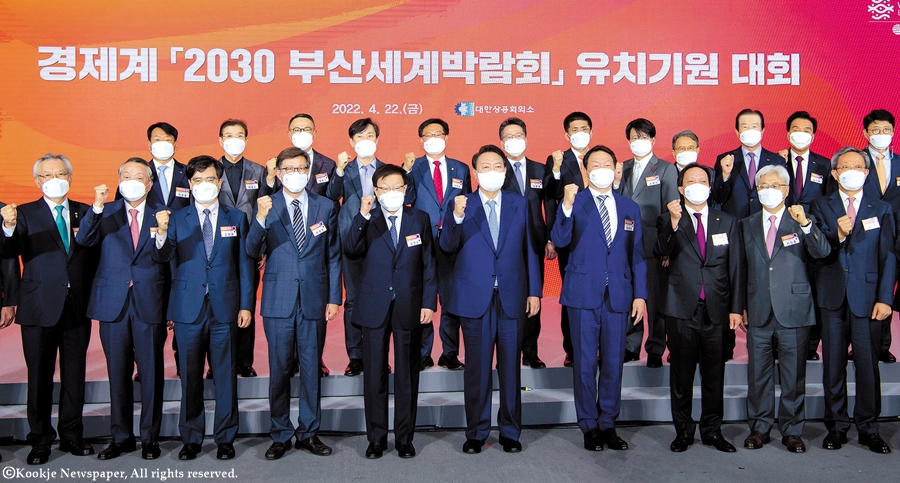 △ President-elect Yoon and Busan Mayor meet with others to dicuss the World Expo.
The task force said that it would make efforts to have it adopted as the political agenda. Adding that, it will involve plans to resolve congestion in metropolitan areas and reorganize the framework of national growth. Organizational charts for attracting businesses are being discussed with governmental support. Chances for a successful bid are expected to increase should the expo be selected as an agenda task catalyzing cross-border collaboration and BIE on-site inspection optics.
Official and unofficial outlets are getting involved in promotions. Following Lee Jung-jae, AI personality "ROZY" has been appointed the second honorary expo ambassador. She is Korea's first virtual influencer and will promote Busan through her Instagram.
To further promote the expo, the city has installed photo zones at popular spots like Busan Station, Daejeo Eco Park and Osiria Tourism Complex. Webtoon characters are also at the photo zone in Busan Station and statues of Boogi, Busan's mascot, can be found at Daejeo Eco Park and Osiria Tourism Complex. These areas hope to boost domestic collaboration.
"The World Expo 2030 Busan university student campus promotion group," composed of local university students, added the aspiration for the World Expo. Sixteen teams from 11 universities, including Pusan National University, Donga University and Kyungsung University, joined the group to inform their campuses about the expo.
Nationwide, businesses and corporations are also taking part. Hyundai Heavy Industries Co., Ltd. applied the expo's logo to this season's soccer uniform. DAESUN Distilling Co., Ltd., headquartered in Busan, is producing soju with messages supporting the expo. Hitejinro, the nation's largest alcohol company, added a promotional message to "chamisul," its most popular soju. BGF Retail is selling promotional items at CU convenience stores. Lotte Group and Hanhwa Group are also participating by creating promotional videos and displays.
The BIE has decided to temporarily remove Russia and Ukraine as bid candidates until September, leaving Busan to compete with Riyadh, Saudi Arabia and Rome, Italy.
■ Busan International Sister and Friendly Cities Council
Last month, the city held the inauguration ceremony for the "Busan International Sister and Friendly Cities Council" to discuss the best ways to host the expo and expand city diplomacy and national branding globally. Such autonomous and active promotion activities would focus on strengthening the intercity relationship of BIE member countries on different continents, China, Japan and ASEAN countries. Therefore, experienced business owners and diplomacy experts created "Busan International Sister and Friendly Cities Council" to create an atmosphere for civic participation and highlight the urgency of attracting the expo.
Council members include members of major delegates such as the Busan Chamber of Commerce & Industry and the Busan Consul. The cumulation of these diverse private networks will foster productive, positive exchanges with BIE member countries from Central America, South America and Oceania. Approximately 30 individuals joined the council and expressed their cooperation toward a successful bid.