News
Seize one of ten speciality selected trail courses
Busan, both an international tourism city and a 15-minute city in pro-gress, where citizens can access all educational, medical and cultural facilities within 15 minutes, established "YOLO Galmaet-gil." Among the existing Galmaet-gil Trails, Busan Metropolitan City has selected 10 "YOLO" Galmaet-gil courses, full of local charm and easily accessible by public transportation. YOLO, which stands for "You Only Live Once," is an expression preferred and referen-ced by the youth. YOLO sounds like "Come here," when said in the Busan dialect, which implies walking is the recommended way to get around.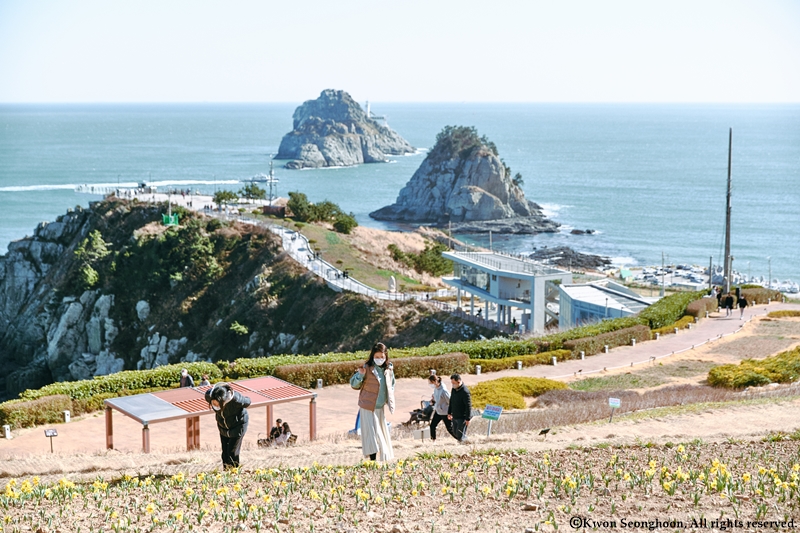 △Oryukdo Haemaji Park is one of the stops along the fifth "YOLO" course and one of the most popular places along the Galmaet-gil Trails.
Galmaet-gil, in its entirety, is nine courses stretching over 278 kilom-eters. A trail approximately 100-kilometer-long was selected as the YOLO trail, which includes seven coastal courses, a riverside course and two mountainous courses. The courses were chosen so that Busanites can once again embrace the trail and travelers can enjoy all the city has to offer within a short walk.
The first course, "Galmaet-gil the Beginning," is 12 kilometers long from Imnang Beach to Gijang-gun (county) Office. "Secret Coffee Road" is the second course and runs 16 kilometers from Gijang-gun Office to Songjeong Beach. The third course, "Blue-line Blue Sand" from old Songjeong Station to Mipo and the fourth course, "Centum Movie Tonight," spanning from Marine City to Gwangalli, are each approximately five kilometers. "Good Weather in Oryukdo Islets" is the fifth course encompassing an almost five-kilometer stretch from Igidae Cliff to Dongsae-ngmal Trail. The sixth course, "Let's Go to Yeongdo Huinnyeoul," is 16 kilometers long from Yeongdodaegyo Bridge to Amir Park. "Sunset Picnic," the seventh course spans about eight kilometers from Sinpyeong to Dada-epo. The eighth course, "Nakdong-Jeongmaek Pilgrimage," is 12 kilometers long from Seunghaksan Mountain to Gudeoksan Mountain. "Life Samnak Path" is the ninth, about 10.5 kilometers long, from Samnak Eco Park to Gupo Station. Last is the "Geumjeongsanseong Fortress Journey," from Gupo Station to the East Gate of Geumjeongsanseong Fortress, an 11-kilometer course. The trails are linked, so guests can leisurely walk between them.
The city plans to develop the course, incorporating storytelling and tours with accompanying street performances along the way and hopes to encourage Busanites to use the trail while invigorating local tourism. The project proposes to create "Galmaet-gil 300ri," which will operate through an application and house a busking performance venue.