News
Multiple luminous winter revelations continue
This winter, lights of hope will appear all over Busan. With the continuation of prudent preventative meas-ures and the introduction of the "Living with COVID-19" scheme, Bus-anites can enjoy festivities once again.
Sanbok Sky Light Festival
Nov. 22 to Jan. 9 on Sanbok-ro Road
Strings of lights, photo zones and installations will line a 1.2-kilometer section of Sanbok-ro, in Daecheong-dong (neighborhood) and Yeongju-dong, Jung-gu.
A striking scene of the port is visible from one of the main lighting se-ctions, the Yeongju Sky Observatory.
How to get there: Choryang Station (metro line 1), exit 1. Take bus 190 and get off at Busan Digital High School.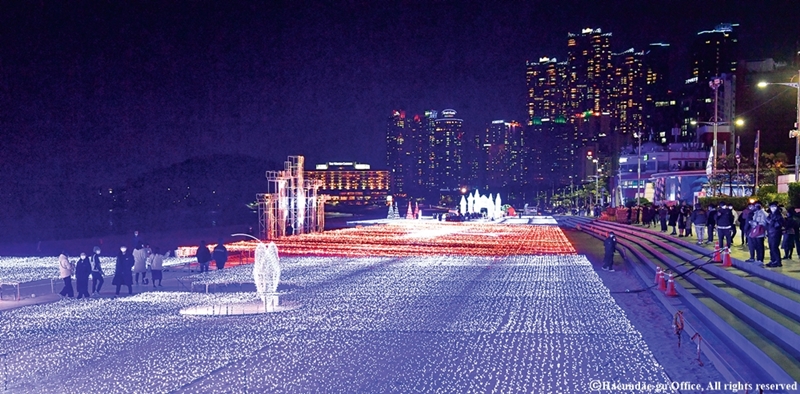 △ This winter, an ocean of lights blankets the sands of Korea's most popular summer destination, Haeundae Beach.
Haeundae Light Festival
Nov. 27 to Feb. 2 at Haeundae Beach
Last month, a lighting ceremony marked the beginning of the eighth annual Haeundae Light Festival.
The Haeundae Beach area will play host to countless activities and light installations. The Haeundae Oncheon-gil space (near the Haeundae-gu Office) has been added to the original line-up of Haeundae Beach, Gunam-ro square and Haeundae Market.
How to get there: Haeundae Station (metro line 2), exit 3 or 5.

△ Busanites' eyes widen as social distancing regulations change and four bright festivals lead the city into the new year.
Christmas Tree Cultural Festival
Dec. 4 to Jan. 9 at Yongdusan Park
This year, the Nampo-dong, Busan Christmas Tree Cultural Festival, which traditionally takes place on the main shopping road, will move to Yongdusan Park as a safety pre-caution.
The main tree, a festival landmark, is installed in its usual spot (Gwangbok-ro intersection). Photo zones with interactive illuminated sculptures stand in the park's Central Plaza. There, visitors can write and hang their New Year's wishes on trees or take in one of the various performances, like a magic show or caroling concert along the way.
How to get there: Nampo Station (metro line 1), exit 7. Go left side for 180 meters and use escalators or s-tairs on the right side.
Light Dream Festival
Dec. 6 to Feb. 6 at Busan Citizens Park
The "2021 Light Dream Festival for Busanites' Hope" will be held at Busan Citizens Park, the city's most famous urban park, in Bujeon-dong from December 6 to February 6.
Every night a fountain light show will be held near South 1 Gate. In addition, LED sculptures will line a 600-meter course from South 1 Gate to North Gate and a walking course from North Gate to the entrance of Busan National Gugak Center (BNGC).
BNGC will sponsor traditional performances and experiences sporadically throughout the festival.
How to get there: Bujeon Station (metro line 1), exit 7. Turn left at Busan bank and go straight about 500 meters.