News
Green smart city dreams for sustainable future

▲ Concept art for a smart eco-friendly floating city, planned in collaboration with the United Nations.
 The climate crisis is no longer a futuristic tale of science fiction. Extreme weather patterns are ensuing due to climate change. Subsequently, the global sea level is expected to rise over a meter, within the next 80 years. Eco-friendly energy and shelters for climate refugees, are urgently needed. Busan, aiming to live up to its title as "Green Smart City," continues its prevention and preservation measures. In order to achieve carbon neutrality and drive the growth of the hydrogen economy, the city has begun collaborating with various organizations. With hopes of perpetuating this momentum, Busan is cooperating with the U.N. on plans to build a floating city off the coast.

▲The hydrogen fuel cell power plant in Busan. (Source: Kookje Newspaper)
■ Cooperation for carbon neutrality
 In July, Korea Southern Power, Hanwha Solutions, Hanwha Energy and BNK groups signed a memorandum of understanding (MOU) with the city to build a hydrogen economy infrastructure. Since then, the Carbon Neutrality Energy Innovation Promotion Council was established and the companies mentioned above have joined. Additionally, various enterprises, universities and institutions, including Hanwha Aerospace, Busan Chamber of Commerce and Industry and Busan Techno Park, have become council members.
 "Carbon neutrality" refers to the concept of achieving net-zero carbon dioxide emissions by balancing the emission and absorption. Busan plans to set up a system to produce, restore and utilize hydrogen energy through the council. Also, a green industrial complex is scheduled to be built with a supply of solar energy and fuel cells. The structure will aid in research development projects for green energy technology.
 The council consists of four departments. The city is in charge of the general support division, providing administrative services necessary for business site development, licensing financial support and securing residents' acceptance. The hydrogen production and storage department, which Hanwha Solutions leads, carries out the production of "green hydrogen" (hydrogen obtained by electrolysis of water) and constructing a hydrogen storage base. The Korea Southern Power is in charge of utilizing hydrogen, which develops hydrogen gas turbines and maintains fuel cell generation facilities. The last department, which organizes the corporate industry support and manages human resources, is guided by Busan Techno Park.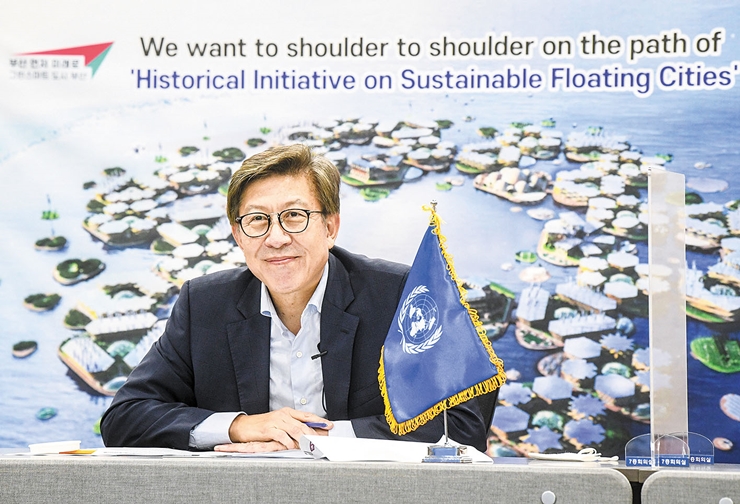 ▲ Mayor Park in a video conference with the U.N.
■ UN discusses a floating city
 On a video conference call, Mayor Park Hyung-jun discussed building the floating city with Victor Kisob, the deputy executive director of UN-Habitat. In October, they plan to investigate and agree on a location and the terms. If Busan chosen as a partner, the 20 thousand square meter floating city will be set up to accommodate approximately ten thousand residents. UN-Habitat, which oversees the Human Settlement Program, will cover all costs for construction and the city will support administrational services related to construction, such as related licenses and permits.
 In April 2019, UN-Habitat first announced plans to build sustainable floating cities. This resolution is aimed at coastal cities and climate refugees threatened by rising sea levels. The envisioned habitat is a self-sufficient village where people can live and recycle resources.