News
Osiria Complex begins to bloom in Gijang
▲ For a fast and fun way to feel the summer breeze, take a ride on the Skyline Luge. (source: Busan Ilbo)
 Recently, Gijang-gun (county), located on the eastern edge of Busan, has taken off due to the growing anticipation of the soon-to-open Osiria Tourism Complex. The complex, which boasts 3.66 million meters squared in width, has an integrated resort. Visitors can enjoy various amenities, including diverse accommodations, shops, restaurants and leisure activities. Areas and attractions are gradually opening, with the entire complex expected to be completed in 2022.
 Near Lotte Premium Outlet, the Skyline Luge is now open and consists of carts flying down a 100-meter tall hill. The luge track consists of four courses and is approximately 2.4 kilometers long. It is designed with tunnels, and winding and curving sections. After visitors ride the Skyride lift to the entrance, they must choose to go down one of two tracks. Then, upon reaching the midpoint, there are two additional tracks riders can follow.
 Skyline Luge operates from 10 a.m. to 6 p.m. on weekdays and from 10 a.m. to 9 p.m. on weekends. A ticket for the luge and Skyride is 22,000 won. An adult must accompany children under 110 centimeters tall. In these cases, an additional 6,000 won will be charged. Tickets can be purchased in advance on the website (skylineluge.kr).
Skyline Luge Information
※ Address: San60-1, Sirang-ri, Gijang-eup, Gijang-gun
※ Phone: 051-722-6002​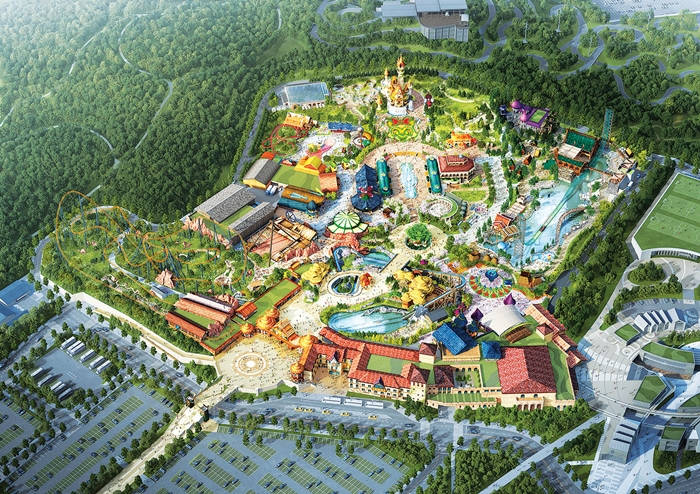 ▲ A projected aerial view of the new LotteWorld Busan, opening in September 2021.
 Additionally, near the luge, Lotte World Adventure Busan will open in the fall. The fairy tale forest-themed amusement park will span across one million square meters of land. Blockbuster-class roller coasters such as "The Giant Digger," which rotates 360 degrees at 100 kilometers per hour, and "PowerSplash," which falls vertically into a puddle from a height of 45 meters, will both be unveiled for the first time in Asia.