News
New Gadeok airport recieves permission for take-off
The air routes in Busan will widen in eight years. By 2029, when the new Gadeok Airport is constructed, 109 cities in 39 countries worldwide are expected to connect to Busan directly. Some cities that may have direct routes are Los Angeles, Paris, London, Sydney and Dubai. In addition, closer cities, such as Yangon in Myanmar and Jakarta in Indonesia, will become easier to visit. It will be more convenient than ever for neighboring countries such as China and Japan to visit Busan.
■ Airport construction law enacted
 The new airport is supposed to be built in Busan, Korea's largest port city. The legislative requirements have been set for building a new airport on Gadeok-do (island), the biggest island in Busan. Last Feb. 26th, the National Assembly enacted a special law for building a new airport. Based on the law, Busan plans to begin construction in 2024 and open in 2029. Due to the 2030 World Expo's governmental promotion as a national project, the new airport should be open in 2029 at the latest to successfully promote and host the expo.
 Busan city has operated Gimhae International Airport since 1976, but the airport currently has several problems. Since the air force uses this facility, there are some difficulties in operating civil aircraft. In particular, it is difficult for large aircraft to take off and land due to the surrounding mountains. The biggest problem is that Gimhae Airport is international, but it's not possible to operate 24/7. As the airport is right next to a civilian residential area, flights are prohibited from taking off and landing from midnight to 6 a.m. to prevent noise pollution. Busan city hall and citizens, over the past 20 years, have made various efforts to construct a substitute for Gimhae International Airport, which has led to the construction of the new Gadeok International Airport.
■ Becoming a worldwide logistic hub
 Busan plans to drive launching the 2030 World Expo with the construction of a new airport. With the new airport opening, Busan will become an important logistics hub by building a Tri-Port system that will connect ports, railways, and airports.
 The new airport is the core infrastructure for Busan to become a complex logistics city. As of 2020, the Busan Port's transshipment volume is fourth in the world and the 269 regular cargo routes ranked third in the world. However, setting up a complex transport system that can respond to the global distribution network can create difficulties without an airport that can operate 24 hours a day. When the airport opens, the harbor and airport will be connected, creating a more efficient and effective logistics business model. When Korea improves the strained relationship with North Korea, Busan has a locational advantage as a stopover or final stop of the Eurasia Railway, developing a unique complex logistics system between continents.
■ Technology brings convenience
 The new airport plans to adopt a futuristic appearance in which all fields of the fourth industry utilize state-of-the-art technology. For example, the new airport will use a robot for an unmanned baggage transport system and implement virtual reality technology for information desks. In addition, self-driving shuttles will take passengers to terminals, and AI (artificial intelligence) will help carry out security screening procedures such as announcements, baggage handling and identification quickly and accurately. Also, an e-ticket based One Pass boarding service that does not require mobile check-in and ticketing procedures even when users leave the country and automatic immigration screening will allow passengers to leave the country comfortably.
 The new airport will be the pinnacle of accessibility. When visitors take the express train that will connect to the new Gadeok Airport, visitors from around the area, including Busanites, can get to the new airport in about an hour. Existing public transportation, such as express buses, will be equipped with routes that lead to Gadeok New Airport. In addition, there will be spacious and ample parking spaces close to the terminal, making it convenient to load and unload even heavy luggage from the car.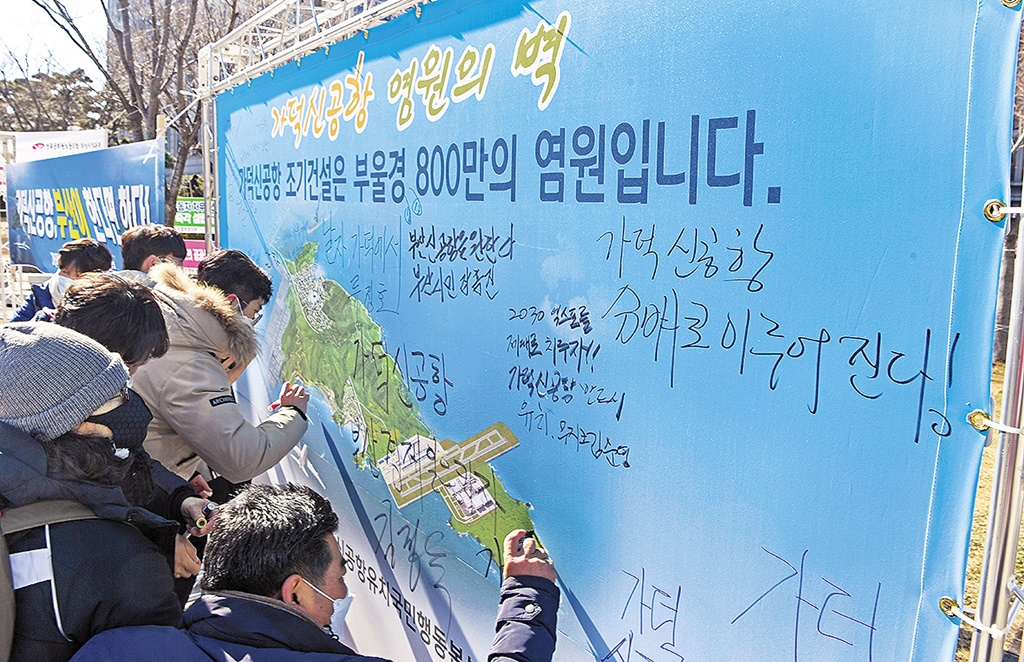 ▲ Citizens writing hopes for the new airport. (Kookje Newspaper)