News
Five-tier social distancing system put in place
On Nov. 7, the national government replaced the three-tier social distancing system with a new five-tier model. It is believed that the new system is more adaptable to an increasing number of COVID-19 cases.
The five levels are as follows: Level 1 is daily life prevention and is applied when fewer than 100 new cases are reported in the Seoul metropolitan area and when there are fewer than 30 to report in other areas.
If these numbers are exceeded, then Level 1.5 takes over. If the number of confirmed cases in the country exceeds 300 or if there is a rapid increase in cases in a day, then the government will consider raising the number to Level 2.
Similar measures apply to higher levels. Level 2.5 will be put into place if there are 400 to 500 confirmed cases across the country or if there is a surprising surge, such as cases doubling in a single day. Similarly, Level 3 will be put into place if the number of cases in the country jumps to more than 800.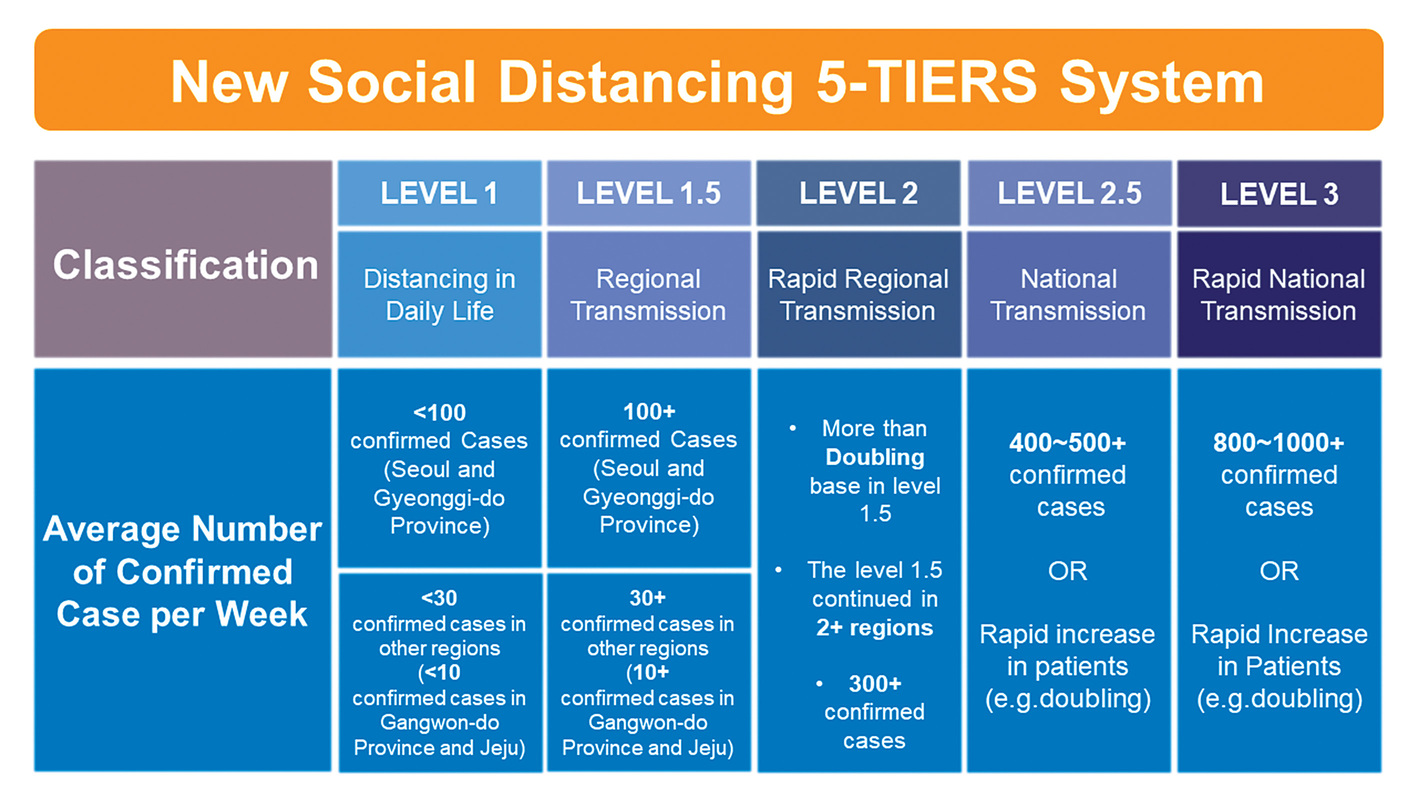 △ New Social Distancing 5-TIERS System
Crunching the numbers
The government is also seeking to establish protocol based on specific figures. For example, it may raise or lower levels after observing the number of confirmed cases in those over 60 years old or noting the country's hospital capacity or infection rate as supplementary indicators to decide what the social distancing level should be. Additionally, the evaluation cycle for indicators has been reduced from two weeks to one.
The numbers involved with public gatherings have also been adjusted. At Level 1, there will be a ban of more than 100 people gathered at once. This will include a limit of 50 people for level 2.5 and 10 for Level 3. Sporting events will allow attendance up to 50 percent, 30 percent and 10 percent capacity, depending on what level is in place. Multi-use facilities, previously divided into low, medium, and high risk areas, now require masks at all times no matter what type of venue it is.
Further measures include instructions on when to work at home. In the event of 400 new domestic confirmed cases on average per week, One third of corporate workers will be required to work from home. Should 800 cases be the weekly average, workplaces, schools, shops and athletic events will all be shut down.
The criteria for imposing fines for not wearing a mask also depends on the level of social distancing. At Level 1, those who don't wear a proper facemask at major and general management facilities, public transportation, medical institutions, rallies and indoor sports stadiums will pay a fine of up to 100,000 won. The number of locations in which it is mandatory to wear a mask is dependent on the number of cases reported and will grow as the level of social distancing rises.