News
Brand new safety systems in place for public spaces
QR code technology
In the interest of public safety and health against COVID-19, the Central Disaster and Safety Countermeasures Headquarters has instituted a QR-code policy for facilities deemed as high risk.
Those who visit high-risk facilities will need to provide their personal information onto a QR code. QR codes are available through the Naver, PASS and KakaoTalk app-lications. Anyone unable to undergo this process may provide their information to required venues by hand, but there will be hefty fines handed to those who falsify information.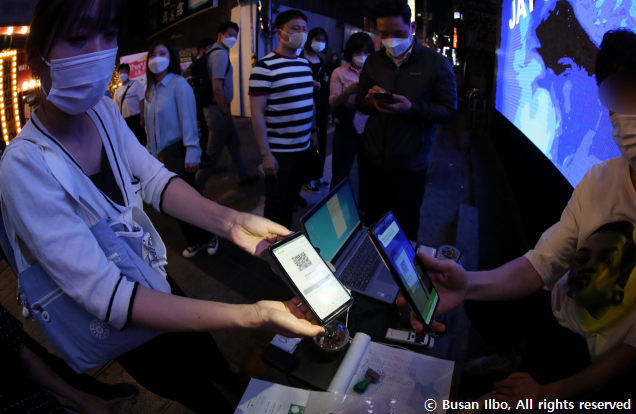 △ QR codes must be scanned before entering venues deemed as high risk.
Facilities deemed as high risk include Millak Waterside Park, entertainment venues (indoor performance areas, bars, pubs, clubs, karaoke rooms, etc.), buffet restaurants, private academies, door-to-door sales companies, distribution centers and gyms. Visitors to the beach will also scan their QR codes before using multi-use facilities like showers and lockers.
Beach congestion
Additionally, Busan is operating a beach congestion traffic system to inform visitors on the sides of crowds at beaches. The city sea tourism website (seantour.kr) is displaying lights in accordance with beach traffic. A green light indicates that a beach is at under 100 percent the number of recommended visitors. Yellow shows that the number of beachgoers is between 100 and 200 percent capacity, while red is higher than 200 percent. Haeundae and Gwangalli Beach began using this system on July 1. Songdo, Dadaepo, Ilgwang and Imnang will start on July 10.
Furthermore, the Ministry of Oceans and Fisheries decided to outline certain sections of the beach so that two-meter social distancing can be maintained. Those who use parasols will be required to record their personal information so that authorities can track them down if they need to.
Beach rules and regulations
▶ Avoid rush hours, and keep your distance from others.
▶ Keep parasols at least two meters from those of others.
▶ Refrain from eating food outside.
▶ Wear a mask when entering public facilities.
▶ Don't spit in the water.
▶ Avoid visiting in groups.
▶ Avoid physical contact with others.