News
Busan schedules 12 months of fests and fun
A new year and a new decade have arrived in Busan, and the city of water, movies and tourism looks to become even more dynamic in 2020.
A river cruise, which offers a beautiful night view of Haeundae via the Suyeong River, is scheduled to begin operations later this month. The Busan City Tour Bus will begin operations to Dongnae in March. There are also many festivals and global events that will make Busan a destination of choice for people around the world.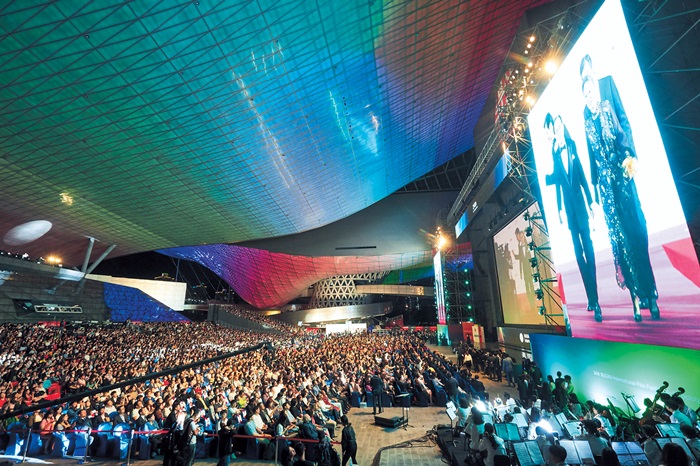 △ Busan International Film Festival will be held on Oct. 8-17.

International arts festivals in music, dance, theatre and visual arts will appear again throughout the year. The months of April through October offer the Busan International Short Film Festival (April), the Busan International Dance Festival and Busan International Performing Arts Festival (June), the Busan International Rock Festival (July), the Busan International Comedy Festival (August), the Busan Biennale and the Busan Maru International Music Festival (September), the Busan International Film Festival and the Busan Choral Festival (October).
There will also be opportunities to enjoy K-Pop, K-Beauty and great local food. The 2020 Busan Craft Beer Festival will be held in June, while the Busan One Asia Festival, Busan Beauty Festival and Busan Webtoon Festival will run in October.
Busan will also be host to numerous athletic events. The 2020 World Table Tennis Championship, which will bring together the world's strongest table tennis players, will be held in March, and the ITTF World Tour Korea Open will be hosted in July. Golf competition in the LPGA will begin in October.
△ Cherry blossoms and Yuchae flower festivals will be held in March to April.
When winter's dreary trees are replaced with pink cherry blossoms, you know spring has begun in earnest. From the middle of April to Buddha's Birthday at the end of the month, temples and parks will hang beautiful lanterns around the city and launch them into the sky.

△ Busan Sea Festival will be held in August.
Summer will continue to be Busan's most dynamic time through its sea and maritime festivals, including the International Marine Leisure Week and Ad Stars. Finally, colorful Christmas trees and light festivals will be held throughout the winter, when Busan says goodbye to 2020 and hello to 2021.