Life
International Busanites become Expo Friends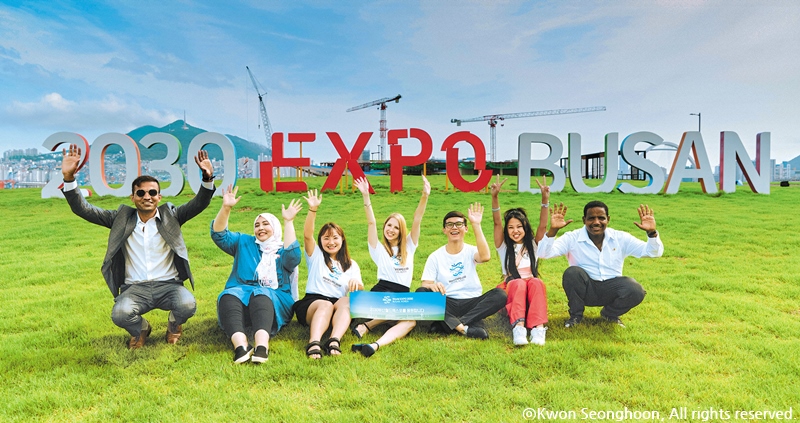 From left, Muhammad Waqas Khan, Ouzar Amina, Nguyen Mai Hanh, Miriam Traverso, Doliev Jasurbek, Mariya Lim and Eshetu Tefera Bekele.
Last March, Busan Metropolitan City and Busan Foundation for International Cooperation (BFIC) recruited local foreign residents and selected 109 Expo Friends from 38 countries. They promote the World Expo on social media, act in presentation material, collaborate with City Hall and more. The members hope to reach followers domestically and globally.
Dynamic Busan met with seven enthusiastic Expo Friends from different countries to discuss the supporter program and the expo. Each was asked to introduce themselves, describe why Busan is the best place for hosting the World Expo and what they would do with friends or family if they visited Busan.
Muhammad Waqas Khan (Pakistan)
Hello! I'm Khan Muhammad Waqas from Pakistan. I received the Global Korea Scholarship (GKS) in 2020 and currently studying Marketing at Pusan National University (PNU).
Busan is the place to be! I've lived in 4 different countries and traveled a lot, but there is no place like Busan. It perfectly fits the description for the World Expo with its mesmerizing beaches and mountains. Not to mention the most spectacular cafes, restaurants, temples, tourist areas and food.
If my family and friends could come here, I would take them to Busan Tower and traditional markets. We would visit a temple to meditate, ride cable cars for breathtaking views and then lie down on a sandy beach.
Ouzar Amina (Algeria)
My name is Amina. I am from Algeria and currently studying Environmental Engineering at Pukyong National University. I've lived in Busan for more than three years.
The World Expo 2030 is the best international event to push Busan toward a well-deserved global standing. Given the current global political and environmental state, Busan can showcase its cultural conservation and development.
If my family could come, I would take them to places I hold dear to my heart. In particular, my favorite beach, Dadaepo Beach; the sunset there is magical. I would also take them to Oryukdo Park, Yeongdo Island and Beomosa Temple. Then, we would go shopping in the Seomyeon and Jeonpo areas.
Nguyen Mai Hanh (Vietnam)
Hello, I am Nguyen Mai Hanh from Vietnam. I've lived in Korea for two years. I was interested in Korean culture so I came to study at Dong-a University. Also, I am the producer for the BeFM show "HELLO VIETNAM."
There are many reasons why Busan is the ideal place for the World Expo, such as experience in hosting mega-events, the global business environment, convenient transport and more. Local hot spots such as the beaches, mountains, markets and villages are plentiful, full of heart and delicious food.
Next year, in March, I will graduate and I hope my parents can attend the ceremony. I'll take them to see cherry blossom trees along many local routes and eat fresh seafood at Jagalchi Market.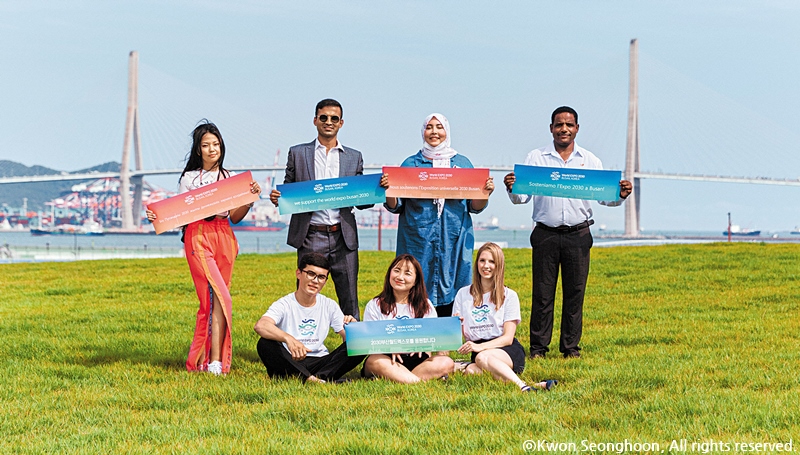 Seven of BFIC's Expo Friends, from all over the world, gather in front of Busan North Port to share their support.

Miriam Traverso (Italy)
My name is Miriam, but everyone calls me Mimi. I'm from Italy and have been living in Busan since last year and studying at Busan University of Foreign Studies (BUFS).
Korea has hosted the Olympics and the World Cup. The World Expo would complete the puzzle, allowing Korea to host all three major global events. Lively Busan is a great tourist destination for city and nature lovers. The local government is going the extra mile and deserves to win the bid!
These are my recommendations: Gwangalli Beach, Yeongdo Island, Haeundae Blue Line Park, Seomyeon nightlife, Busan Tower, Nampo-dong (neighborhood) international market, Dongbaeksom Island and The Bay 101.
Doliev Jasurbek (Uzbekistan)
My name is Jasurbek and I am from Uzbekistan. I'm both a student at BUFS, a Busan Expo Friend and one of the luckiest people in Busan.
Busan has a number of special charms compared to other cities. The beaches offer peace of mind and Seomyeon is for young people to enjoy. Also, you can't see bridges like Yeongdodaegyo Bridge or Busanhangdaegyo Bridge anywhere else in the world. The most important thing is that kind-hearted Busanites help each other and live happily together. Busan has already become my second hometown.
I want to bring my family and friends to the above-mentioned places when someday they come to Busan and show them the beautiful city I live in.
Mariya Lim (Kazakhstan)
Hello! My name is Mariya. I'm ethnically Korean but I was born in Kazakhstan. I'm doing my master's degree in finance at PNU.
These days, in Kazakhstan, it has become popular to open businesses related to Korea. Also, Busan has a very diversified environment and entertainment. It has mountains, beaches, beautiful sceneries, interesting cultural life and nightlife. Many people are interested in Korean culture so an expo would give people another reason to visit.
If my family came, we would go to Gwangalli Beach, especially at night when the lights on the bridge are glowing. Then, we would go to Gamcheon Culture Village, yachting and eat chicken together.
Eshetu Tefera Bekele (Ethiopia)
My name is Eshetu and I'm from Ethiopia. I have been in Korea for seven years. I came to Korea for my Ph.D., through the GKS program. Now, I work at Tongmyong University as a lecturer and researcher.
Busan runs on advanced technologies and is the entry point to North Asia. Additionally, with easily accessible transportation, connecting the world, Busan is the best place to host the World Expo.
If I invited my family or friends here, we would first visit the United Nations Memorial Cemetery in Korea because Ethiopia was one of 22 nations that participated in the Korean War. So, we would go there and give thanks to those heroes, including my grandfather Bekele Melka.