Life
German brewer gives Busanites a hoppy taste
There are many ways to overcome rising temperatures; one way to cool down is with an ice-cold bottle of beer. A Songjeong pub is growing in popularity thanks to its traditional roots. Germany is known for its craft beer and this German brewery is owned and operated by a sixth-generation German brewer. We talked with Andreas Meyndt about his unique establishment.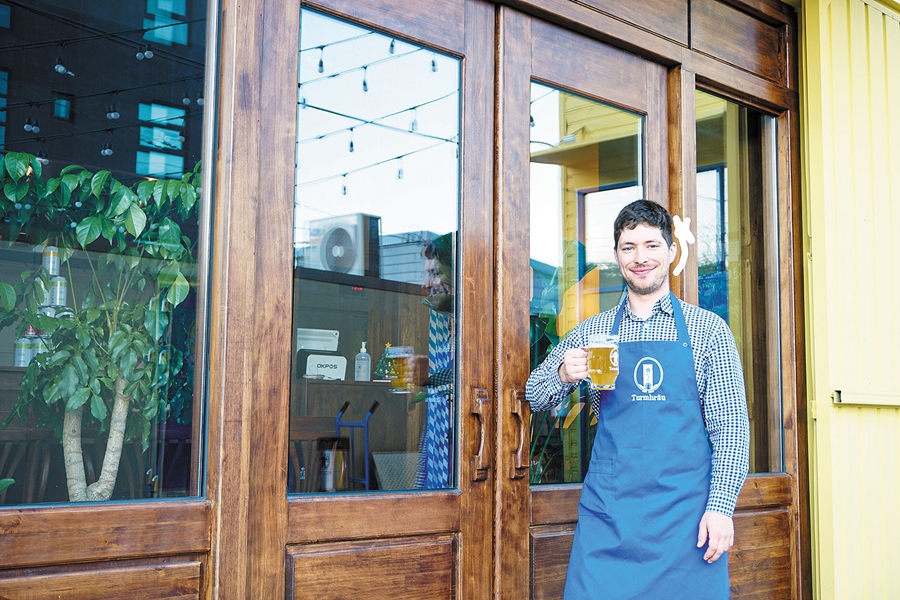 Andreas Meyndt.

Q. Please introduce yourself.
A. Hello, I am Andreas Meyndt. I'm from a small city in Bavaria, Germany called Muhldorf am Inn. In 1907, my family took over the 17th-century "Turmbrau Muhldorf " brewery. They have owned and operated it since. Currently, I've settled in Busan and operate a traditional German brewery.

Coming from his family-owned brewery in Bavaria, Meyndt brings Busan a touch of his home.

Q. What brought you to Busan?
A. My wife was born and raised here, so I visited Busan a few times. At that time, I was captivated by the city's harmony of nature and city. I've been gearing up to open a brewery for a long time. I looked at many sites, but it's not easy to research and analyze locational elements. Trying to find a building with the proper size, purpose, height and accessibility, in addition to finding a place where we can build a customized facility, wasn't easy. However, we finally found a building that met all our requirements in Songjeong. Its position, adjacent to the beach, is excellent because I like that it's so close to nature.
Q. How is Turmbrau different from other craft beer brands in Busan?

A. During my time as a graduate student at Kyungpook National University and on trips to Korea, I visited many breweries and tried a variety of beers. Beer from the U.S. and England accounts for a substantial portion of the craft beer market in Korea. While I am interested in and enjoy diverse creative beer, I wonder why there is no German beer. Turmbrau is the only German-run brewery in Korea. We make authentic German beer the traditional way. As both an owner and brewer, my business is the only brewery in the country where a German is brewing for the entirety of the process.

Meyndt.

Q. What do you do in your free time?
A. Beer is my job, hobby and talent, so I don't know what to say without talking about beer. I love swimming at Songjeong Beach and Ilgwang Beach. Also, I like to take our adorable companion dog "Bori," whom we adopted at a Haeundae-gu dog shelter, on walks in nature.
Q. What are your plans for the future?
A. Since the brewery opened during the pandemic, it has been a tough time for me. However, by continuously growing the business, I hope to turn things around and become Busan's proud local brewery.
Also, I plan to study the Korean language more to integrate myself more into Korean society. In particular, I think the Busan dialect is so cool. One of my goals is to be the German who can speak Korean using Busan's dialect the best across the country.