Life
[INTERVIEW] New U.S. Consul rolls into town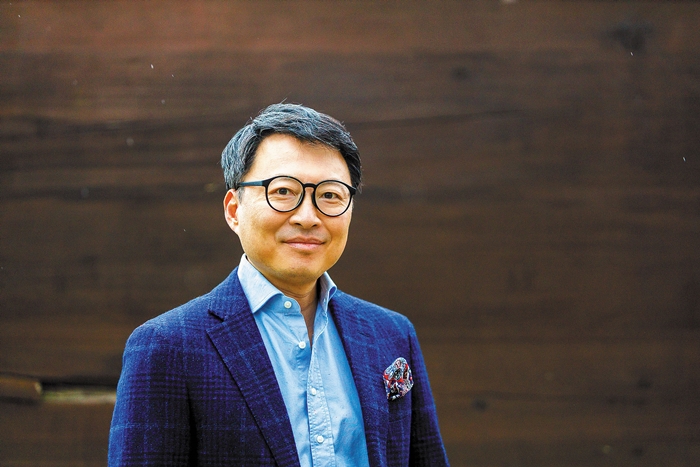 ▲ U.S. Consul David John Jea is eager to boost U.S.- South Korea relations.
 David John Jea made a big splash by arriving at his new assignment, as U.S. Consul, via a nearly 600-kilometer bicycle trip from Seoul to Busan. After his journey through various areas of the country's southeastern region, Consul Jea jumped into his duties with the same energy. He met with Busan Mayor Park Heong-Joon, visited Pukyong National University and took the time to learn about many of Busan's prominent cultural and commercial landmarks.
 U.S. Consul Jea served as a diplomat for the U.S. Department of State in various countries, including the Bahamas, Pakistan and Madagascar. Before arriving in Busan, he was the Macroeconomic Policy Unit Chief and the Political Internal Unit Chief at the U.S. Embassy in Seoul. He has received numerous U.S. Department of State Superior and Meritorious Honor Awards and is a polyglot fluent in Russian, French and Korean. Also, he enjoys biking and spending time with his family.
 He is looking forward to collaborating with the city in countless areas, including culture, tourism, art and environmental issues, in addition to the critical national security issues that enable these other pursuits. Dynamic Busan met with him to ask him some questions about himself and his plans..
Q. Greetings, Consul David John Jea! Would you please introduce yourself to our readers?
A. I'm a Korean-American born in Korea who emigrated to the United States when I was three years old. Growing up in Northwest Florida gave me a love for barbecue, seafood and the ocean. So, I feel right at home, here in Busan.
 After living and working in Europe, Africa, Central Asia and the Caribbean, I arrived in Korea five years ago with my family. I was unsure how South Korea had changed over the years and the expectations I would face. Frankly, my family and I were a little nervous. As it turns out we didn't need to worry, we love it here.
Q. What is the role of the U.S. Consulate in Busan?
A. Since 1982, the U.S. Consulate in Busan has provided various services and functions, including ensuring the safety and welfare of citizens abroad, promoting activities that foster political and economic engagement and strengthening public diplomacy.
 In particular, public diplomacy will always be a part of the Consulate's role. From our office in Busan, we seek to meet the people of Yeongnam and Jeju to encourage communication and stronger relationships. Our diplomatic efforts should include open communication and education throughout this wonderful, diverse republic for both countries to have a deeper alliance and connection.
 I've heard many times that Seoul is not all of the Republic of Korea. Having seen so much of Korea, by bike, and talking to different people from outside the greater capital area, I think I have a better sense of what that means. There are accents, side dishes, tragedies, geography, grievances and unique aspirations that mark the different areas of Korea.
 From the political and economic angle, this region has a fascinating history, as it was home at various times to ancient kingdoms and refugees. At present, it is a hub for giant steel freighters and immersive new eGames. The region is politically and economically significant. So, it's important to understand these nuanced stories and their evolution.
Q. We heard that the U.S. embassy and Consulate are conducting a special environmental program. Can you tell us about that?
A. Oori Earth is a network of passionate, like-minded people and organizations dedicated to combating climate change, a top priority for the United States and Korea. President Biden showed how important it is to his administration by rejoining the Paris Agreement on his first day in office and continues to rally the world to tackle the climate crisis. At the P4G Seoul Summit in May, President Moon Jae-in reaffirmed Korea's commitment toward carbon neutrality and mitigating climate change as a part of our joint statement from the Biden-Moon Summit.
 The project is our way to support our two presidents' commitments. Through Oori Earth, we host three special programs each month an exclusive event where members can network and engage, a video conference where members can hear stories behind the scenes and latest news and information in the field of climate change. We currently have 700 members. These members are invited to events like a July roundtable with U.S. State Department's Deputy Secretary Wendy Sherman during her visit Korea in July. Previously, we were honored to have the K-pop star, Kong Minzy, at one of Oori Earth roundtables.
 In addition to engagements with senior leaders, we plan to continue hosting events with students who are interested in studying environment-related majors at universities. For instance, we have an upcoming webinar on the issue of fine dust and air quality. Also, fun perks are coming, like coupons for free rides with Lime Scooters, in honor of "Car Free Day," thanks to cooperation with like-minded local companies trying to make a difference. We welcome interested folks to join in and watch for more benefits from our Oori Earth network members. Thanks to cooperation with like-minded local companies trying to make a difference, we invite interested readers to learn more on our website (https://kr.usembassy.gov/oe/).
Q. Busan has many international projects underway, such as the 2030 Busan World Expo bid and the Eco-Delta Smart City. Which project has piqued your interest the most?
A. I think that how the diverse projects around Busan support one another is extremely interesting. Not everyone knows that Busan is nearly 30 percent larger than Seoul by land area and much of that is along a beautiful and strategic coastline.
 With the massive restructuring of ports, new airport infrastructure and new vision for sustainable living here, a World Expo would be perfect to showcase it all. These aspects contribute to an economy of scale, a synergy that could not be achieved otherwise. A similar synergy can be seen with the U.S.-ROK commitment to reliable supply chains in a free and open Indo-Pacific region, supported by democratic values.
 I've had the opportunity to visit most of these project locations. They are impressive and ambitious endeavors. What is present in all of them is the Korean spirit. Similar to the hallyu cultural exports and the myriad products Korea exports to the world, there is an intangible commitment to quality and improvement that marks them. Mayor Park is tapping into this spirit with an energetic vision for a future diversified by digital content creation, travel, transportation and entertainment.
Q. What does the "Turn Toward Busan" event mean to you?
A. I still remember my first visit to UNMCK. It was before I became a principal officer in Busan. I was struck by the beauty, calm, dignity and gravity of the place. The courage and selfless sacrifice, by so many nations, is a powerful reminder of the values to which we should all aspire. Taking that moment to "turn" together, on Nov. 11 is a collective action of honor, remembrance and affirmation.
 It's a reminder of a painful history, but at the core of Korea's modern history and a launchpad to the amazing ROK that makes that early sacrifice so proud today.
▲ Consul Jea and his family enjoy riding their bike year round.
▲ On July 11, Consul Jea and his colleagues began cycling from Seoul to Busan. It was filmed and it's available in English and Korean.