Life
[INTERVIEW] Farnaz Pirasteh influences local tourism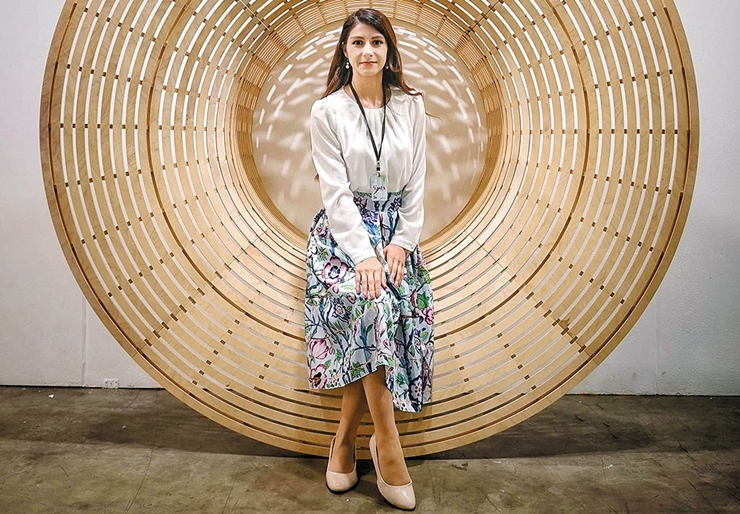 ▲ Farnaz, an Iranian social media influencer.
 Now, numerous words can be used to describe Busan, a world-class, eco-friendly port city of movies and games. These days, the city has a reputation for tourism and countless foreigners have been traveling and even settling down in this popular seaside destination.
 With the support of the city and the Busan Foundation for International Cooperation (BFIC), these nationals can engage in various activities; which support expat life and promote cultural integration and education.
 Farnaz Pirasteh has contributed to BeFM (Busan English Radio), BEXCO and Busan Beat, a quarterly magazine by the BFIC. Also, she helped create the Iranian Community in Busan (ICB). Dynamic Busan talked to her about the city's cultural diversity and her activities as an influencer.
Q. Greetings! Please introduce yourself
A. I'm Farnaz. I'm originally from Iran and I've been living in the beautiful city of Busan for about eight years. I came to Korea in 2013 to get my master's degree, my plan was to leave after graduating, but I couldn't leave this country without exploring it more! So here I am.
 I've experienced a lot during my time living in Busan. I taught Iranian culture and language at BFIC for three years. Also, I've reported and interpreted for many Iranian films, over the past eight years, that have been shown at Busan International Film Festival (BIFF). Also, in 2016, I was selected by EBS to participate in a documentary about Iran. These days, I keep myself busy by making content about Busan and South Korea for Instagram and YouTube.
Q. What is ICB (Iranian Community in Busan)?
A. The Iranian Community in Busan is an organization for Iranians to gather and discuss issues related to Iranians, living in Busan. We started in 2019, with the support of BFIC, to alleviate problems and plan cultural events that share Iranian culture. ICB organized many events before the pandemic. We believe that diversity can create strength in our society and hope to communicate and understand different nations, by sharing and gathering knowledge about different societies and cultures. There are other foreign communities in Busan, which is an excellent opportunity for us, including Koreans, to get to know different cultures.
Q. How have you collaborated with tourism organizations in Korea as an influencer?
A. I worked with the Busan Medical Tourism Organization to help raise awareness about Busan's medical facilities. In my work with BIFF, I've given individual tours of Busan to many actors and directors who came to show their films at the festival. I've worked with Trazy, Korea eTour and others to show interesting places around Korea.
 As an influencer, I make content about Busan and South Korea for my social media, to inform people around the world about things like events, exhibitions, culture and food. Since last year, I've started online tours of places in Busan, through Instagram live, with a tour company in Iran. It has been a great experience for me to share information about where I live and talk about the similarities and differences in our cultures. I am always glad to help people learn more about it.
Q. What are your hopes for ICB and other foreign communities in Busan?
A. When I helped establish ICB, my goal was to help Iranians adjust to living in Busan and inform Koreans about Iranian customs and culture. My first hope is for everyone to get vaccinated so that the world can go back to normal. Then, we can gather and have events as before. I believe that it is the first step for activities, at ICB and other communities in Korea to begin again. Secondly, Busan is working hard to achieve its status as an international city. To that extent, it would be great to have more communication and content in different languages.