Life
Busan new partner to United Nations, international peace hub
Busan UN Week
The second annual Busan UN Week, which brings forth a chance to express gratitude to Korean War veterans, will hold its opening ceremony on Oct. 23 to begin a special period of thankfulness, peace and reflection. It will culminate with the annual Turn Toward Busan event on Nov. 11.

△ UN Week culminates in Turn Toward Busan on Nov. 11.
From the opening ceremony at the United Nations (UN) Memorial Ce-metery, the city will see a number of events being held to honor and commemorate the sacrifices of all who gave their lives for peace and freedom on the Korean peninsula. On Oct. 24, blue lights will shine from Gwang-andaegyo Bridge, Busanhangdaegyo Bridge, Busan Tower and Busan Citizens Park, to symbolize peace, the sea and the UN.
During this time, the World Peace Forum will declare Busan as an International City of Peace and will award those who have made contributions to world peace with commemorative plaques. It will also hold a walking event until the event's conclusion on Nov. 11. Those who wish to participate in the walk along the UN Special Zone may book in advance online.
Busan UN Week will conclude on Nov. 11 with the Turn Toward Busan ceremony at the UN Memorial Ce-metery. Korean War veterans from 22 countries will visit the ceremony for a one-minute silent tribute to those buried in Busan.
The schedule is subject to change in accordance with the COVID-19 situation.
UN75 Partner City
Busan was designated as a "UN75 Partner City" for the UN's centennial in 2045. The city of Busan, along with Gyeongsangbuk-do (province) and Jollanam-do, were chosen from a selection of local governments overseeing at least one million people to promote the activities of the UN, which celebrates its 75th anniversary this year.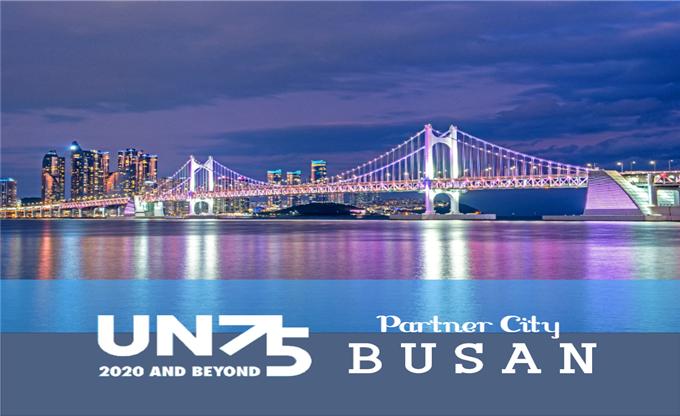 △ As a partner, Busan is promoting the UN from now through 2045.
With this honorable designation, Busan will advocate the UN, gather opinions and conduct promotional activities to cement a global vision. Busan will work with 16 additional districts and counties to achieve this goal.
Home to the UN Memorial Ce-metery, Busan is the city most suited to promoting the UN's goals of peace, human rights and sustainable development. The city also has the upper hand as an international peace hub, because it is a global port that connects the Asian continent to the ocean.
With the UN's selection, Busan will increase its international status and its network of cooperation with countries around the world in the name of peace.