Life
Award-winning barista Moon Heongwan
Busan, a "coffee city," features cafes that offer high-quality coffee and dynamic topographical views of seashores and mountain peaks. However, the coffee city is the proudest of Busan's emerging world-class baristas. One such talent is Moon Heongwan, CEO of Month Coffee, who recently won the 2022 World Cup Tasters Championship. Dynamic Busan met with him to discuss coffee and his achievements.


Moon Heongwan steeps a cup of coffee.

Q. Congratulations on winning first place at the 2022 World Cup Tasters Champi-onship. How do you feel about your win?
A. I dreamed of participating in this competition and distinguishing the differences in coffee tastes. It was an honor to be able to participate in and win the competition.
In the future, I plan to take on various new challenges. So, please keep an eye out for that.
Q. How do World Cup Tasters judge the competition and how did you prepare for it?
A. It's a contest to find which coffee is different out of three cups. The participants must answer after tasting eight sets of three coffees, for a total of 24 cups. It is often considered the fairest coffee-tasting contest because only one spoonful is used.
I began to prepare for the contest in 2017. Then, by winning the contest in Korea in 2020, I was selected as the Korean representative for the world competition this year. I practiced tasting coffee in the same environment as the contest. Also, I practiced three to four hours every day for the preceding five months.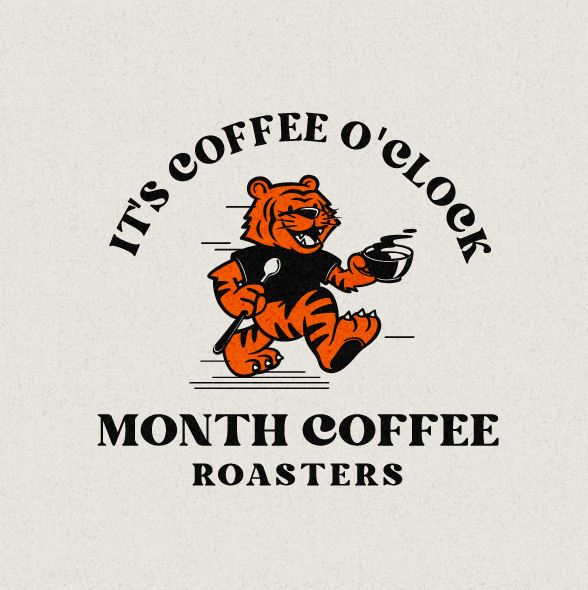 MONTH COFFEE Logo.
Q. Tell us about Month Coffee.
A. At first, while running the cafe on Onche-oncheon Cafe Street, I decided on the company's name, concept and mission. Each month, at Month Coffee, we introduce a single kind of coffee bean to customers. Specialty coffee is relatively unfamiliar among those who enjoy the beverage. So as a barista, I wanted to properly introduce coffee and its related culture in a way that everyone could relate to and understand.
The mascot of Month Coffee is a tiger and represents the "spirit of Korea." It was chosen not only because of its sacred, ferocious and familiar image but also because it implies diversity. We sell coffee beans online to individuals and large and small businesses.
Q. What made you fall in love with coffee and become a barista?
A. When I was 20, I worked part-time at a cafe; I enjoyed meeting and working with customers. Then, I served in the military. After being discharged, I thought about what job would be the best for me. The answer was coffee.
When I thought of what made me happy, coffee came to mind. Coffee is so attractive in that it connects people. Also, it's fun to learn about new coffees, jobs and fields through such communication.
Q. As a "coffee city," what strengths does Busan have?
A. Busan is a port city that imports and distributes over 90% of Korea's green coffee beans. The city's location is not the only beneficial aspect of Busan. It's also the community of local baristas. When they take part in the world test, they are rivals. However, they still help each other and share knowledge.

Display of awards Moon has received.
Q. On Busan Citizens Day, you received the city's 38th Proud Citizens Award. What related events are in store for you?
A. Recently, the coffee industry has been going through a rough time. Many coffee-producing countries aren't wealthy. Therefore, due to climate change, civil uprisings and each country's political and environmental conditions, cultivation isn't getting easier. As a result, farmers who previously specialized in cultivating coffee have suffered and coffee-producing countries are changing their main crops from coffee to other crops, such as flowers or fruit, resulting in a decrease in coffee bean prod-uction.
So, I am trying to figure out how to help and challenge myself simultaneously. The plan is to visit coffee-producing countries and open a new cafe to interact with customers during the first half of next year. Currently, we are looking for a suitable location and we are looking forward to it.