Life
Korean traditional music Saturdays
Regular traditional music perform-ances are available at the Busan Nat-ional Gukak Center (BNGC) in a series entitled "Saturday Gugak Conc-ert." Since May 2009, gugak (tradit-ional Korean music) performances have taken place every week. This year, the BNGC has prepared a luxurious repertoire, including royal, folk and dance performances. Staff will be available to explain the cultural significance of many of the works.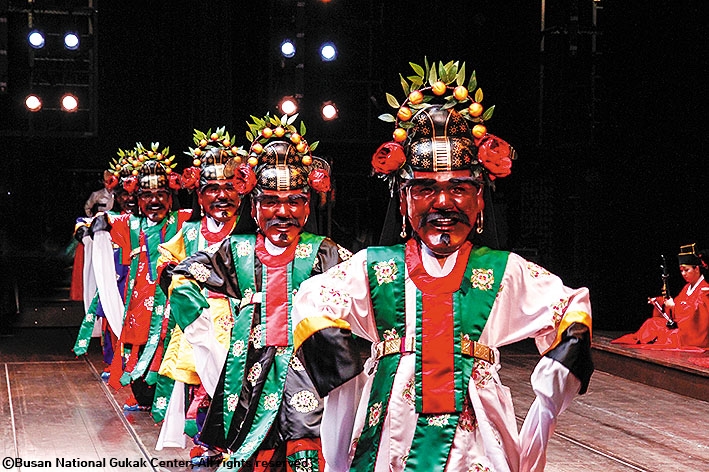 △Cheoyongmu shows highlight Korea's multi-faceted culture.
The concert consists of 31 performances based on five themes. The first theme delivers Korea's world-renowned cultural heritage with Jongmyo jeryeak (Royal Ancestral Ritual Music), pansori (epic chant), Cheoyongmu (mask dance) and Ganggangsullae (circle dance). The audience can learn about traditional Korean instruments, songs and dan-ces, similar to the music students learn in school, during the second "Traditional Music and Dance in Textbooks" theme. "The Beauty of Yeongnam Local Arts" theme calls attention to local attractions and is composed of Dongnaehakchum (cra-ne dance), Jinjugeommu (sword dan-ce), Yeongnam minyo (folk songs) and more. The fourth introduces rig-id, formal and grandiose royal court music. The last theme exhibits creat-ive and modern works tailored to those who appreciate contemporary art.

△Folding fan dance.
Admission is open to elementary school-aged children and older. Tickets range from 8,000 to 10,000 won. Those who purchase a ticket package can receive a 20 percent discount for three performances and a 30 percent discount for five. Reservations can be made online (busan.gugak.go.kr).