Life
Culture house optimistic leader discusses future
In 2014 and 2019, through the Korea-ASEAN summits, Busan strengthened its position as an international city. Established in 2017 by the Ministry of Foreign Affairs (MOFA) and run by the Korean Foundation (KF), the ASEAN Culture House (ACH) plays a crucial role in multicultural interaction and exchange. Last month, ACH announced a new Director-General, Lee In Hyuk. Below he discusses the ACH's direction and goal as a part of the continuous positive city-wide change.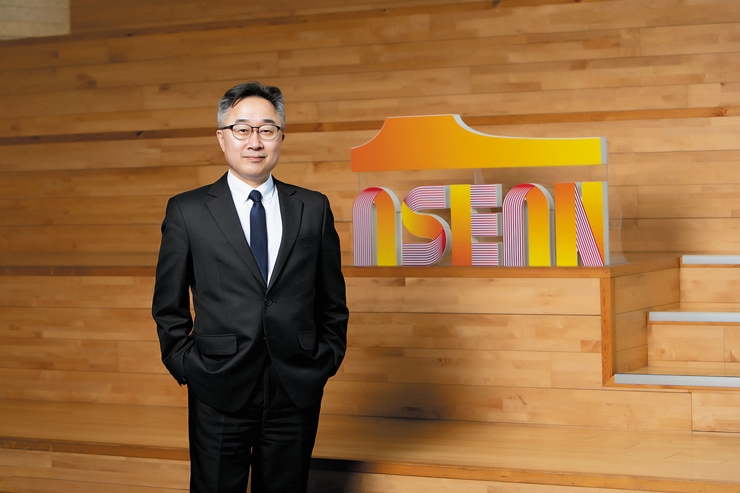 △Newly appointed ACH director Lee In Hyuk expresses the organization's ambitions for the future.
Many ASEAN countries have visited the ACH and expressed interest in its activities. Despite the pandemic, we at the ACH have continued to encourage and enhance diplomatic and cultural exchange and understanding regarding the 10 ASEAN countries.  
Another goal of our unique local is to highlight Busan's significance as an international hub. This year, ACH's theme is "Future Orientation." We aim to help people easily and optimistically learn about ASEAN society through future-oriented digital projects. These ventures are based on fourth industrial revolution technologies such as metaverse and VR. We believe anything is possible when individuals worldwide respect and understand each other. This idea extends to genuine cultural and economic exchange within ASEAN's population of 640 million.
"Korea One-Team," an internal support task force for the World Expo 2030 bid, was recently formed in collaboration with institutions such as the Ministry of Foreign Affairs. Busan is making every effort to host the expo and we plan to play an active role in the team. ACH plans to promote various public diplomacy projects and programs, including lectures and exhibitions.
The city is already recognized as a representative city of Korea and is reinforcing its position as the central platform for international exchange in the era of globalization. We intend on being a part of this movement. Like the sea, embracing varying waters, ACH looks toward a bright future of openness, inclusivity and dynamism.