Life
History and protection of Dokdo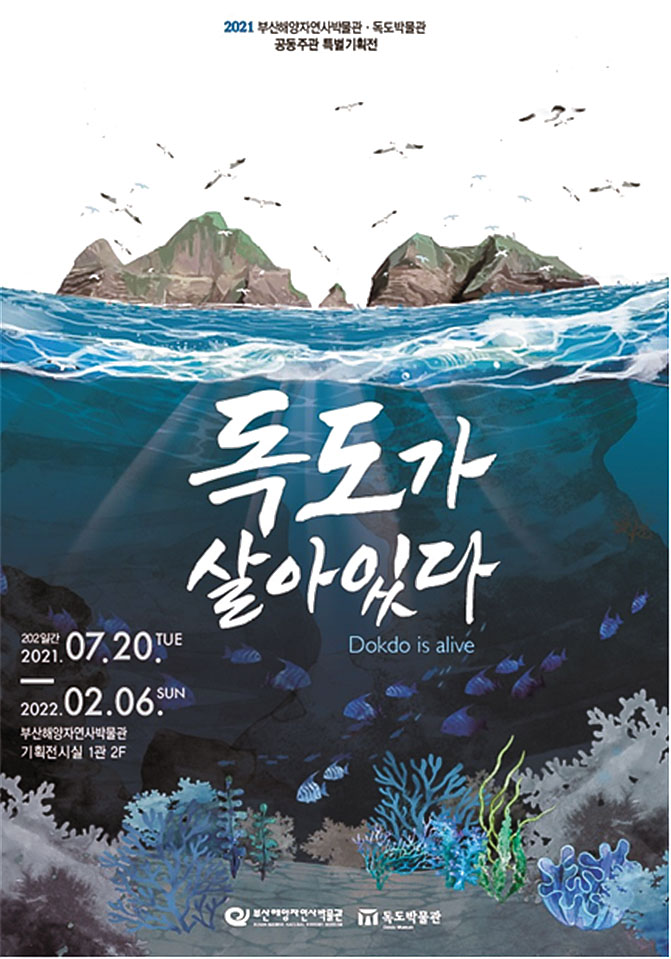 ▲ 'Dokdo is Alive' exhibition poster (Source: Busan Marine Natural History Museum)
 If you don't know much about Dokdo, the easternmost island of Korea, now is your chance to learn. Busan Marine Natural History Museum will hold a special joint exhibition, "Dokdo is alive," with Dokdo Museum. The considerably sized free exhibit is on the first and second floor until Feb. 6.
 The history and ecosystem of the island are illuminated in three sections with the help of over 150 works, including ancient documents, marine creature samples, photos and videos. Among them, notable works include historical and current maps and pictures of the island.
 To prevent the spread of COVID-19, the exhibition is available through reservation only (reserve. busan.go.kr/exprn) and is limited to a maximum of 55 visitors per hour. For more information about the exhibit or attendance regulations, visit the museum's website (busan.go.kr/sea).
◎ Address: 175, Ujangchun-ro, Dongnae-gu, Busan
◎ Hours: Tuesday through Sunday, 9 a.m. to 6 p.m. Closed Mondays.
◎ Phone: 051-550-8828
◎ How to get there: Dongnae Station (metro line 1), exit 4. Take Dongnae-gu village bus 1-1 and get off at the Busan Marine Natural History Museum stop.