Life
Robotics, from imagination to reality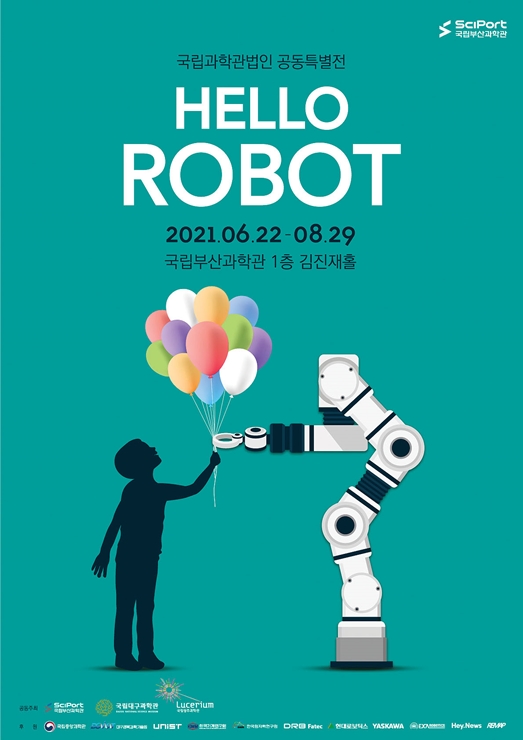 ▲ Special Exhibition <HELLO ROBOT> Poster (Source: Busan National Science Museum)
 Say hello to the future of robotics at a new exhibition brought to you by the Busan National Science Museum. The aptly named "Hello Robot" exhibit, composed of six zones, will run until Aug. 29.
 The first zone shows the origins and essential elements of robots. Next up, the "Robots and AI" zone is dedicated to the way robots think and process information. Here visitors can take part in an interview with and play a traditional Korean board game with an AI machine. Zone three, "Robots and industry," highlights the critical role robots play in various industries. Displays such as "Smart factory," where robots perform tasks, such as simulated surgery, are centered around showing the growing importance of robotics.
 The fourth zone, "Robots and sports," shows how humans and robots can play together. There is an interactive display in this zone, where visitors can box and play hockey with a bot. In "Robots and art," the fifth zone, visitors can find six artistic droids. Such as a robotic orchestra conductor that recognizes harmonic movements and a painter that can recreate photos in a multitude of styles. The last zone, "Daily life and the future of robots," depicts a life in which androids coexist with humans.
 Reservations must be made in advance on the museum's website (sciport.or.kr). Sessions are held at 20-minute intervals and are about 80 minutes long. Admission is 5,000 won for adults and teenagers and 2,000 won for children.
◎ Address: 59, Dongbusangwangwang 6-ro, Gijang-eup, Gijang-gun
◎ Hours: 9:30 a.m. to 5:30 p.m. Closed Mondays and national ho-lidays.
◎ How to get there: Osiria Station (Donghae line), exit 1. Cross the street and take bus 185. Get off at Busan National Science Museum stop.