Life
[INTERVIEW] BIWC co-founder Laura McLuckie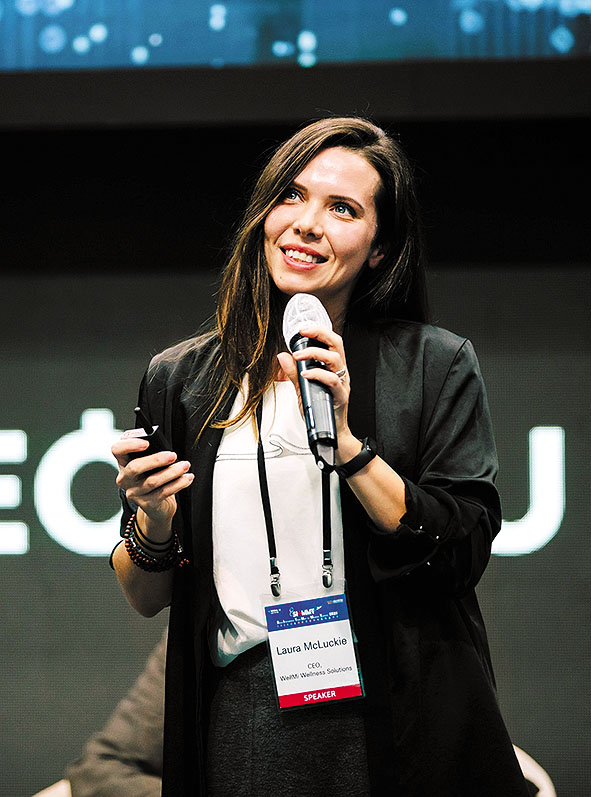 ▲ McLuckie presenting at a tourism event.
 Last year, the first Busan International Wellness Conference (BIWC) celebrated Busan becoming the first Korean international tourism city. BIWC2021 integrates the city's topography with wellness and tourism from July 23 to 25. Laura McLuckie, a certified yoga teacher, wellness advocate and founder of WellMi Wellness Solutions, co-founded BIWC. She's a host on Busan English FM, an ambassador for MSC Korea and the Head of Community Relations at the International School of Busan. Also, she serves on the Busan International Tourism City Global Advisory and the Busan Foreign Council.
Q. Hi. Please introduce yourself.
A. Hiya! I'm Laura, a Scottish ajumma living in South Korea for the past 10 years, most of that time spent in Busan. Currently, I spend my time running my company WellMi, and developing content for corporate, tourism & hotel and community clients. WellMi delivers unique wellness programs, retreats and classes, and several kids' education sessions. I recently finished my master's in wellness tourism and work with many city organizations. When I'm not working, you'll find me doing yoga or meditation somewhere in nature, enjoying Busan's tourist attractions or hanging out with my super cool 7-year-old son and my husband.
Q. What is the Busan International Wellness Conference?
 Busan International Wellness Conference 2021 is WellMi's largest event cofounded with BZen Communication, which aims to bring together a global community interested in sharing the power and importance of wellness. We strive to create industry and community awareness, networking and promotion opportunities and develop wellness content in Korea.
 BIWC2021 will run as a hybrid event on YouTube as well as in person. This year, we have the local government's support again, some great speakers and sponsors on board, including international experts Laszlo Puczko and Anne Dimon, and locally Yonsei Professor Ki Nam Jin and Mabo CEO Jungeun You. Over three days, you can join global experts, tour agents, local businesses and wellness professionals as we work together to share wellness with the world. We welcome everyone to go to our website (biwc.kr) to find out more about us and explore a new paradigm of wellness tourism in South Korea.
Q. How is this year different from last year?
 Last year we had a very difficult time as, we were forced to change to an online format the night before the conference, due to COVID-19. This year we have global and local experts with huge influence in the world of wellness, medical and health tourism, and we are also able to run the hybrid event with full preparation. So, we are really looking forward to this amazing now three-day event!
Q. Why did you choose Busan as the venue for the conference?
 Easy! Busan is the perfect Wellness Destination, MICE city and International Tourism City. One of the emerging trends we're seeing from research is the desire for people to connect with nature. Busan has beautiful beaches, hot springs, mountains, parks, forests and green spaces. We have the perfect climate, atmosphere and resources for tourists to come, enjoy and revisit. Therefore, we have decided to create special tour courses, "B-MICE Wellness Tours," utilizing the ocean, forest and city, and hosting world-class conferences and ensuring we keep that unique and special Busan charm in all we do.
Q. What does the future hold for BIWC?
 We want to grow awareness of Busan as an international wellness city, create and develop wellness resources and grow a wellness community for visitors and citizens of Busan that will help us all lead happy healthy lives. Our slogan, "Shape your wellness, share with the world" is about empowering others to choose activities, foods and lifestyles that will help them live optimally and thrive. We all deserve to feel good, and we are excited to share the amazing wellness resources and products we have in the city. BIWC aims to give domestic and international attendees an experience that will positively impact their lives now and in the future.