Life
[INTERVIEW] Your Korean language lessons are in capable hands
▲ Korean language teacher Hong Minjeong.
The Busan Foundation for International Cooperation (BFIC) does its utmost to assist foreigners living in the city. In addition to its "Life in Busan" guidebook, it is running a Korean class for those who wish to learn the local language. Hong Minjeong is an instructor teaching Korean to those wishing to improve their language skills and hoping to pass the Test of Proficiency in Korean (TOPIK).
Q.Greetings! Tell us a little about yourself!
A.Hello, I'm Hong Minjeong, and I've been a Korean instructor at the BFIC for six years now. I'm in charge of the basic communication class called "Ga", and I teach students hoping to pass the TOPIK.
Tell us about the classes.
 Korean classes have been operating since the BFIC was established in 2006. Since the BFIC aims to help foreigners settle in Busan, we only teach basic Korean conversation, because we want to help foreigners adjust to Korean life quickly and easily. About 500 foreigners take the class annually, and we've been running non-contact courses through an online system we developed last year.
 Things change in the summer, though. In the summer, we combine Korean language with culture. So, in addition to speaking, we also go over K-Dramas, movies and folk tales. We try to do new things every year, so we're planning on doing something else with non-contact this year.
Do you have difficulty teaching different nationalities?
 I don't have any difficulty. I prefer to have classes with people from all over the world. If they're from the same place, then that gives them more chances to speak their own language, which can make them lose focus. Also, it's nice to learn about different cultures through writing or presentations. A lot of housewives participate, some of whom are marriage immigrants or who came with their husbands. I am so happy when I see my multicultural students have lunch together after class, exchange recipes for Korean food with each other and invite each other over to their homes.
What do your students talk to you about?
 Their difficulties and their lives. They say dialects are hard to understand, even though they can speak during class. But, some have told me it's a little easier to understand the dialect from Seoul. They also let me know about their favorite Korean restaurants and tell me where I can get the best food from their countries. They also teach me some of their languages! I can say "hello" and "thank you" in about 10 languages now!
Is there anything you'd like to say to those thinking of taking your class?
 Students don't always know about my classes, even though they've been here for a year or more, and that makes me sad, because it can really make people's lives better here! Also, our classes are open to all foreigners who live in Busan. Classes are free, but you need to pay for your textbook.
 We've learned a lot about running classes online the last several months, so we'll be even better at it this year. We're also aiming to begin online classes over the weekend, which would be new and a little different from our usual Korean classes. If you're new to the country or have been here for many years or just want a new hobby, visit our website at bfic.kr if you're interested in a great Korean class!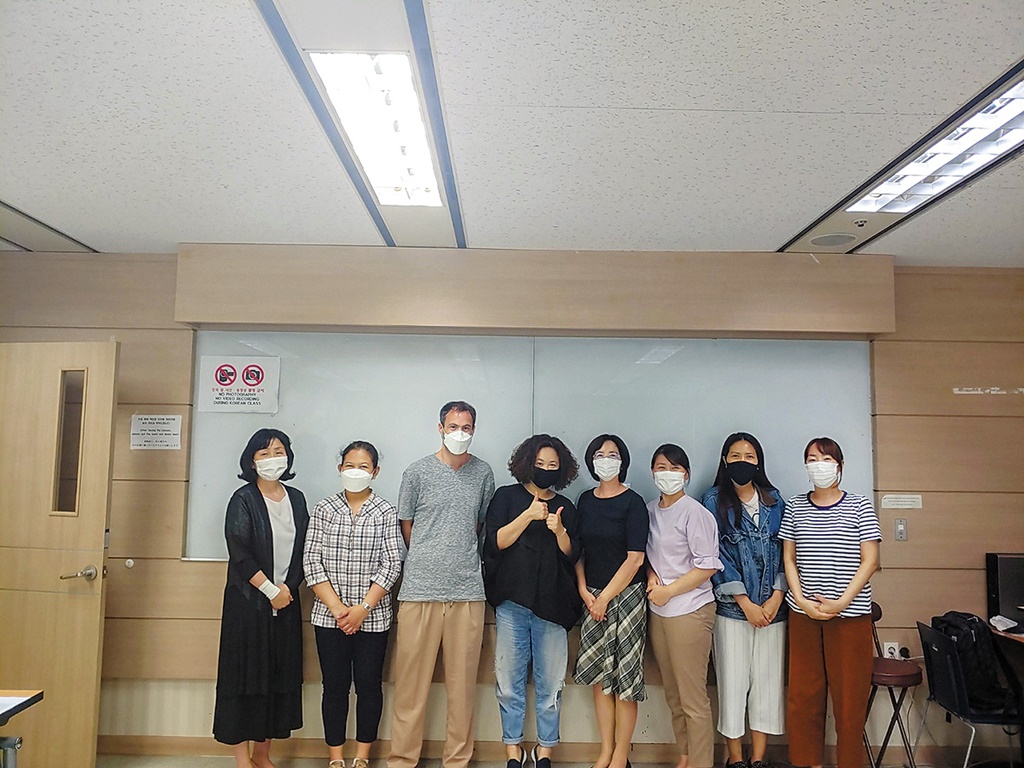 ▲ Hong Minjeong runs Korean language classes at the BFIC.