Life
The big heart, big dreams of Busan's little ambassador
Busan has many honorable titles, one of which is World Peace City, a name that reflects one of the year's most important themes. Dynamic Busan had the pleasure of meeting Asia Lee Campbell, who, at only 12 years old, has worked hard for the Korean Augmentation to the United States Army (KATUSA) and who has made great efforts to give Busan the global recognition it deserves as a city celebrating peace and freedom.
Q. Please introduce yourself!
A. I'm Asia Lee Campbell, I'm 12 years old, and I'm known as the "Little Ambassador."

△ Asia is taking part in the Stay Strong campaign.
Q. How did you become interested in the Korean War?
A. The first time I learned about the Korean War was when I visited the UN Memorial Cemetery and read the names of soldiers written on the Wall of Remembrance. I was only six at that time, but even then, I could feel the magnitude of the place. In 2016 and 2017, I won a contest involving writing letters to veterans of the war, so I got the chance to visit some in England, Belgium and the Ne-therlands. Since then, whenever Korean War veterans visit the country, I've gone out of my way to meet them.
Q. What is something essential to know about the Korean War?
A. The Korean War is often referred to as the Forgotten War. But, if we forget the conflict, we forget the brave men who fought for our freedom. Even though it has been 70 years, they still care about Korea. We should listen to their stories and share them with other people, so that future generations will remember their sacrifices. It's important to express our gratitude to them while they're still alive. Unfortunately, it's hard to meet them in person these days, but you can still write them letters or emails!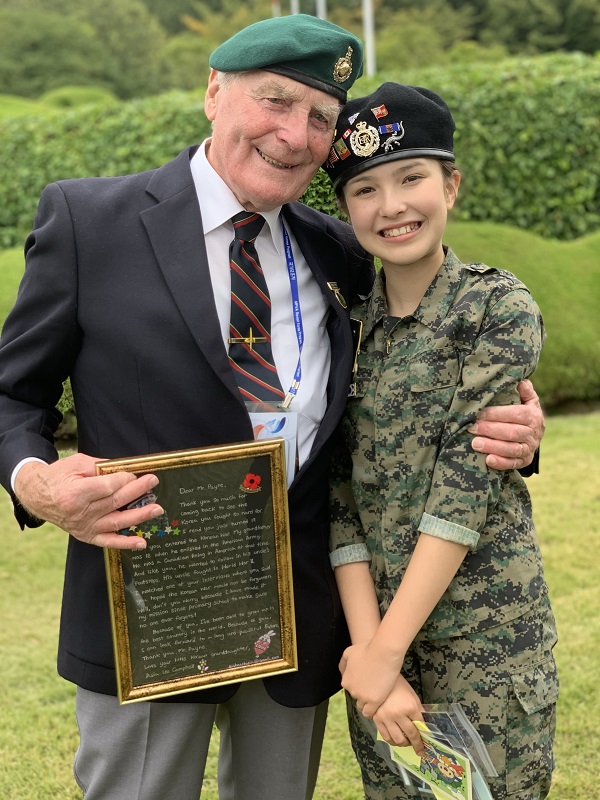 △ Asia poses with a Korean War veteran.
Q. Where do you recommend people go to reflect on the Korean War?
A. The place I go to most often is the UN Memorial Cemetery. It's a very beautiful and honorable place to visit. Most people don't know that it's the only UN cemetery in the world.
There are a lot of other monuments you can visit in Busan. On the left side of the main gate of Lotte Department Store in Seomyeon, there's a monument to Swedish doctors and nurses. There's one for medical support in Taejongdae and one in Amnam Park dedicated to New Zealand veterans called Turtle Rock. There's also the Provisional Capital Memorial Hall, where you can see pictures of UN Korean War veterans and look at evacuation records written during the conflict.
Q. What do you do for fun?
A. I like music and dance. I play electric guitar, piano and violin whenever I have time. I like soccer and baseball, and I'm also interested in coding. In fact, I'm currently making an app to communicate with Korean War veterans, and I make computer games these days.
I also have a YouTube channel that I run with my dad. There are so many fun things to do, but there aren't enough hours in the day!
Q. What are your plans for your very bright future?
A. The most important future plan for me is to express my gratitude to as many living Korean War veterans as I can before they leave us. This year marks the war's 70th anniversary; it's so important to keep their memories alive!
But I want to be a fighter pilot in the future. I also love to meet new people, so I've really enjoyed being the host of KBS 2TV's children's music program 누가누가 잘하나 since last December.