Life
Darcy Paquet's love for Korean cinema pays off
"Translator of `Parasite'" is the most commonly-used modifier that goes before the name of Darcy Paquet. It's only fitting; he is now best known for providing the English translation and subtitles for Bong Joonho's Oscar-winning movie, but Darcy has played a big role in Korean cinema and its international appeal for quite some time now.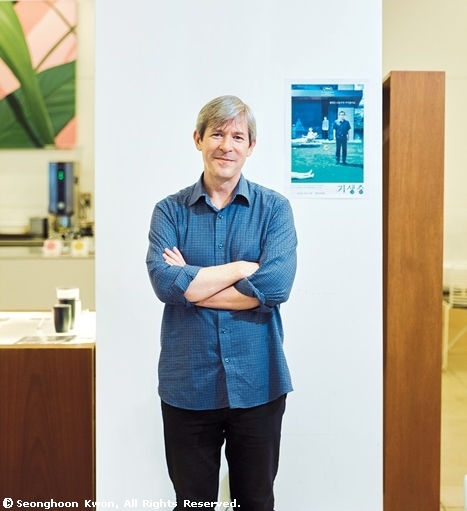 △ Darcy Paquet is a man of many talents. Last year, he provided English subtitles for the Academy Award-winning film "Parasite," directed by Bong Joonho.
He is a professor at the Busan Asian Film School, a film critic, chairman of the executive committee of the independent film festival Wildflower Film Awards, head of the Korean website koreafilm.org, and he has even made an appearance or two in some movies. Darcy is a correspondent of numerous film publications, including the British film industry magazine "Screen International," the American publication "Variety" and the Korean "Cine21." With "Parasite" now in his resume, the legend of Darcy Paquet is growing.
Q. Congratulations on becoming an honorary citizen of Busan! How do you feel?
A. It's a real honor. Busan is a great city to be in for movies. It has a strong infrastructure with BIFF, the Korean Film Council, the Busan Film Commission and studios. And with the sea, mountains, rivers, a modern society and rich history, there's plenty of cinematic charm here to spread Busan's image around the world.

△ Darcy recently became an honorary citizen of Busan.
Q. How did your relationship with Busan begin?
A. When I went to graduate school at Indiana State University, I had some Korean friends from Busan. I had wanted to leave my hometown in Massachusetts to go live in Asia, so because of them, I decided to go to Korea in 1997. When I arrived, I worked as an English teacher at Korea University. Even then, movies were just my hobby. I never imagined I would actually be working on them. The second BIFF made me fall in love with Busan and Korean cinema. I've been coming to BIFF every year since.
Q. Where do you visit and what do you eat when you're in Busan?
A. I like Nampo-dong (neighborhood) and Gwang-alli Beach. It's been a long time, but I still love that I can come to Busan for three days a week for my lecture at the Asian Film School. A bowl of milmyeon (wheat noodles) is another pleasure I take advantage of in the city. I'm disappointed COVID-19 has canceled my classes.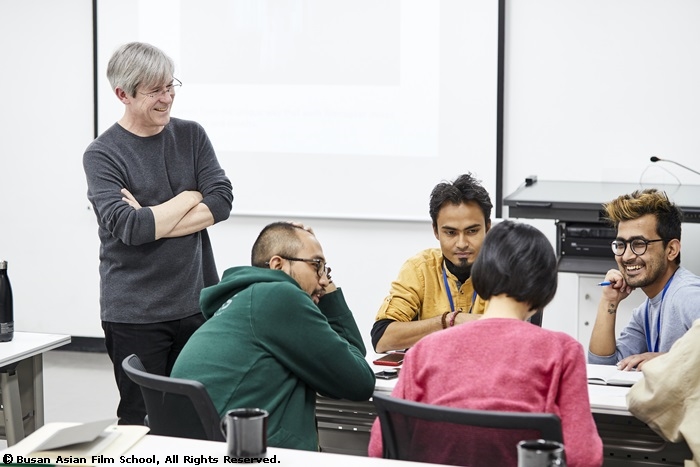 △ Darcy Paquet conducts a class on international business in film at the Busan Asian Film School, where he works toward crafting the continent's next top filmmakers.
Q. What do you do at the Busan Asian Film School?
A. I teach Film Genre, Film Law and subjects on the Asian film industry. I work to find promising talent in Korea and Asia, while guiding the development of my students. The filmmakers that emerge from the school have been invited to some of the biggest festivals in the world. I'm very proud of the students that graduate from the Busan Asian Film School and of its reputation.
It's also a thrill to contribute even a little to Busan becoming the center of Asian film education. If the school's international alumni become producers in their home countries, then Busan's reputation will grow even more.
Q. What is Busan's charm in regards to film?
A. Busan is a dynamic city full of cinematic diversity. In addition to the infrastructure, actors Song Kangho and Moon Sori, directors Yoon Jekyoon and Kwak Kyungtaek are all from Busan. I'd love to be in a movie produced in Busan.
Q. Tell us about your work on "Parasite."
A. It usually takes me two or three times to do the subtitles correctly, but I saw "Parasite" seven times and worked much more on them. Americans don't know much about the Chapagetti and Nuguri noodle brands, so I spent hours thinking about how I could put those products together. In the end, I combined "ramen" and "udon", which every American knows, to create "ramdon." I also changed Seoul National University into Oxford, which made it easier for foreigners to understand.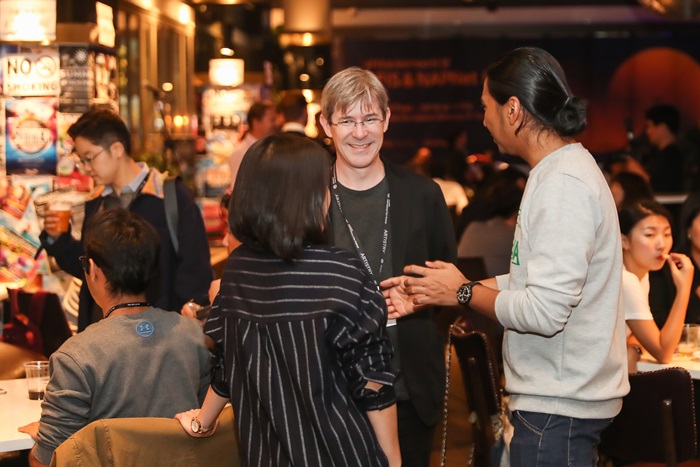 △ Professor Paquet chats with students on a night out during BIFF.
Q. What is the most important thing to focus on when translating Korean movies?
A. Movie translations can't be like footnotes in a book, nor can they be used to explain things further. I have to think about the words being said, as well as the amount of time it's actually taking the actors to say the lines. So, when I translate, I try to find words and sentences that can convey the tone, nuance, and emotions that the original lines have. At the end of the day, it should be simple for the audience to understand, and the director's intention should still be clear.
Q. What are your plans for the future?
A. I'm going to continue my work at the Busan Asian Film School and to take part in independent movies. I'd also like to start translating Korean poetry into English one day. I'll do what I can as an honorary citizen of Busan.