Life
New ISB head excited about students' bright futures
March in Korea sees the start of a new school year and semester. Among Busan's many schools, there is a truly authentic international school which prepares students for life in an increasingly globalized society. Let's hear from Simon McCloskey, who was appointed as the Head of the International School of Busan (ISB) last summer.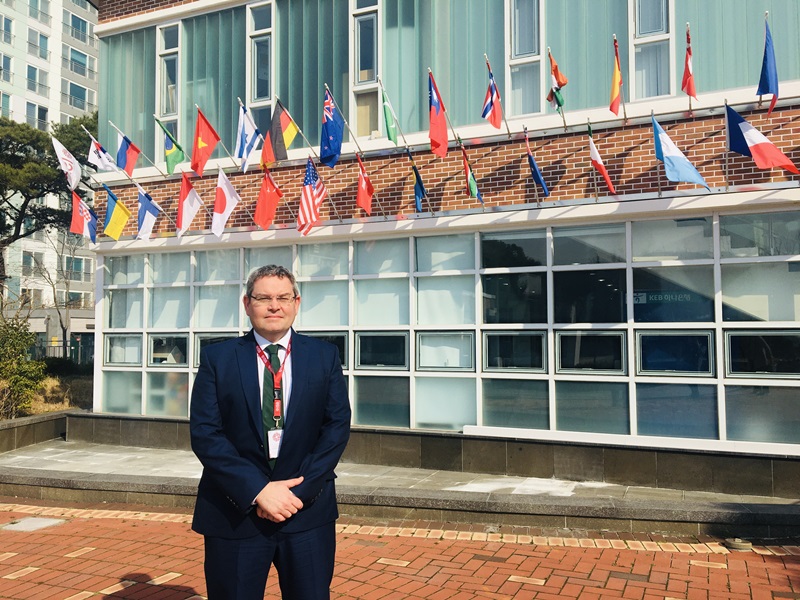 △ Simon McCloskey was recently appointed as the head of the International School of Busan.
Q. Would you briefly introduce yourself and the International School of Busan?
A. My name is Simon McCloskey, and I am the Head of School at ISB. I am originally from the UK but have been working overseas in international education for over twenty years.
ISB was established in 1983. It is an English-medium, non-profit, three-program IB world school, serving the internationally-minded community of Busan. Over 35 nationalities are represented in a diverse school community of 300 students aged three to 18.
The current ISB campus was built by the city for 42 million dollars about 10 years ago. The school covers an area of about 30,000 square meters with purpose-built classrooms for all ages. It is a fantastic campus that includes a gymnasium, an outdoor soccer pitch, science labs, music rooms and libraries for elementary and secondary schools that have a collection of over 30,000 books.
Q. How did you decide to come to Busan? What was your first impression of it?
A. I am originally from a coastal town in the UK, and I enjoy being next to the ocean. When I first visited Busan back in 2018, I fell in love with the place.
Busan is a vibrant city with a fantastic choice of things to do. Since my family moved here last year, we have enjoyed live music at the Busan International Rock Festival. We saw a great performance at the Busan International Comedy Festival, and we have also experienced some great shows at the Dream Theater. The Fireworks Festival was also im-pressive! Most of all, we enjoy exploring the coastal trails and walking on the beach.
Q. You have a long history of working in India and other international schools. What are some advantages of providing education in Busan, compared with other schools abroad?
A. We have a diverse international community of learners and a fantastic campus located within walking distance of Songjeong beach. Busan has many excellent resources for learning outside of the classroom, and our students regularly make use of the outdoor environment as well as places such as the Busan National Science Museum, the Busan Museum of Art and the Nakdong Estuary Eco Center.
In short, Busan has all the attractions of living in a modern city and also the benefits of the natural environment with beaches and moun-tains.
Q. You must be proud of your school and students. What, in your opinion, makes ISB unique?
A. We are the first and only WASC-accredited IB world school in Busan. We offer the prestigious IB Diploma, which has been consistently acknowledged by university admission officers around the globe as excellent preparation to thrive at university. We approach subject content with a global perspective, ensuring that our students are able to empathize and see from multiple perspectives. We believe that this will better prepare them for life in an increasingly globalized society. Our families describe ISB as a caring, warm and welcoming community where every child is valued, respected and provided with the opportunity to thrive.
Q. What are your hopes for the future for ISB and yourself?
A. We want to nurture a collaborative culture of innovation and improvement that ensures we develop digitally literate learners who are challenged, supported and engaged with the wider community to learn about and take action on sustainability, service and our shared future. We will continue to offer a world-class IB education that enables our students to access higher education at colleges and universities around the world. My aim is to provide a happy, safe and supportive atmosphere, with a commitment to helping all children succeed.