Food
Flavorful local favorites and recommendations
Busan World Food - Foreign resident-approved dishes 
Busan has a lot of food options, each with its own traditions and history. Among them, which has local foreign residents' thumbs up? With the help of the Busan Foundation for International Cooperation's Expo Friends, we've selected five famous city dishes to recommend to family, friends, anyone and everyone.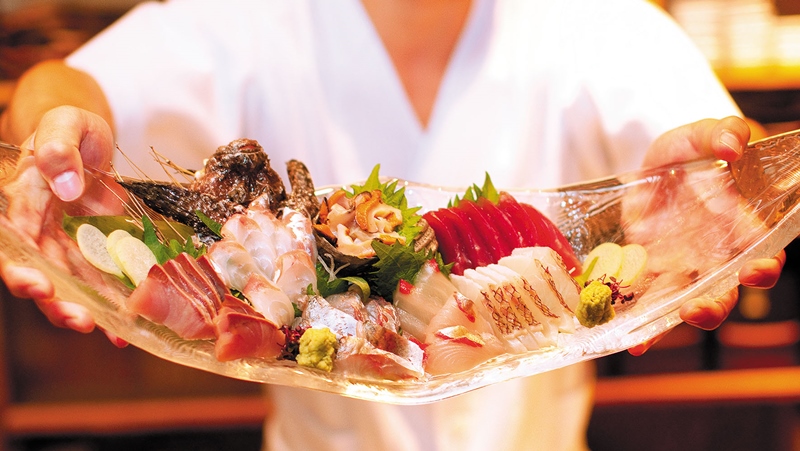 A variety of raw fish is often served aesthetically on a long plate.

#1. Seafood (includes fish served raw and in stews)
The most popular local food among Expo Friends was seafood. Due to some members' dietary restrictions, seafood came as an ideal meat substitute for protein intake.

Based on the city's location, adjacent to the East Sea and South Sea, and being a harbor city, many fresh and diverse fish and seafood are available. Saengseon hoe (sliced raw fish), mulhoe (cold raw fish soup), saengseon chobap (raw fish on rice) and maeuntang (spicy fish stew) were at the top of the list. Raw seafood is locally sourced.
Multiple hoetjips (raw fish restaurants) can be found around Busan, downtown and in beach areas such as Haeundae-gu (district), Suyeong-gu and Seo-gu. With the sliced raw fish or other seafood as a main, these restaurants often serve sweet potatoes, salads and other side dishes. Spicy fish stew, rice and side dishes are traditionally offered as the last part of the meal.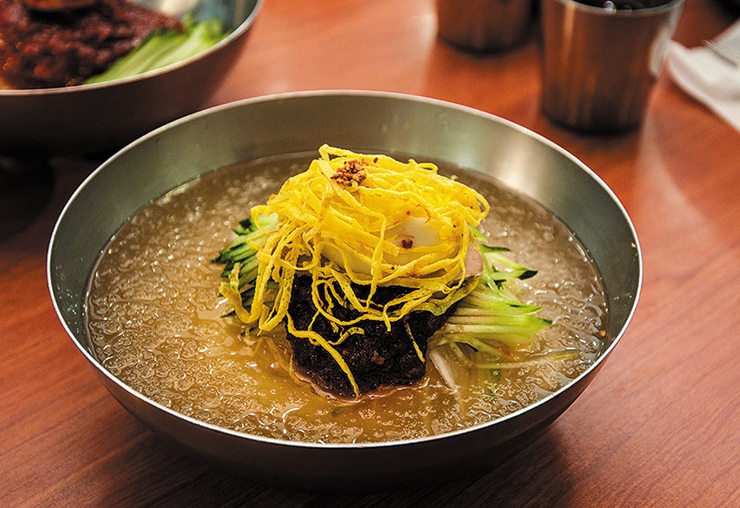 Milmyeon has pieces of ice in its broth.

#2. Milmyeon (wheat noodles)
The second local food is milmyeon, a kind of noodles made from wheat. Flour became easier to import and wheat easier to tend to during the Korean War. This increased wheat-based noodle production in Busan, which increased its popularity. Similar to the previous food, many foreigners who don't eat meat opt for this dish.
The dish consists of noodles, broth, garnish and spice. Boiled beef, boiled eggs, cucumbers, pears and Korean radish salad are usually garnishes. The base for the spice is chili pepper powder, which gives it a spicy, sweet and sour taste. The ingredients complement each other's flavor and texture. A variation on the dish is naengmyeon (cold buckwheat noodles).

Eomuk comes in various shapes and sizes.

#3. Eomuk (fishcake)
Like many Korean cities, Busan has numerous tourist attractions and delicious dishes. Street food, such as tteokbokki (spicy rice cake) and eomuk, is one such popular local choice that suits many tastes.
Busan, the birthplace of Korean-styled fishcake, introduced eomuk. It is made with ground white fish and flour. From pochas (street food tents), which serve fishcake soup, spicy rice cakes and fishcake skewers, to eomuk-specialized stores which serve fish croquettes and fishcake bars, the snack is nationally revered. Thanks to Busan's geographically strategic position locally, it is made of about 70 percent real fish, more than other regions. Some are even made with raw fish.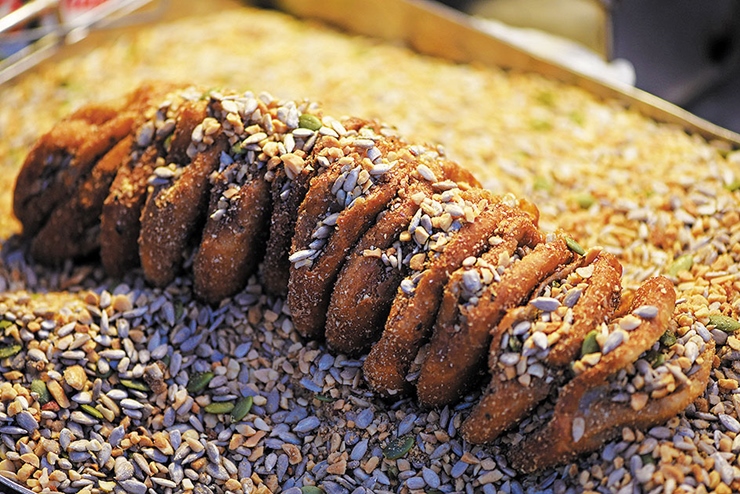 People lineup at stalls to buy this sweet delight.

#4. Ssiat hotteok (griddlecake filled with sugar and seeds)
BIIF Square, a popular tourist spot located in Nampo-dong (neighborhood), is known for having the best ssiat hotteok. It is a griddlecake made by frying hotteok flour dough. The cake is then cut and filled with a blend of brown sugar, seeds, cinnamon and more.
This specialty snack, literally "seed hotteok," originated in Busan and is sometimes filled before it is fried and even topped with the tasty mixture above. The diverse textures, sweetness and saltiness of this treat make it a local delicacy.

Dongnae pajeon unique is that it begins with a line of green onions fried on a pan.

#5. Dongnae pajeon (green onion pancake)
Jeon is a Korean-styled pancake made by coating specific ingredients with flour and frying it. Pajeon is a variation made with green onions, multiple vegetables, wheat flour and seafood. What makes Dongnae pajeon unique is that it begins with a line of green onions fried on a pan. Then, it is topped and cooked with seafood and a flour mixture. As it gets gold and crispy, it is coated with beaten eggs, flipped a few times and served with a soy-vinegar dipping sauce to decrease the greasy nature.