Food
Taste of India
Busan World Food - Sister Cities ⑤ India - Mumbai 
As the hottest time of the year draws closer and we begin packing up our coats, it's the perfect time to try something warm and tasty. Dynamic Busan has selected a few spots for you to come in and herb your enthusiasm. Hurry up and grab some curry.

△ Types of rice and chutneys are served to order as sides for curry or chicken dishes.
■ Sister City: Mumbai
Mumbai is not only India's largest commercial and financial city, but it's also the country's economic capital. Most banks, including "The Reserve Bank of India" and "Indian Eximbank," are in the city. Mumbai International Airport accounts for 40% of international passengers and 32% of air cargo. Also, New Mumbai Port oversees 57% of Indian containers and with the developing film industry, it has been nicknamed "Bollywood."

In 2009, the sister city agreement was signed at City Hall when Busan's Mayor and Mumbai's Mayor met. Since then, the cities have continued to engage in international exchanges, mainly discussing economic policies to revitalize trade and travel between Korea and India.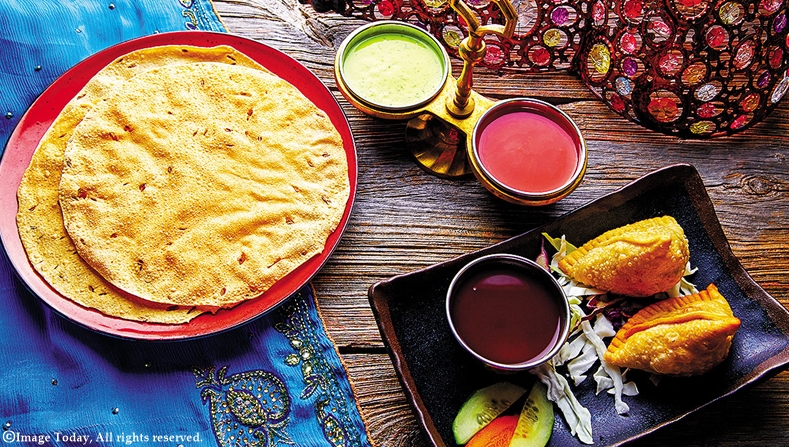 △Naan and Samosa.
■ Main Indian dish
India itself is a large country. It is even sometimes called "a small continent." Accordingly, its climate, people and food are just as varied; the saying goes, "From the snow-capped Himalayas to tropical Cape Comorin." India's multi-ethnic dishes vary based on the region and the locals' religious leanings. There are some people who practice Hinduism and Islam who respect each other's religious sentiments by avoiding beef and pork in their shared dishes.
Rice and bread are staples in the country and there are several types of each. There are plain rice, pulau (or pulao), spiced rice and biriyani, a rich rice dish that is usually more expensive than pulau. There are also three types of bread, naan made with fermented flour, puri, a kind of fried bread and chapatti, which is similar to naan but not fermented. For religious or economic reasons, numerous Indians consume grains, beans or dairy pro-ducts for protein rather than large quantities of meat. Dahi, which is made with milk and butter, is often used as an oil or lard substitute.
In India, there is a spice called "masala," comparable to Korean soy sauce and soybean paste. The customizable spice is made from varying amounts of fruit, seeds, leaves or roots of plants. After heating a dish, multiple types of masala can be added, changing the entire meal's aroma and flavor. From side dishes to snacks, like samosas (fried pastry dough with a savory filling), masala is widely used in Indian cuisine.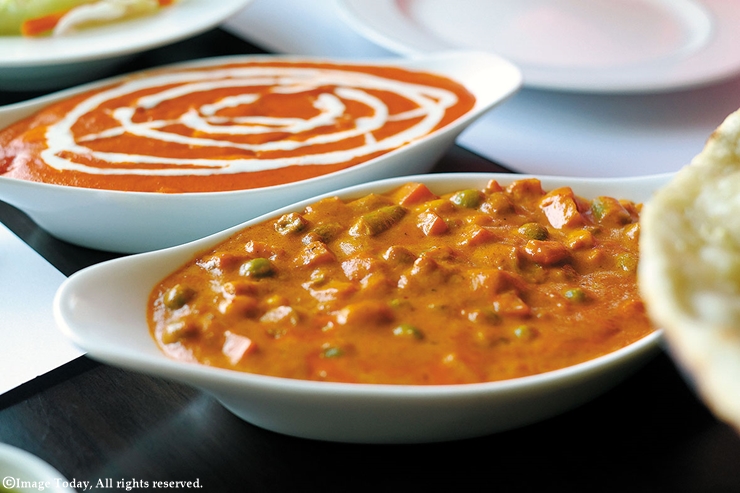 △ Curry comes in many shapes and sizes.
■ Popular menu items
It's easy to think of curry when we talk about Indian food. However, Korean curry uses various meat and vegetables together, while Indian curry usually uses either meat or vegetables. Therefore, the ingredients and flavor are slightly different, but they carry the same name. Typically, in India, lamb or chicken is used in meat dishes.
A variety of seasonal vegetables are used for vegetarian curries; sabzi, meaning vegetables, also indicates side dishes like vegetarian curry. Common sabzis are potatoes, peas, tomatoes, cauliflower, cabbage, eggplant and spinach. They are usually mixed in a pan over heat with seasonings like garlic, ginger and masala.
Another famous Indian cuisine in Korea is tandoori chicken and seekh kebab. Tandoori chicken is a yogurt-marinated chicken with various spices, named after the "tandoor" (Indian clay oven), where it's roasted. Seekh kebab is sliced meat, usually lamb, grilled and served on skewers. A favorite Indian beverage is lassi, a thick sweet yogurt drink. This beverage typically comes as part of a set menu, even at Indian restaurants in Korea.
■ Busan's touch of India
♥ Namaste (나마스테 해운대점)
From decor to dishes, this Trip Adv-isor Travelers' Choice restuarant earns its title. Namaste opened in 2000.
Address: on the first basement floor. 7, Haeundaehaebyeon-ro 265beon-gil, Haeundae-gu
How to get there: Haeundae Station (metro line 2), exit 5. Walk about five minutes.
♥ Indikitchen (인디키친)
An array of sets and traditional Indian menu items are available here. In particular, the naan is baked in an authentic Indian brazier.
Address: 50, Jangjeon-ro 12beon-gil, Geumjeong-gu
How to get there: Pusan Nat'l Univ. Station (metro line 1), exit 3. Walk about two minutes.
♥ Bollywood (발리우드)
The dim lighting adds to the locale's ambiance. Curries are 10,000 won every Wednesday and Thursdays are all-you-can-eat naan.
Address: 9, Gwangnam-ro 130beon-gil, Suyeong-gu
How to get there: Gwangan Station (metro line 2), exit 5. Walk about 10 minutes.