Food
Scrumptious spring in Spain
Busan World Food - Sister Cities ④ Spain - Barcelona 
Busan is a melting pot of culture, science and trade, with 26 sister cities. In hopes of hosting the World Expo 2030, Dynamic Busan would like to introduce popular cuisines from these cities and recommend comparable local eateries.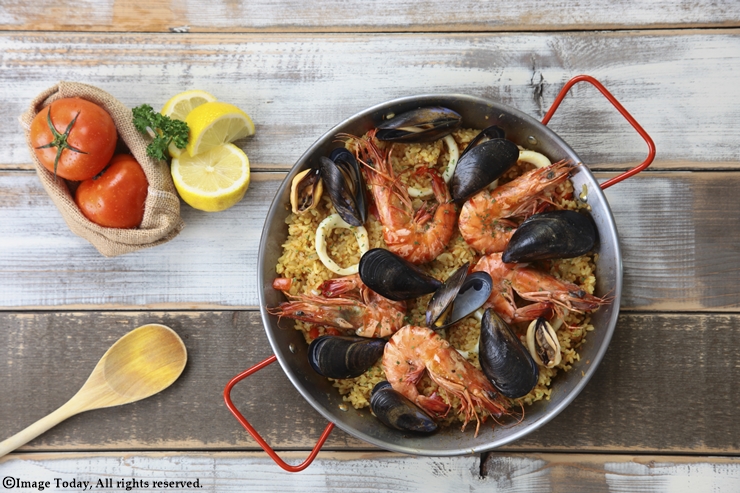 △Dig into a large paella-filled wok that is typically enhanced with ocean delicacies.
As spring begins, warm up with some paella (rice dish) and cool off with cool gazpacho (cold vegetable soup). Revitalize your mind by infusing this transitional season with Spanish cuisine from around the city. Dynamic has carefully chosen three spots for you to pull up a chair and sink right in.
■ Sister City : Barcelona
Barcelona, the second-largest city in Spain located on the Mediterranean coast, is the country's harbor city based on commerce and industry. On Oct. 25, 1983, the mayor of Busan and the mayor of Barcelona signed a sisterhood agreement in Barcelona, making this year the 39th year of the continuing relationship. The cities actively promote mutual exchanges in diverse fields such as smart city, IT, architecture and maritime industry.


△Open sandwiches are one trendy tapas dish.
■ Signature Spanish dishes
A hot country in the Mediterranean, Spain has a distinct daily routine based on climatic conditions. Siesta, for example, is a short afternoon nap that originated due to the weather around that time of day. A custom of "five meals a day" exists because many take snack breaks before, after and between meals. Typically, up to two snacks in the morning, then lunch and dinner, followed by tapas (small shared dishes). The term came from pieces of bread being placed on glasses to protect the drink from flies. Now, the word refers to small dishes made of a multitude of ingredients such as sausage, salad, pickled fish and cheese.
As Spain is a peninsula like Korea, it too provides a plethora of fresh and savory seafood dishes. Among the most popular are crispy calamari sandwiches and paella. Paella is saffron-colored seafood fried rice that incorporates beef, pork, and chicken cooked in olive oil with vegetables. Drawing additional similarities between the countries, Spain loves its rice, as it consumes most of the grain in Europe.
Authentic must-try dishes are Cocido Madrilenos and Callos Madrilenos. Cocido Madrilenos is made by thoroughly boiling meat and vegetables for an extended period. Callos Madrilenos is a savory yet lightly flavored beef intestine soup.
Since embarking on expeditions across the globe, Spanish cuisine underwent major changes. Flourishing intercontinental trade led to the introduction of various crops from Central and South America, like potatoes, tomatoes and corn. These ingredients are often used in Spanish dishes. Tomatoes are the main ingredient in gazpacho, the signature Spanish soup popular in Andalusia. The soup is made by grinding and blending cold tomato puree with vegetables like bell peppers, onions and cucumbers. Because it's served cold and raw, it's said to absorb quickly and energize whoever drinks it, leading to its growth in popularity. It became one of the most well-known Spanish menu items following a boom in tourism to Costa del Sol, Spain, from the 1960s to 1970s. It has maintained its reputation as the representative dish of Spanish summer food in recent years.
Also, coastal cuisine differs from that of the inland. In the Malaga region, the pescaito frito is quite popular; the mixed stir-fried fish, mullet and calamari are seasoned and roasted over an open fire.

△Spanish-style ham called Jamon should not be missed.

■ Small Spain in Busan
① Spain Club (스페인클럽)
The club is a terraced space situated adjacent to Haeundae Beach, where guests can enjoy both Spanish cuisine and the atmosphere.
Address: 24, Haeundaehaebyeon-ro 298beon-gil, Haeundae-gu
How to get there: Haeundae Station (metro line 2), exit 3. Walk for about 10 minutes.
Phone: 051-746-1164
② AMA (아마)
This home-style Spanish restaurant with complementary decor is owned and operated by a Spanish chef and reservations are required.
Address: 15, Gampo-ro 8beon-gil, Suyeong-gu
How to get there: Gwangan Station (metro line 2), exit 1. Walk for about 7 minutes.
Phone: 051-910-9557
③ Vivaracho (비바라쵸)
A tapas bar that serves up authentic Spanish wine, sangria, draft beer and numerous tapas dishes.
Address: 43, Sesil-ro, Haeundae-gu
Hours: Open every day from 5 p.m. to 11 p.m.
How to get there: Jangsan Station (metro line 2), exit 3. Walk for about 2 minutes.
Phone: 051-701-0248
④ Printze (프린체)
A Spanish restaurant run by kind and diligent Busan's young generation, which provides excellent taste of Spanish dishes. It also has a gallery and workshop space on the second floor.
Address: 2, Nakdongdae-ro 1694beon-na-gil, Buk-gu
How to get there: Gupo Station (metro line 3), exit 3. Walk for about 2 minutes.
Instagram@printze_spanish