Food
Venture out just to try a hot slice of pizza pie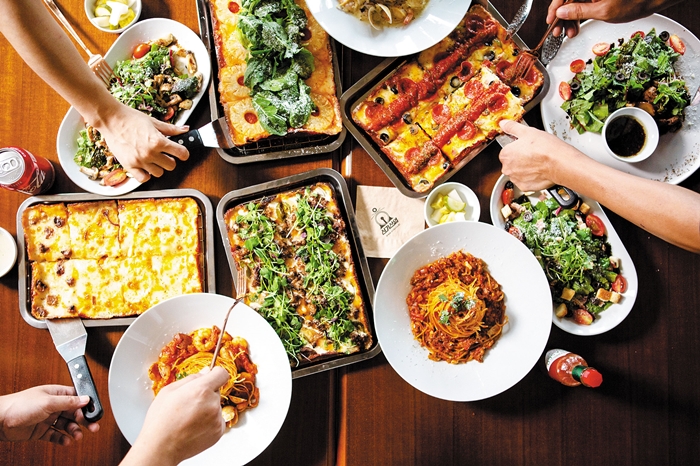 ▲ Young Dough's sundry menu embraces fresh ingredients and a diversified fusion of food from around the globe. (Source: Taste of Busan 2021)
 The concept of putting toppings on flatbread dates back to ancient Egypt. Thanks to its simplicity, the dish has been adapted and developed based on the ingredients available in any given region. Pizza first became popular in Korea in the 1990s. In the U.S., the dish is rarely considered high-end, though these days, in Korea, many are considered gourmet. The general concept is the same, though western pizza emphasizes the quality of the dough and sauce, while Korean pizza focuses on the quantity and quality of toppings.
 Busan, strengthens its title as the international tourism city with emerging food from diverse cultures. Well-liked pizza plays a large part in supporting the city's hope of becoming a gastronomic hub. Dynamic Bu-san has found some primo pizzerias.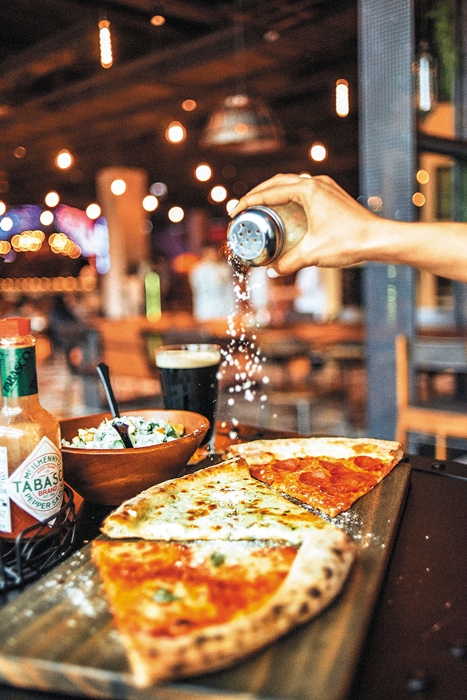 ▲ Slice of Life
■ Slice of Life (솔탭하우스)
 Also known as SOL Taphouse, the restaurant on Gwangalli Beach is well known among foreign residents for having traditional New York-style pizza. The pizza is made of thin hand-stretched dough, tomato sauce and mozzarella cheese, eliciting a sense of visiting an American pizzeria. Eight types of pizza are available, including "Margherita" with Grana Padano cheese and basil and "Meat Lover" which is full of Italian sausage, pepperoni and bacon. Furthermore, you can make your own pizza with up to 14 different toppings. Wash down a large slice of pizza with a Snapple or an ice-cold beer. With more than 15 craft beer options, Slice of Life is also a Mecca for beer lovers.
◎ Address: 4F, 153, Gwangan-haebyeon-ro, Suyeong-gu
◎ Hours: 5 p.m. to midnight (Monday to Thursday) 3 p.m. to midnight (Friday) Noon to midnight (Saturday, Sunday)
◎ Phone: 051-757-4278

▲ Young Dough
■ Young Dough (영도우)
 Opened last July, this Western-style hilltop restaurant has gone viral on social media for its unique menu and picturesque view. The pizza is Detroit-style down to the thick and crispy crust and rectangular design. Most components are made in-house, the dough is freshly kneaded and aged every day and the homemade sauce isn't made with any pre-packaged materials.
 Visitors can enjoy various menu items, including five kinds of pizza. The pepperoni pizza is made with a spicy tomato sauce and the "Quattro Cheese Pizza" has Camembert and mango cheese. Appreciate a perfectly plated dish while enjoying the breathtaking view of Yeongdo and Busan-hangdaegyo Bridge.
◎ Address: 2, Jonaegi-ro 5beon-gil, Yeongdo-gu
◎ Hours: 11:30 a.m. to 10 p.m. with a break from 3:30 p.m. to 5 p.m. Closed on Mondays
◎ Phone: 070-4659-0169

▲ Leejaemo Pizza
■ Leejaemo Pizza (이재모 피자)
 When Busanites talk about pizza, they usually think of Leejaemo Pizza, first, due to the hotspot's history. Open for almost 30 years and famous for being a traditional restaurant that embraces all ages, this locale varies common ingredients with diverse toppings over a 14-inch round do-ugh. Customers can choose from mu-ltiple types of pies such as kimchi and bulgalbi (grilled rib meat) pizza and almond and sweet potato pizza. A new notable amenity is the four cat-like pie serving robots, which provide customers with both entertainment and delectable dishes.
◎ Address: 31, Gwangbokjungang-ro, Jung-gu
◎ Hours: 11 a.m. to 9:30 p.m. Closed on Sundays
◎ Phone: 051-245-1478