Food
Fresh local cuisine makes healthy living easy
 Dieting means different things to everyone. These days, dieting mostly consists of nutrient-balancing, increasing muscle mass or improving one's immune system. Therefore, people have started to focus on what they eat rather than how much.
Healthy Korean Restaurants
 Recently, many restaurants are paying close attention to the health benefits and diversity of their dishes. Dynamic Busan visited local Korean food restaurants that are adapting and evolving their healthy menu options.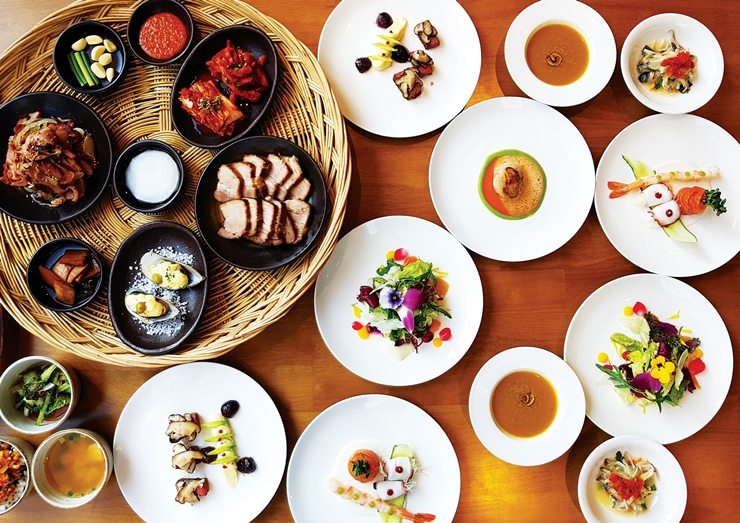 ▲ Treat yourself to a unique and healthy course meal from a family-owned and operated local restaurant. (Source: Busan Ilbo)
■ Bong Restaurant (봉식당)
 Dishes at Bong's Restaurant can be summed up in two words pretty and delicious. Offering a fusion course of Korean and Western cuisine, this restaurant is run by a mother who has been cooking for 17 years and a son who has studied at Michelin restaurants worldwide for five years. Part one of the course has a jujube soup and seaweed salad with squid ink fries. Part two includes traditional boiled pork slices, smoked stir-fried duck and mussels with ginkgo nuts.
◎ Address: 26, Oncheonjang-ro 119beon-gil, Dongnae-gu
◎ Hours: Noon to 10 p.m. every day with a break from 3 p.m. to 5 p.m.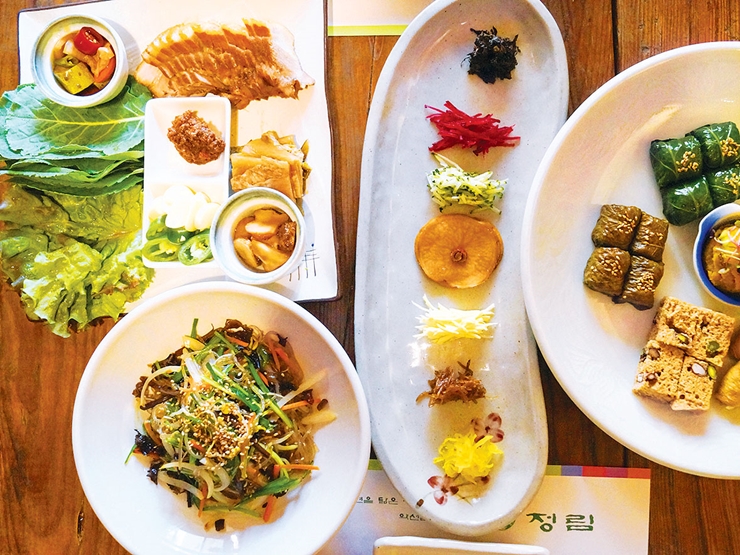 ▲ Jeonglim's dishes are often plant-based, but they do offer meat.
■ Jeonglim (정림)
 This restaurant, takes the saying "you are what you eat," to a whole new level with their healthy options. Jeonglim makes healthy and diverse flavored food. Sweet items are made with syrup from five grains and sour flavors come through with vinegar made from persimmons and plums. A side dish of pickled vegetables, is made by aging the vegetables with enzymes from wild plants for over two years.
◎ Address: 31-3, Chungnyeol-daero 237beon-gil, Dongnae-gu
◎ Hours: 10 a.m. to 9 p.m. every day except the day of Seollal and Chuseok.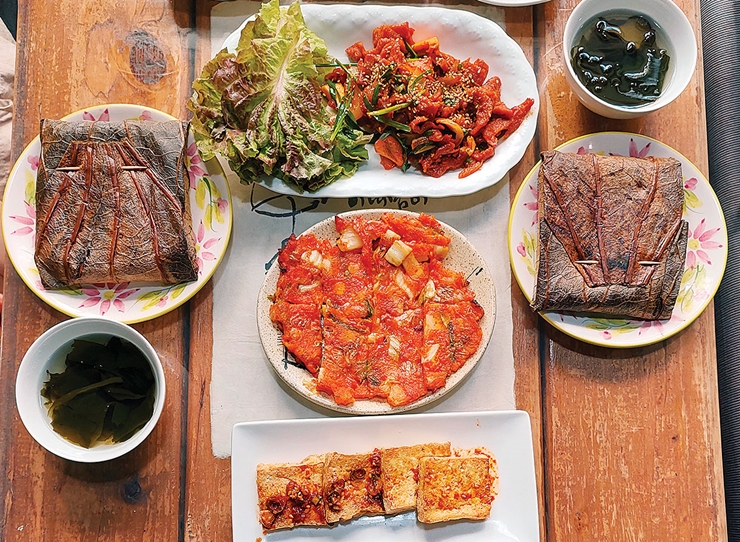 ▲ Unwrap a yeonnip bap for a complete sensory experience. (Source: Ahn Seonyeong)
■ Dajeon Cafe (다전)
 When stepping into this traditionally designed restaurant, visitors will be able to find multiple plant-based dishes that preserve the flavor of Korean cuisine. Dajeon Cafe is a highly-ranked vegetarian restaurant. One of the most popular menu items is the yeonnip bap (steamed rice wrapped in lotus leaves) set. Warm rice and grains are wrapped inside a lotus leaf; as you open it the scent of the leaf fills the air. The multigrain rice has 15 kinds of nuts, such as jujubes, chestnuts and pine nuts.
◎ Address: 61, Sincheon-daero 62beon-gil, Busanjin-gu
◎ Hours: Noon to 9 p.m. with a break from 3 p.m. to 5 p.m. Closed on Sundays.