Food
A meat lovers' pilgrimage from Gwangan to Haeundae
Strolling along the beach may whet ones' appetite. Especially with so many options along Gwangalli and Haeundae beach.
 Whatever your preference, beef, chicken, pork, we've done the research and are offering up some of our favorite choices along the Busan City Tour Bus Red Line Course.

▲ Chicken wings, thighs and knee cartilage expertly grilled over charcoal.
■ Gyestaurant Chicken (계스토랑)
 Gyestaurant near Gwangalli Beach is the place to go for those tired of fried chicken or chicken soup. Inside this French bistro-themed restaurant, they grill different kinds of chicken parts such as breast, thighs, shoulder and knee cartilage. Visitors can choose between the lightly flavored salt-grilled or spicy-marinated grilled chicken. It's said that the soft texture of the charcoal-grilled meat and savory juices go quite well with wine, which the restaurant sells a variety of and even offers corkage free of charge.
Address: 5, Gwanganhaebyeon-ro 277 beon-gil, Suyeong-gu
Hours: 5 p.m. to midnight. Closed Mondays.
How to get there: Walk for about 10 minutes from Gwangalli Beach bus stop. It's next to Sejong Pharmacy.
Recommendation: Assorted set with chicken neck, thigh, breast, and knee meat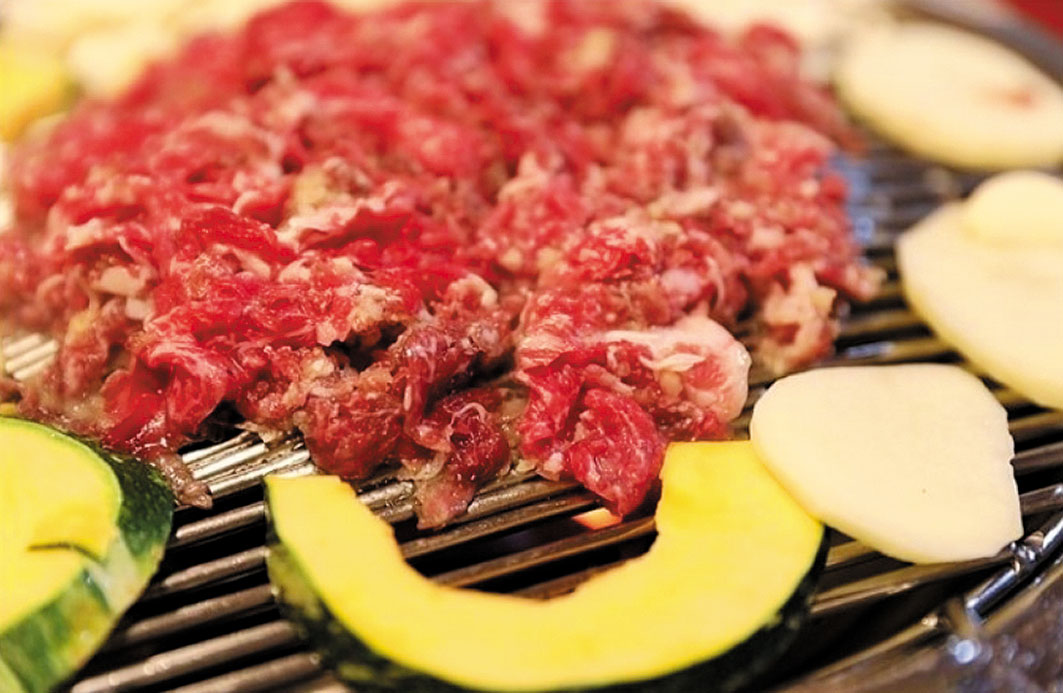 ▲ Eonyang bulgogi has both a moist and crispy texture.
■ Eonyang Bulgogi Busangip (언양불고기 부산집)
 Bulgogi (soy-marinated sliced meat) is a popular Korean food enjoyed by Koreans and expats alike. However, eonyang bulgogi is a variation made by combining minced beef with oil, soy sauce, and other ingredients to form a patty which is then grilled. Differing from other forms of bulgogi, you can distinctly taste the meat, which pairs nicely with a bowl of soup. One of the best eonyang-style bulgogi restaurants is Eonyang Bulgogi Busangip, near Gwangalli Beach. They have spent 30 years perfecting the dish's texture and marinated garlic soy sauce. A complementary side dish for the eonyang bulgogi is a signature hot pot rice with chestnuts, mu-shrooms, abalone, and other specialty ingredients, called uwabap.
Address: 32, Namcheonbada-ro, Suyeong-gu
Hours: 11 a.m. to 10 p.m.
How to get there: Walk for about 12 minutes from Gwangalli Beach bus stop. It's behind Hy-eopjin Taeyang Apartment.
Recommendations: Eonyang-style bulgogi and uwabap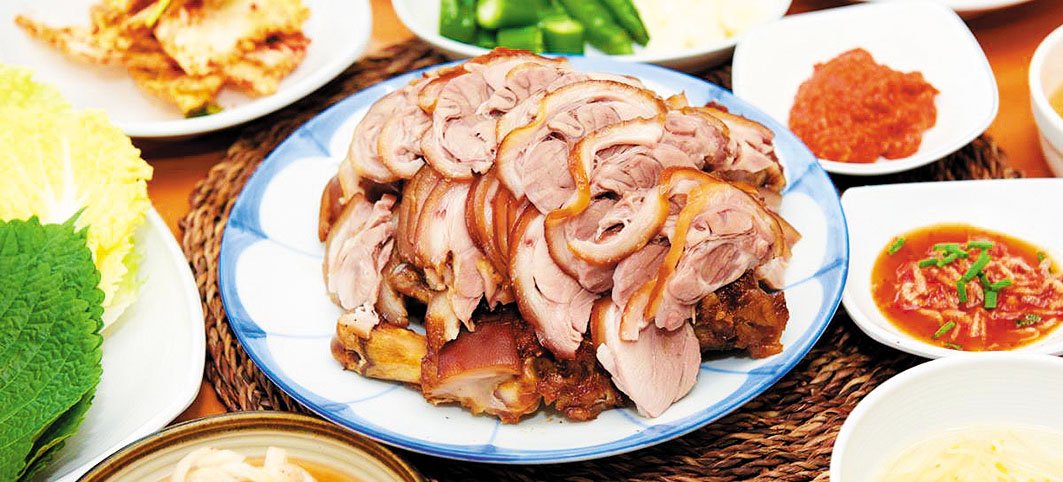 ▲ Perfectly sliced pieces of jokal pair well with fresh side dishes.
■ Pyeongando Jokbal (평안도 족발집)
 Pyeongando Jokbal, the 32-year restaurant near Haeundae Beach, is beloved by more than just the locals. This restaurant has a long history for a reason. They offer evenly-sized, with meat to fat ratios, pieces of jokbal (pig's feet), so customers can enjoy something that not only tastes delicious but looks delicious, too. In addition to the standard jokbal, a popular menu is the naengchae jokbal (cold pig's feet), due to the special sauce it's savory and pairs wonderfully with the expertly crafted side dishes.
Address: 14, Dalmaji-gil, Haeundae-gu
Hours: Noon to midnight. Closed on national holidays.
How to get there: Walk for about 8 minutes from Haeundae Beach bus stop. It's across from Pol-A resort.
Recommendations: Jokbal and naengchae jokbal

▲ There's nothing like a premium steak by the beach.
■ Geodaegalbi Ribs (거대갈비)
 Some might say, "let the ingredients speak for themselves" in this case, the ingredient is ribs. Geodaegalbi, near Haeundae Beach, is famous for serving only the finest ingredients and sticking to only the highest quality Korean beef. Customers can enjoy more than 10 different cuts of steak, including sirloin, tenderloin and skirt. Don't know much about steak? Don't know what or how to order? Don't worry. The staff is happy to explain the different cuts of meat, and grilling process. Ribs aren't the only speciality here. Another signature item is jangjorim (soy-stewed beef with garlic and quail eggs are put in a soy sauce container and boiled on a fire plate), which serves as a perfect appetizer.
Address: 22, Dalmaji-gil, Haeundae-gu
Hours: 11:30 a.m. to 10 p.m. (break time is from 3 to 5 p.m.).
How to get there: Walk for about 8 minutes from Haeundae Beach bus stop. It's across from the Pol-A resort.
Recommendations: Premium ribs and sirloin ribs