Food
Take a tour through tteokbokki town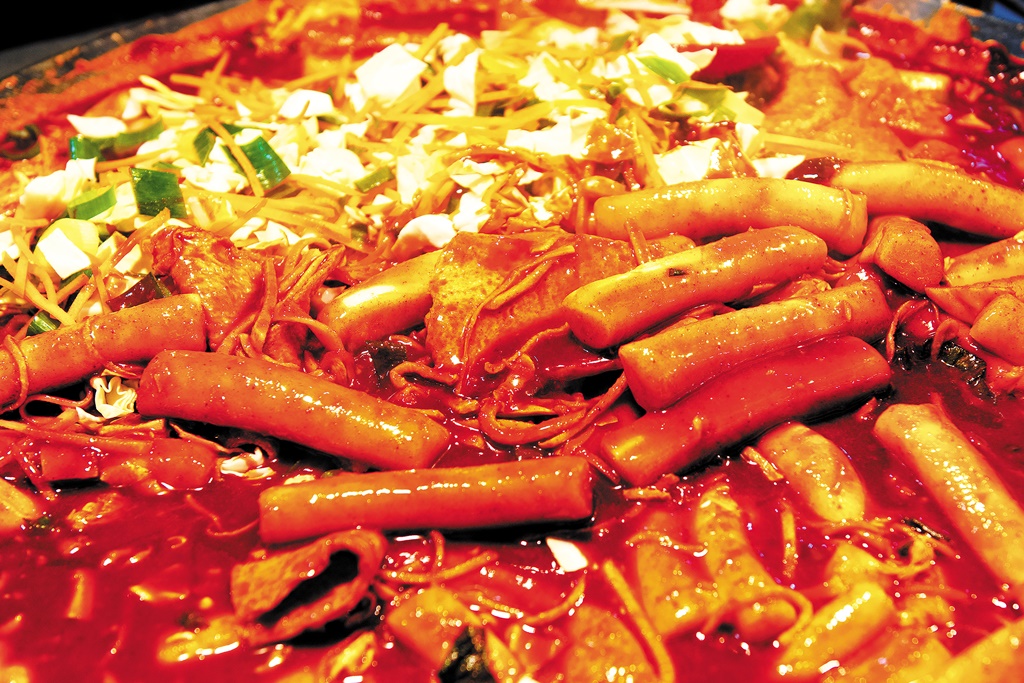 ▲ Iganae Tteokbokki uses radishes setting them apart from your everyday tteokbokki.
Like Turkish kebabs and Thai pad thai, there are foods that people of all ages enjoy. In Korea, tteokbokki is such a dish. This dish, which combines sweet and spicy seasoning with chewy rice cakes, has been loved by Koreans for many generations. Gallup Korea selected it as one of "Koreans' Favorite Korean Foods" in 2019.
 Tteokbokki is a food made by frying rice cakes with seasonings and various ingredients. It is a dish that has been loved for a long time in Korea, and you can find records that tteokbokki had been eaten since the Joseon Dynasty in the 17th century. At that time, it was made by frying rice cakes with soy sauce-based marinated beef. The royal family's cuisine was called "Obyeong," and it is now known as "gungjung tteokbokki." After the Korean War, tteokbokki began to take on a red color as it is now. Red pepper paste-based tteokbokki or gochujang tteokbokki originated in Sindang-dong (neighborhood), Seoul in 1953, and has spread throughout the country since the 1970s.
 Tteokbokki is simple food made with rice cakes and seasoning, so each person has a wide variety of cooking methods. Based on personal preference, people can make different tteokbokki. They can choose chewy rice cakes or well-marinated wheat cakes. In addition, they can use red pepper powder, soy sauce, sweet bean sauce, or cream sauce instead of using the more traditional red pepper paste. Sometimes, curry powder is added for a more spicy flavor. Even apples or pineapples have been added for a more sweet and sour flavor. What seasoning to add is an enjoyable topic for debate amongst those who cook and eat tteokbokki. Additionally, people can add various ingredients such as, eggs, noodles, cheese and many more to give the tteokbokki a different flavor.
 It is one of the most common foods in Korea, ranging from simple street food served in paper cups to meals cooked and eaten with plenty of pots. One of the most authentic street foods, tteokbokki, is made by stir-frying long rice cake pieces and eomuk in a broth made of spicy chili paste called gochujang. It focuses on the basics such as the broth and spice rather than the variety of ingredients. Jeukseok tteokbokki (tabletop spicy rice cakes) is made by pouring broth on an iron plate and adding the rice cakes, fish cakes, seasoning and other various ingredients, such as cabbage, dumplings, eggs, meat, tempura, depending on your personal preference. There are many choices, such as adding more things you like or subtracting things you don't like altogether.
 The Busan City Tour passes by two must-eat tteokbokki restaurants on the Green Line route. Each is famous for street food and tteokbokki. Enjoy the spicy snack conveniently, as both are within walking distance of Green Line stops.
◆ Iganae Tteokbokki
There is a famous tteokbokki restaurant near BIFF Plaza, the last stop of Green Line on the Busan CIty Tour. The restaurant, located in Kkangtong Market next to BIFF Plaza, was introduced as a popular Busan tteokbokki locale in 2015. Although it looks like ordinary street tteokbokki, the secret of Igane tteokbokki is shredded radishes. The tteokbokki is cooked in only radish vegetable broth, giving it a unique taste and texture.
◎ Address: 48, Bupyeong 1-gil, Jung-gu, Busan, Republic of Korea
◎ Hours: 10 a.m. to 5 p.m.
◎ How to get there: Walk for about eight minutes from BIFF Plaza.
◎ Popular menu item:Tteokbokki and tempura set for 3,500 won
◆ Donald

▲ Add various ingredients to your tabletop pot at Donald.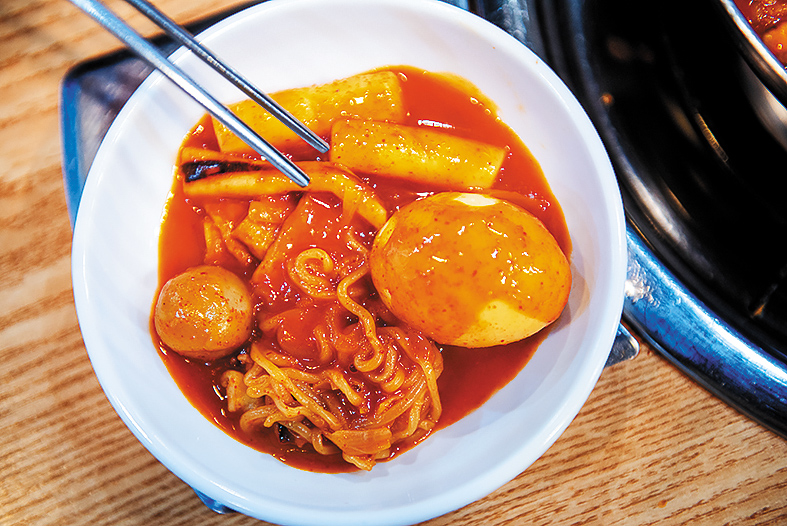 ▲ Tteokbokki, raman and eggs with Donald's sweet seafood broth.
There is an old must-eat restaurant near Huinnyeoul Culture Village, the 4th Busan City Tour bus stop along the Green Line route. Donald, the tteokbokki restaurant, is over 30 years old this year. Since opening in 1985, Donald has been famous for instant tteokbokki, known to the locals as a restaurant that encompasses generations. The tabletop tteokbokki, ramen, eggs and various other ingredients of your choice are boiled with a seafood broth made from shrimp and anchovies and a special, sweet rather than spicy, secret seasoning.
◎ Address: 267, Kkumnamu-gil, Yeongdo-gu, Busan, Republic of Korea
◎ Hours: 11 a.m. to 8 p.m. Monday through Saturday. Closed on Sundays.
◎ How to get there: Walk for about 11 minutes to Kkumnamu-gil from the Huinnyeoul Culture Village.
◎ Popular menu items: Tteokbokki, ramen and jjolmyeon (spicy cold springy noodles) set for two 8,900 won.