Food
The year of the pig, in the stars and on your plate
[Recommended Local Eateries] Braised pig's feet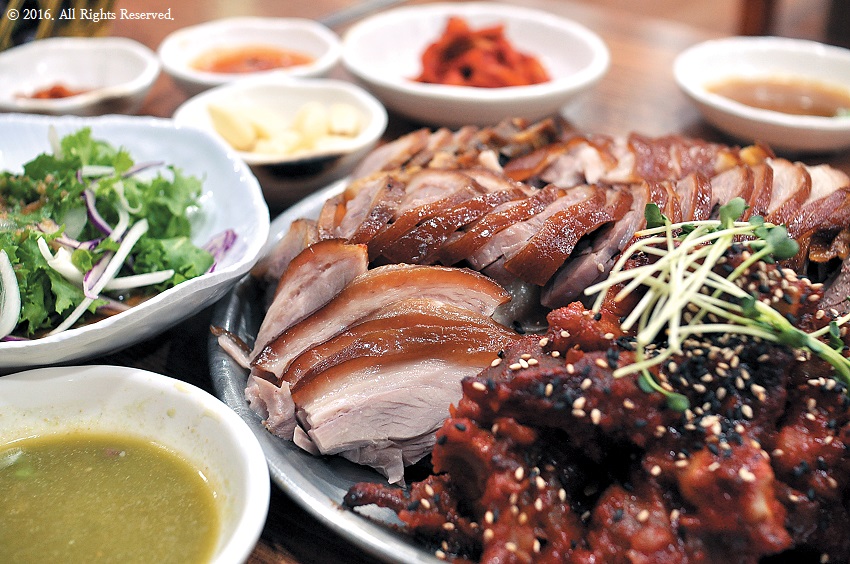 Jokbal is enjoyed by many locals because of its great taste, texture, ample collagen and more. The ban-ban (half-half) set from Hongso Jokbal gives diners half orders of original jokbal and spicy jokbal.
How do you want to celebrate the year of the golden pig? We have a succulent suggestion.
As 2019 is the year of the golden pig on the Zodiac Calendar, it's fitting that folks try some delicious jokbal (braised pig's feet) at one of several excellent Busan restaurants. Jokbal is a popular party meal in Korea. It has a chewy texture that pairs beautifully with cold beer. This issue of Dynamic Busan introduces several jokbal restaurants that will leave patrons as happy as a pig playing in mud the entire year.
■ Hongso Jokbal (홍소족발)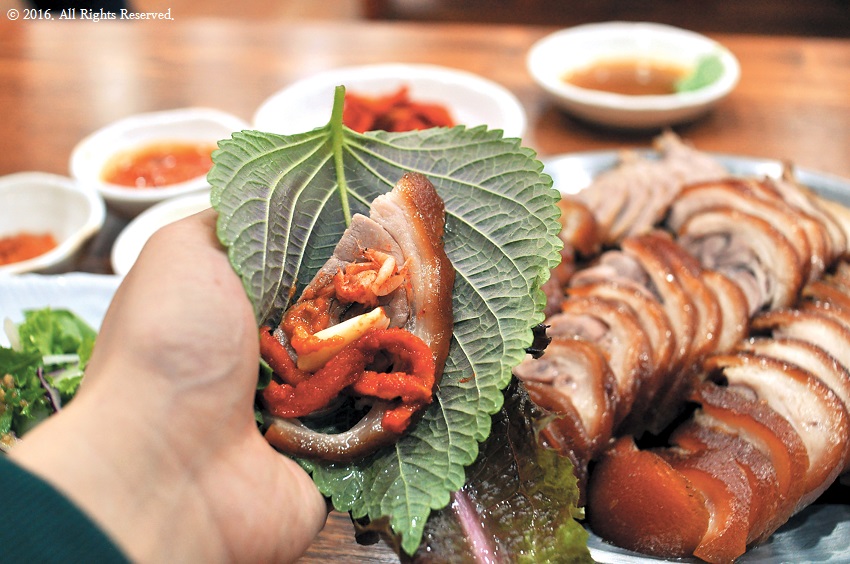 Wrapping jokbal in leaves is true Korean style.

Located in Seomyeon, Hongso Jok-bal uses traditional Korean cooking methods for its prized pig, incorporating medicinal herbs and fresh ingredients that results in some very flavorful food. It is packed with collagen, which makes these happy feet more chewy and tender.
Naengchae (chilled vegetables) jokbal is particularly popular here. Naengchae jokbal includes haepari naengchae, which is cold jellyfish and vegetables, cucumber, onion and mustard sauce. It gives the pig's feet a sour and tangy flavor.
The best way to enjoy jokbal is to wrap a tender piece in some lettuce, a perilla leaf or both! For those unsure which jokbal they prefer, try a "ban-ban" order, with some original style jokbal on one side and spicy jokbal or naengchae on the other. Lunch menu sets for 10,000 won also include either makguksu (buckwheat noodle soup) or doenjang jjigae (soybean paste stew).
-Address: 44, Jungang-daero 691beon-gil, Busanjin-gu
-How to get there: Seomyeon Station (Metro lines 1 and 2), exit 7. Walk straight behind Lotte Department Store. Hongso Jokbal is located near Arban Hotel.
-Hours: Noon to 1 a.m., daily
■ Seodae Market Jokbal (서대시장 족발)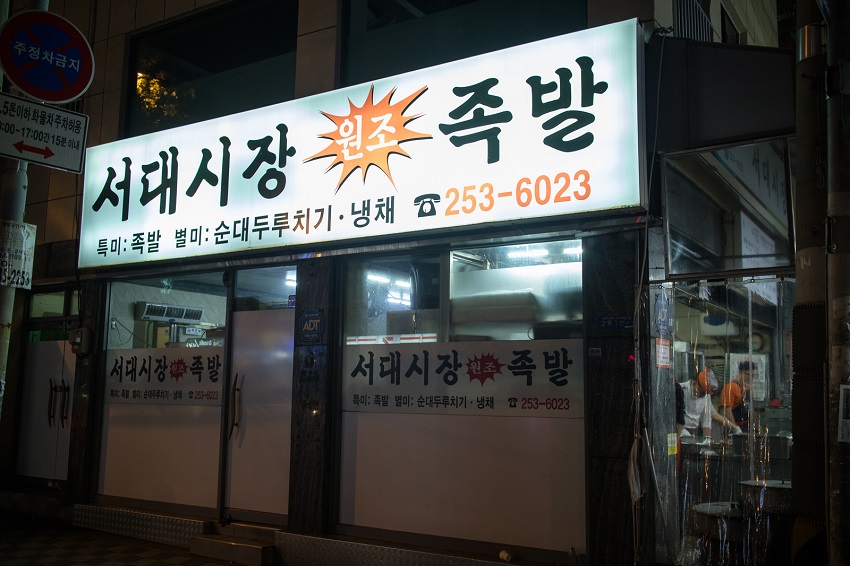 The restaurant is famous for its chewy texture of jokbal for tens of years in Seodae Market.
Somehow, there are still some locals who haven't tried Seodae Market Jokbal. But, those fair few likely still know about it. After all, a restaurant doesn't stick around for so many years by staying anonymous.
Located at the entry of Seodae Market, loyal regulars and various tourists have made pilgrimages to this legendary pig's feet restaurant year after year.
Diners can not only enjoy delicious original recipe jokbal but also stir-fried soondae (Korean blood sausage), naengchae jokbal, fish cake soup, stir-fried pork and more.
Medicinal herbs in the braising liquid bring out a distinctive taste and scent. Pairing jokbal here with some marinated onion and cucumber salad is clearly the best way to enjoy this delightful dish. If this sounds like a little too much food, worry not: a bowl of rice with dried radish leaves soup (siraegi gukbap) is a lighter hunger-erasing alternative.
-Address: 43-2, Daeyeong-ro, Seo-gu
-How to get there: Dongdaesin Station (Metro line 1), exit 6. Turn around and walk straight on Dae-young-ro for 150 meters.
-Hours: 10:30 a.m. to 1:30 a.m., daily
■ Wonjo Hanyang Jokbal (원조한양족발)
Copious jokbal to eat at Hanyang Jokbal

"Jokbal Street," a collection of big and small pig's feet restaurants, has thrived in the Bupyeong-dong neighborhood for many years. Wonjo Hanyang Jokbal is one of our favorites.
The huge pile of jokbal ready to be trimmed draws many eyes to this dining destination from outside. Inside, the restaurant is nice and large, allowing many hungry customers to tuck in together across two floors.

Hanyang Jokbal's exterior.
The incredible flavor of jokbal comes through with the help of 15 key ingredients including cinnamon, licorice, jujube, whole red peppers, whole garlic and spring onions. Besides the restaurant's namesake signature item ("wonjo" means "original" in Korean), many patrons enjoy naengchae jokbal, as well. Either way you go, you can't lose.
-Address: 13, Gwangbok-ro, Jung-gu
-How to get there: Nampo Station (Metro line 1), exit 7. Turn left and walk along the main street for three minutes. Jokbal Street can be seen on your left. Walk along Jokbal Street and find Wonjo Hanyang Jokbal on your right.
-Hours: 10 a.m. to 1 a.m., daily