Food
The United States and Busan, melting pots
Busan World Food - Sister Cities ⑧ The U.S.- L.A. and Chicago
Busan's focus on sister cities has increased. In earnest, Mayor Park Heong-joon continues to secure support for the World Expo through active diplomacy. Last September, he met with Miami Mayor Francis Suarez to discuss the development of a sister city agreement. This edition we introduce American cities with relations to Korea, L.A., Chicago and now Miami and their popular cuisine.

Eat Burgers Almighty next to Gwangalli Beach.
Sister cities
L.A. is the largest harbor city on the Pacific coast of North America and a hub of aerospace technology development. Busan and L.A. agreed to be sister cities in December 1967. Currently, about 700,000 Korean diasporas live in California and about 100 overseas Korean communities, including the overseas Korean assoc-iation. Due to the diversity of both cities, active cultural and societal ex-changes, such as volleyball teams, junior choirs and even an L.A. performance of the Busan Philharmonic Orchestra, exist and flourish.

Chicago is a hub of the global futures market where places such as the Chicago Mercantile Exchange are located. Situated in the center of the country, Chicago is home to the second-largest Mexican diaspora community in the U.S, the third-largest international airport, Great Lakes waterway transport and diverse exhibitions and conventions. Therefore, it plays a significant role in the cou-ntry's logistics and diversity. In May 2007, Chicago and Busan signed their sister city agreement.
Miami is a mix of many different cultures, as is Busan. Both are also coastal port cities that boast populations of over three million. Mayor Park's visit with Mayor Suarez brought to light these aspects and cities' similar visions of finance and cooperation. A sister city agreement between the two is in the works to be signed upon Mayor Suarez's visit to Busan, which is planned for the first quarter of next year.

Pizza.

Popular American Cuisine
Burgers, tacos, pizza, barbecue and home-cooked meals are often thought of as "American foods," and the reason for this is that they are found countrywide. Both Busan and the U.S. are melting pots when it comes to food. As you traverse the city and the country, all the dishes are available, but the variety, options and even cooking styles change. Different areas produce slight variations in ingredients and taste.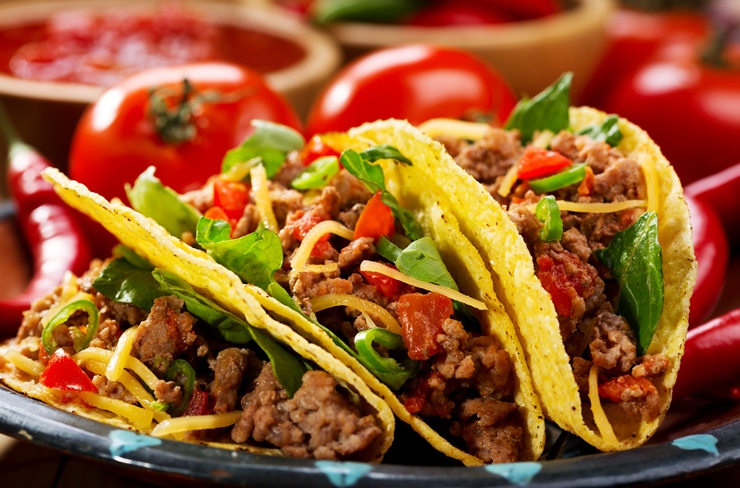 Tacos.

American eateries in Busan
Burgers Almighty (버거스 올마이티)
Since the opening of its second location at Millac the Market, a popular cultural complex these days, this eatery has drawn massive crowds for its handmade burgers. Gwangalli Beach and Gwangan Bridge lend the perfect backdrop for munching on the restaurant's most popular item, the four patties, "Quattro burger."
Address: D-3 on the second floor 56, Millaksubyeon-ro 17beon-gil, Suyeong-gu
Hours: 11 a.m. to 9:30 p.m.
Uno Dos Tacos (우노 도스 타코스)
Owned and operated by a Chicago native, this taco joint gives customers a variety of Mexican, American and even Korean fusion tacos at reasonable prices. However, the changing weekly "Taco Tuesday" specials give this locale a uniquely American vibe.

Address: 77 Udong 1-ro 20beon-gil, Haeundae-gu
Hours: 5:30 to 9:30 p.m. and Saturday from noon till 10:30 p.m. Closed on Wednesdays.
Dough Garage (도우 개러지)
Every morning, the dough is kneaded by hand and aged at low temperatures for 48 hours. Homemade sauce is made using market-direct vegetables, premium butter and spices. The glass Coca-Cola bottles and furnishings add to the 1950s American pizzeria feel of the restaurant.
Address: 26, Jeonpo-daero 224beon-gil, Busanjin-gu
Hours: Monday to Thursday noon to 10 p.m. and noon to 11 p.m. Friday and Saturday.
Gorilla Brewing (고릴라 브루잉)
Pulled pork sandwiches, brunch, craft beers on tap and barbecue platters with pork ribs are quintessential American staples. With frequent events and clubs, this spot embodies a western eatery.
Address: 125 Gwangnam-ro, Suyeong-gu
Hours: Weekdays 5 to 11 p.m. Fridays 3 p.m. to midnight, Satu-rdays 11:30 a.m. to midnight and Sundays 11:30 a.m. to 11 p.m.