Food
Have Australian-brunch in Busan
Busan World Food - Sister Cities ① Australia 
Busan is a melting pot of culture, science and trade, with 26 sister cities. In hopes of hosting the World Expo 2030, Dynamic Busan would like to introduce popular cuisines from these cities and recommend comparable local eateries.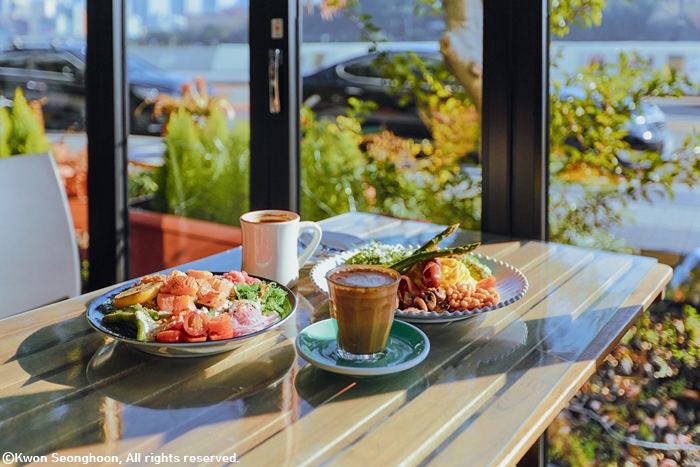 △Take a bite out of one of the many succulent Australian-Asian fusion menu options, at a terraced cafe, within reach across the city.
Busan's sister city: Victoria
In October 1994, Victoria, a state located on the southeastern coast of Australia, became Busan's "Sister city." That year at an exhibition in Melbourne, the state capital, the history between the two countries began. Both cities, being their perspective centers of port transportation, signed a maritime cooperation agreement to exchange information and technologies related to the red tide phenomena and its harmful effects.
Trendy Australian style brunch
In the past, meat pies, steak and barbecue were considered typical Australian dishes. These days cafe items are the pinnacle of dining "down under."
In Korea, cafes are the ideal place to drink a coffee and a chat. However, in addition to beverages and conversation, Australians like eating brunch outside at terraced cafes to enjoy the fresh air while eating a meal. Since the 1990s, having breakfast around lunchtime has become a worldwide sen-sation; Busan is no different.
Australian brunch and breakfast foods are not that different from other western countries. The names and appearances of popular dishes such as "eggs benedict" and "french toast" are quite similar. However, the flavor found, while digging in, can differ significantly based on their location. The island is chock-full of fresh ingredients. As a result, many restaurants and cafes use organic food, when possible.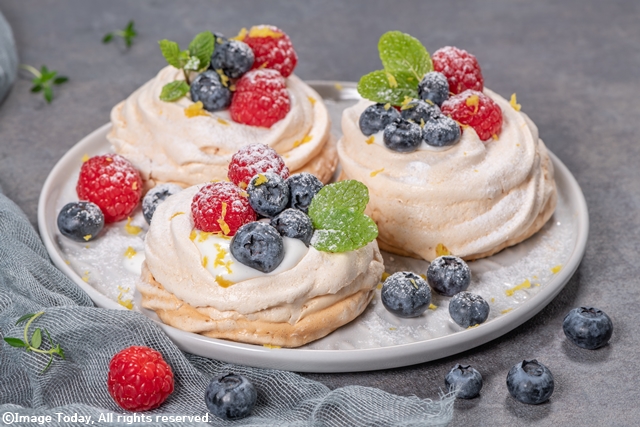 △Decadent pavlovas are both creamy and crunchy.
Sweet treats
Desserts are a must at cafes in Australia, where many people take home cakes or cookies after having brunch. Typical treats are "pavlovas" and "lamingtons," Australia's quintessential desserts. Pavlova is a baked meringue-based layered cake topped with whipped cream and various fruits, historically created to commemorate the visit of the legendary Russian ballerina Anna Pavlova in the 1920s. A traditional lamington is made from vanilla sponge cake, which is coated in chocolate and topped with coconut. This goodie is usually served in multiples and is said to be named after Lord Lamington, who served as the governor of Queensland in the late 19th century.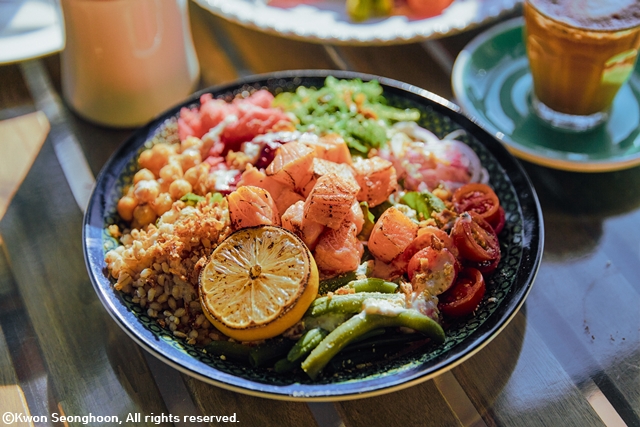 △Healthy choices like the Hawaiian Poke Bowl aren't hard to find.
Busan's little slice of Australia
①Kangaroo Point (캥거루포인트)
A restaurant with Le Cordon Bleu certified chefs. This new hotspot, located in Marine City, comes complete with an ocean view terrace, Australian teas and various menu options.
Signatures: Flat white 5,000 won. Aussie Big Breakfast 18,000 won. Hawaiian Poke Bowl 16,000 won.
Instagram: @kangaroo.point
②Surry Hills (써리힐)
The chefs and baristas here are from Sydney. From the flag in the entrance to the exotic props scattered throughout the interior, the restaurant radiates Australian brunch culture.
Signatures: Meat balls 7,000 won. Aussie Burger 15,000 won. Aussie Steak 27,000 won.
Instagram: @surryhills_busan
③Little Aus (리틀오스)
An eco-friendly restaurant, which takes pride in the quality of its dishes. They use high-grade ingredients such as organic wheat, raw sugar, free-range eggs and locally-sourced vegetables.
Signatures: French toast 13,000 won. Peri Peri Chicken Sandwich 14,000 won. Zesty prawn salad 14,500 won.
Instagram: @littleaus