Food
Winter is coming, warm up with food from the sea
The maritime city of Busan is Korea's go-to locale for fresh marine cuisine. The Jagalchi Market supplies 30 to 50 percent of the nation's fresh and dried seafood. With sashimi, myeongnan (pollack roe), gomjangeo (hagfish) and grilled clams plenty, don't miss out on "haemultang" (spicy seafood stew), the dish with all kinds of seafood.

△As the large pot of local haemultang begins to boil, dive into an ocean of perfectly placed sea-sourced creatures.
Haemultang is made by mixing octopus, shrimp, squid, abalone, scallops and spicy seasoning to form an impressive red broth. Don't worry about the spice; the heat level can be adjusted according to the diners' preference.
Full course meal
As the ingredients cook, the staff comes by to cut them into bite-sized pieces. At this time, you should start digging in. There are two types of sauce, one made with a wasabi soy sauce and the other is a red chili-pepper paste with vinegar.
After finishing the main in-gredients, noodles can be added to the remaining broth, making the liquid slightly cloudy. The last part of the meal is fried rice. Mix some rice with the leftover stew and fry it up with a garnish of seaweed and sesame oil.
Recommendations
We recommend the entire full course meal when you're really hungry. If not, simply skip the noodles or rice.
Chock-full of amino acids, like taurine, this protein-rich low-fat dish is great for building strength; not to mention its customizable nature.
Haemultang is not easy to make because if each ingredient isn't cooked well, a fishy smell may occur. Or if the seasoning is too strong, the natural seafood flavor wouldn't come through. Any restaurant that has thrived for more than 10 years must know what they're doing.
Dynamic Busan would like to int-roduce you to three of these local and traditional haemultang restau-rants.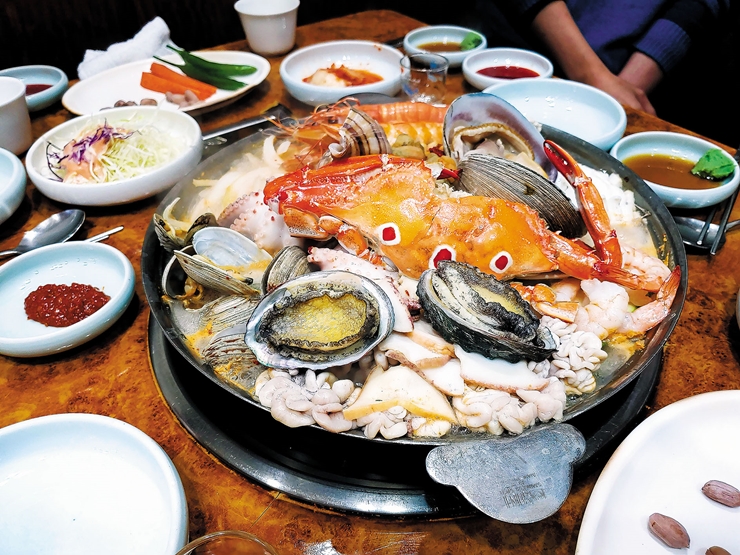 △Traditional haemultang uses fresh ingredients.
Jeongdongjin Haemultang (정동진해물탕)
This locale is one of the most famous haemultang restaurants in Busan, known for having a large portion of fresh haemultang and other maritime dishes. One option, haemuljjim is spicy braised seafood steamed with bean sprouts and plenty of seasoning. Another available alternative to their famous haemultang is agwijjim, which substitutes the seafood in the stew with spicy braised monkfish.
Haemultang and haemuljjim are 45,000 won for small (two to three servings) and 55,000 won for large (three to four servings). The spicy braised monkfish soup is 5,000 won cheaper.
Phone: 051-809-8208
How to get there: Seomyeon Station (metro line 2), exit 9. Walk for about five minutes.

△For a little more spice, check out Haemuljjim.
Gogwan Haemultang (고관해물탕)
At this hot spot, the featured dish is mildly flavored, compared to other places, to bring out the taste of fresh seafood. After munching on most of the meal, the remains are mixed and fried with bean sprouts and rice.
For a small set (two servings), it's 40,000 won, 50,000 won for a medium set (three servings) and 60,000 won for a large set (four servings).
Phone: 051-463-7585
How to get there: Busanjin Station (metro line 1), exit 1. Walk for about two minutes.
Yeonsan Nakji Haemultang (연산낙지해물탕)
As you can guess from the name, octopus is a vital ingredient. This shop has a special feature. When three or more servings of soup are ordered and the pot begins to boil, a live octopus is added.
A small haemultang (two servings) costs 40,000 won, a medium (three servings) is 50,000 won and a large (four servings) is 60,000 won. Also, the popular nakjibokkeum (stir-fried octopus) is 7,000 won per serving.
Phone: 051-758-8838
How to get there: Mangmi Station (metro line 3), exit 4. Walk for about15 minutes.