Food
Cool down with hot food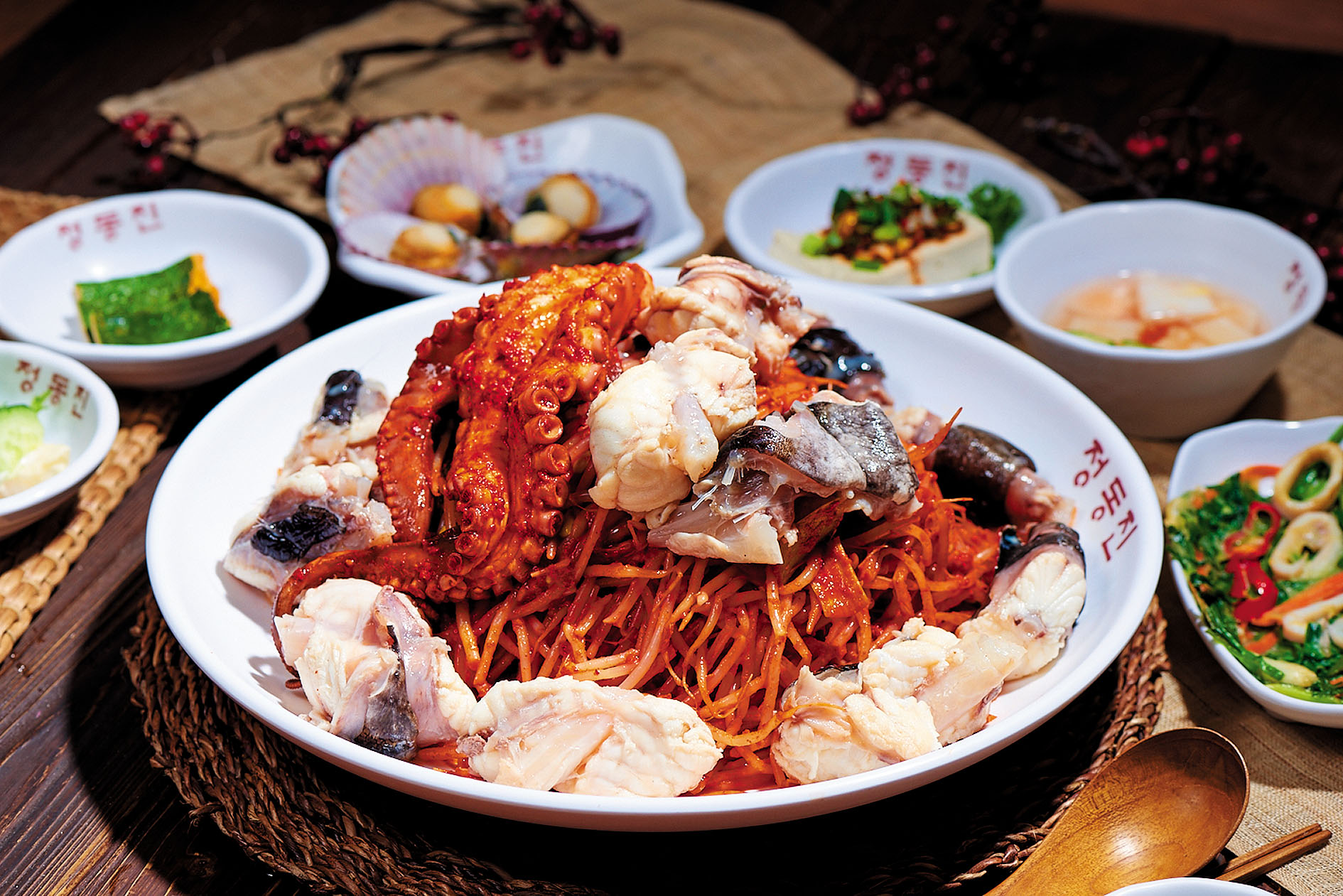 ▲ Hot and spicy diverse seafood dishes are not only well-known in Busan, they're beloved.
 As the summer heat comes, cold dishes take center stage around the world. There's gazpacho, chilled tomato soup in Spain, som tam, fresh papaya salad, in Thailand and prosciutto with melon in Italy.
 However, in Korea, the popular cultural phenomenon of deliberately eating hot and spicy food during the summer keeps many people cool. Eating picante food under the sweltering sun is common in July. So, join us while we introduce some of our favorite hot spots.
Yi-Yeol-Chi-Yeol
 This season you may hear the phrase "Yi yeol chi yeol," which loosely translated means "to fight fire with fire," basically to beat the heat or fire, by eating hot or spicy (fire) food, going to the sauna or doing other sweat-inducing activities. It may be difficult to understand eating something hot in hot weather. However, the climate of Korea can explain it all. In summer, it's hot and humid. Then, after the heavy rain subsides, it gets even hotter and more humid. The best way to cool down is to have some hot and spicy food. This can make your body feel like it needs to cool down, so you sweat. The evaporation of sweat can cause a sort of cooling effect.
 Another reason some people search for spicy food during the summer is to manage their hunger. The process that causes your body to sweat when you eat hot and spicy food in the summer also increases the body's metabolism. Metabolism is the conversion of food into energy. When people have a fast metabolism, they can burn calories quickly. So, some try to manage their weight with spicy food.
Spicy Busan
 Depending on who you ask, some Korean dishes aren't even that spicy. The Scoville Scale is used to measure the level of spiciness or heat of peppers. The cheongyang gochu, a medium-sized Korean-born chili pepper that gives most Korean dishes their spicy flavor, is 10,000 Scoville heat units. This is 10 times less spicy than phrik khi nu, a small chili pepper used in many Thai dishes, and 30 times less spicy than the red savina habanero, a small pepper used in some Mexican foods. So, if you compare the three nations, Korean cuisine isn't that spicy.
 However, the aim of Korean, aptly named "delicious spicy" food, is to harmoniously combine sweet, salty and savory flavors. Most dishes categorized this way include seafood. Since Busan is a famous port city, fresh seafood, high in protein and minerals, is all around. Of course, we've decided to serve up the hottest locales for those who want to combine the variety of healthy, delicious options with some heat.
▲ This unique dish comes complete with octopus and shrimp. (source: Busan Ilbo)
■ Gaemijib main restaurant (개미집 본점)
 This nakji bokkeum (spicy stir-fried octopus) restaurant, which has been for 40 years, is famous nationwide. Despite the age of this local restaurant, they continuously try to develop their menu beyond tradition. The restaurant created nakgobsae, a spicy hot pot with octopus dish with intestines and shrimp. The savory and spicy flavors blend to create a new experience for customers. The main store, located in Gukje Market near Jagalchi Market, uses fresh seafood every day.
◎ Address: 20-2, Junggu-ro 30beon-gil, Jung-gu
◎ Hours: 9:30 a.m. to 9:30 p.m. daily. Closed on holidays.
◎ Phone: 051-246-3186
▲ Make sure to have some eggs handy for when the spice kicks in.
■ Gwaebeop Jjukkumi (괘법쭈꾸미)
 The eatery in Sasang only serves one dish, jjukkumi bokkeum (stir-fried webfoot octopus). They use a special seasoning they make themselves, which keeps customers coming back for more. The sole menu item, "Well-Being Jjukkumi," is jjukkumi bokkeum, made with the restaurant's secret special seasoning, garlic and bean sprouts on a thick iron grill plate. The octopus and specialty sauce are an explosion of flavor. Steamed eggs come with the dish and are perfect for when the heat becomes overwhelming.
◎ Address: 33, Gwangjang-ro 81beon-gil, Sasang-gu
◎ Hours: 11:30 to 12:30 a.m. weekdays. 11:30 a.m. to 11 p.m. weekends.
◎ Phone: 051-323-1383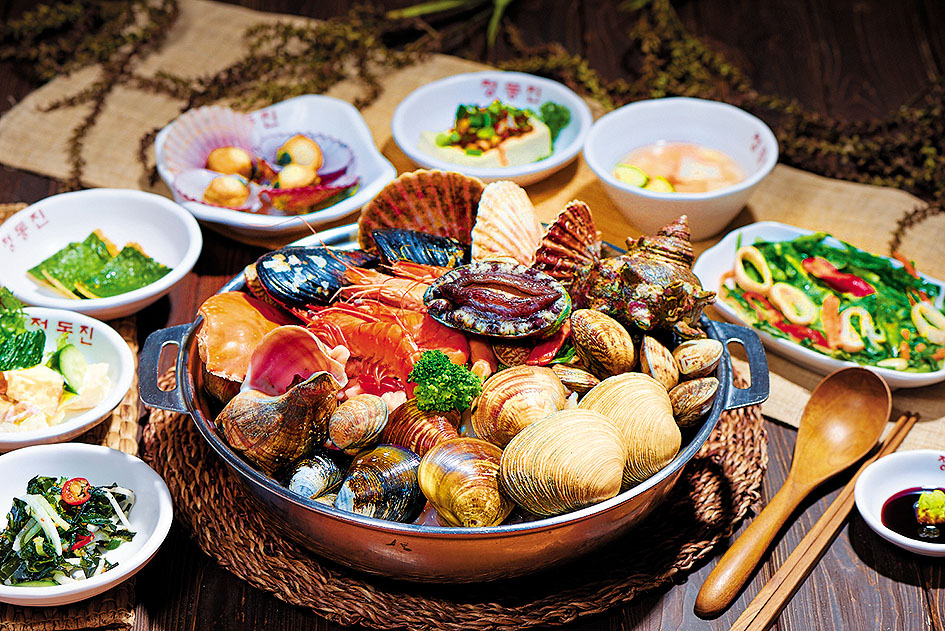 ▲ This huge pot of diverse seafood is perfect for sharing.
■ Jeongdongjin Haemultang·Haemuljjim (정동진해물탕·해물찜)
 When it comes to eating out, if you think "the bigger the better," then visit Jeongdongjin Haemultang·Haemuljjim in Seomyeon. The three-story building is a big locale that uses big ingredients such as octopus, shrimp, crab and clams. Whether you choose haemultang (seafood stew) or haemuljjim (spicy stewed seafood), you're bound to be satisfied.
◎ Address: 37, Seomyeonmunhwa-ro, Busanjin-gu
◎ Hours: 11 a.m. to 11 p.m. daily.
◎ Phone: 051-809-8208