Food
South Korean salted pollack roe is second to none

▲ Korean Myeongnanjeot is pollack roe seasoned with incredible spices, and it can be enjoyed by itself or in a pasta.
Italian bottarga? No, thank you. Russian caviar? Please. All you need is a delicious plate of Korean salted pollack roe. Known as myeongnanjeot, it's one of many Korean salted seafoods, and it's a perfect dish. Soft and savory to serve as an appetizer but not so salty or fishy to be overwhelming. And though it's prepared in a red pepper seasoning, it's not too spicy.
It also goes with everything. Want to eat it with rice? The natural choice! How about some bread? That'll do, as well! Want to go crazy and enjoy it with some pasta? A match made in heaven. So, it goes without saying that myeongnanjeot is simply superb

▲ Myeongnantjeot is seasoned to perfection.(Source: Kookje Newspaper)
■ Origins
Myeongnanjeot is made of roe of pollack, a fish that lives in cold waters like South Korea's East Sea. Indeed, Koreans have eaten the fish for ages; the earliest known recipe for it can be found in a Joseon-era cookbook from the late 19th century.
Busan itself has also experienced a long history with the fish. Choryang-dong (neighborhood), Dong-gu (district) was known as the go-to spot for Busanites to get some delicious myeongnanjeot. The dish was even introduced to Japan as "mentaiko," where it's still popular.
■ How to eat it
The most common method of preparation is to enjoy myeong-nanjeot with rice, sesame oil and minced green onion. But, as previously mentioned, it can be consumed in a wide variety of ways. One way is to make it into a paste that is delicious on eggs or bread, which makes for an excellent breakfast or snack.
One surprise is that it can even be cooked together with pasta. This is how restaurant Ibagu Chungjeonso lets you eat it. In fact, the restaurant, which is also a guesthouse in Choryang-dong, lets you cook the pasta in any way you please. All it takes is 15,000 won and, if your party is larger than two, a reservation.
◎ Ibagu Chungjeonso
※ How to get there: Busan Station (metro line 1), exit 5. Go 50 meters right from the top of the 168 stairs past Choryang Elementary School.
※ Phone: 051-469-4113
※ Hours: 10 a.m. to 4:30 p.m. (Closed Mondays)
◎ How to make myeongnanjeot oil pasta at home (one serving)
※ Ingredients
30 grams of myeongnanjeot, 100 grams of pasta, one quarter onion and three cloves of garlic. Pepperoncino, parsley and olive oil to taste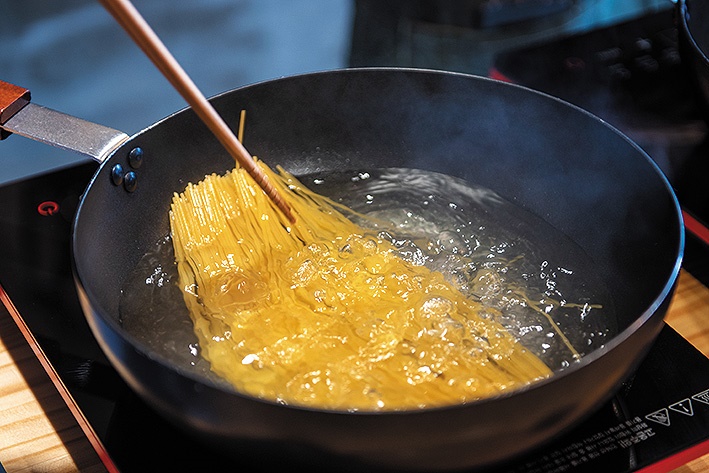 1) Boil pasta.
2) Meanwhile, chop the garlic, onion and myeongnanjeot into small pieces.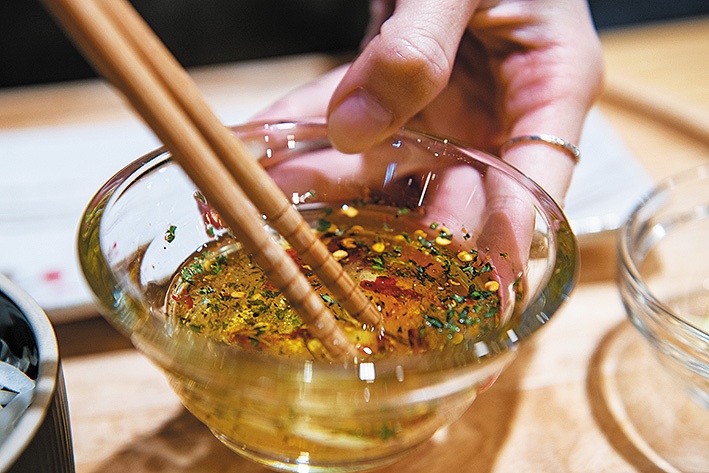 3) Mix together the pep-peroncino, parsley and olive oil.
4) Fry the garlic and onion with the olive oil and mix.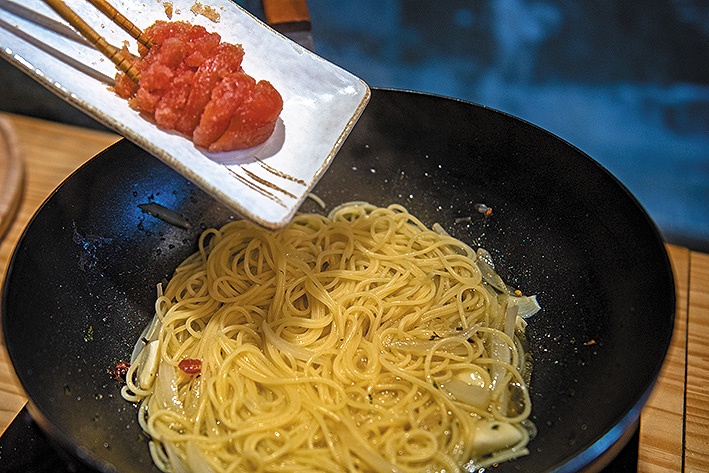 5) Add the pasta and myeongnanjeot to the pan and fry.