Food
Holy mackerel, godeungeo is good
Busan is the undisputed mackerel capital of South Korea. Known as godeungeo in Korean, it's a healthy and tasty fish that is challenging to keep in tanks. Whether the fish is grilled or boiled, Koreans usually eat it aged or salted. It's also available as hoe (raw fish) and sushi, which is prepared with incredible skill in places around town. Where can you get the best mackerel in Busan this November?


△ Busan is responsible for 70 percent of the nation's mackerel production, a number no city in the country comes close to matching. (Source: Kwon Seonghoon)
◆ Han Eobueui Godeungeo Sarang
(한 어부의 고등어 사랑, Haeundae)
Our first stop is Han Eobeui Godeungeo Sarang, which loosely translates to "a fisherman's love of mackerel" in English. The interior immediately presents a school of mackerel to diners, so the mackerel here is super fresh! To make things better, the mackerel hoe at Han Eobueui Godeungeo Sarang is served immediately after you give your order, so dig into some of the freshest fish in town with some sweet and sour broth and rice or noodles.
But hoe isn't the only thing on offer. The restaurant also serves baked mackerel marinated in amazing flavors. Crispy on the outside, hot and soft in the middle, this is the way that fish was meant to be enjoyed. In fact, Han Eobueui Godeungeo Sarang has plenty on their menu. Their signature meal is a grilled mackerel dinner for 12,000 won, but they have larger sets, raw and cooked, that go to 40,000 won and beyond.
A small order of mackerel hoe is 40,000 won. Medium goes for 60,000 won, and a large order costs 80,000 won. Their special lunch menu provides a set that ranges between 16,000 won and 25,000 won.
How to get there:

Haeundae Station (metro line 2), exit 7. Go straight for about 250 meters, turn left at Hyundai Motors' Haeundae branch, and go straight for 50 meters.

Hours:

11 a.m. to 10 p.m.

Phone:

051-506-9092
◆ Busan Godeungeo
(부산고등어, Songdo)
Songdo Beach is also home to an incredible mackerel restaurant. Busan Godeungeo, near the Busan Cooperative Fish Market, was selected by the city government to be part of the "Busan's Best Famous Local Restaurants" booklet that it published. It's easy to see why Some of the most flavorful and nutritious mackerel can be found here.
Hoe over a bowl of rice is a basic menu item at Busan Godeungeo, and sometimes that's all you need. With plenty of side dishes to keep you going in addition to your meal, you won't go wrong with this simple and delicious choice. But, if you crave something a little more complex, the restaurant also provides sushi and mackerel chueotang, a classic soup dish.
You can enjoy a special lunch set and sushi at Busan Godeungeo for 15,000 won each. Rice topped with mackerel is 8,000 won.
How to get there:

Jagalchi Station (metro line 1), exit 2. Cross the crosswalk and take city bus 71 at Chungmu-dong Intersection stop. Get off at the Amnam-dong Community Service Center stop. Cross the main street and enter Songdo Food Town in front of the Songdo Patrol Division. Go straight for 133 meters.

Hours:

1130 a.m. to 10 p.m.

Phone:

051-231-3312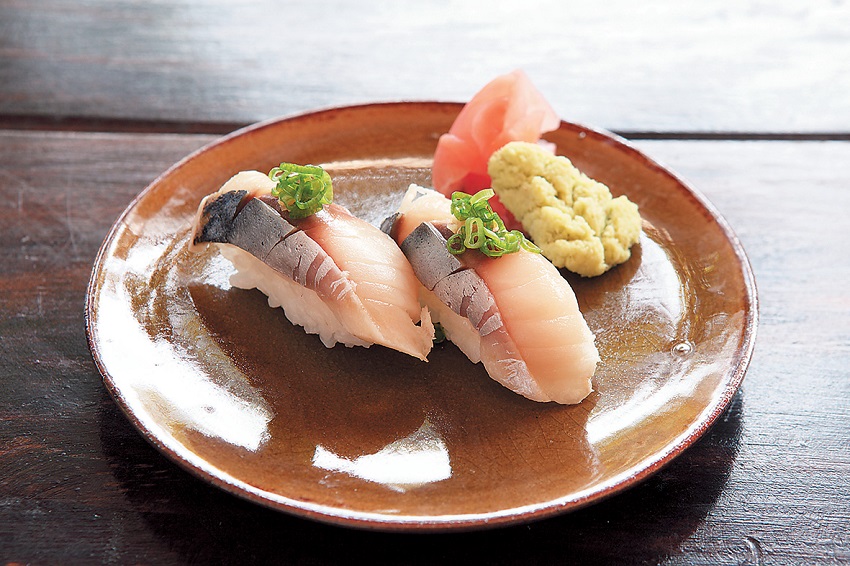 ​

△ Enjoy mackerel sushi or mackerel cooked in a piping hot bowl marinated in incredible flavors.