Food
City's newest craft beer has Busanites hopping
Recommended Local Eateries: Craft Beer
In the middle of the summer, there's nothing better than a refreshing beverage, and adults out there will know that there's nothing more refreshing than an ice-cold beer.
While the typical mass-produced fare is still readily available in great quantities, fancier craft beer has been growing in popularity in recent years. But what makes a craft beer unique? And what are the best brands available to drinkers in the city?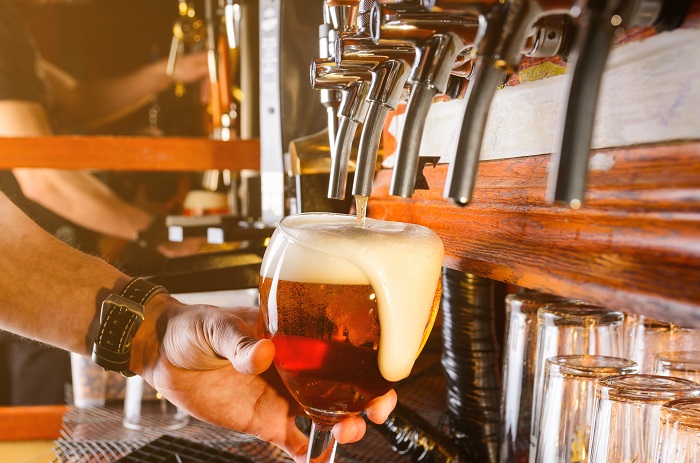 △ Really, is there anything more refreshing in the summer than a frothy craft beer?
Beer 101
Most Korean beers are lagers, relatively low-alcohol beers brewed at low temperatures of nine to 15 degrees using bottom yeast fermentation, resulting in a crisp texture. It is the most common style of beer in the country. Pale lagers, like Pilseners, are an especially popular choice among drinkers.
Ale is a beer fermented at warmer temperatures: 18 to 25 degrees. In contrast to lagers, ales are brewed using top yeast fer-mentation, which results in a stronger flavor. Ales typically have higher alcohol content and a darker color than lagers. A variety of ales, including pales, blondes and stouts, come in many tastes and shades. Pale ales are often red with a flowery tang, while stouts are dark in color and bitter. Wheat beers, also known by the German word weizen, are made with wheat, and they often come with a strong flavor and very pale color.

△ Canned Gupo Manse 329
Gupo Manse 329 (구포만세 329)
Gupo Manse 329, the first product of the Gupo Beer series, was released this summer. Buk-gu (district) developed the beer brand after months of research in cooperation with Busan's leading craft beer brand, Galmegi Brewing. To properly represent Gupo, which was once a major production hub for wheat, Gupo Manse 329 is brewed using wheat grown in Hwamyeong Eco Park.
The beer is an India Pale Ale, a beer made with both wheat and malt, resulting in a balanced flavor that is neither too light nor too bitter.
Named after an independence demonstration that occurred at Gupo Market on March 29, 1919 against Japanese colonial rule, Gupo Manse 329 is inspired by the strength, achievements and independence of the nation's freedom fighters. The word manse in Korean translates to "long live" in English.
Gupo Manse 329 is available at Gupo Mildang Brewery and at Galmegi Brewing.

△ Busan's craft beer scene has grown dramatically over the last six years, leading to breweries like Galmegi popping up left and right.
Mildang Brewery (밀당브로이)
Mildang is a combination of the Korean words mil (wheat) and dang (house), so named because of Gupo's history for wheat pro-duction.
Eight local craft breweries serve their beers at Mildang Brewery, so you can grab an Ananas Wheat Ale made by Galmegi Brewing, a pour of Gorilla Brewing's Busan Pale Ale or a Czech-style lager brewed to perfection by Praha 993. Other local companies, including Tetra-pod, Wild Wave, Busan Pride and Three Monkeys, are all represented here via their delicious craft beers in a wide variety of tastes, colors and alcohol levels.
Prices are dependent on what beers you order and range between 6,500 won and 8,000 won per glass. If you're hungry, go ahead and order some donkkasseu (pork cutlet), sausages or fish and chips to accompany your beer.
Hours: 5 p.m. to midnight every day
Address:98,Gupomanse-gil, Buk-gu
How to get there: Gupo Station (metro line 3). Go straight for five minutes.