Food
Cold noodles are the coolest local food of all
As the mercury rises, hungry re-sidents begin to seek out ways to cool down. The most classic and delicious choice is Busan milmyeon (wheat noodles). With a perfect combination of cold soup, noodles, meat and sweet and spicy sauce, milmyeon is a no-brainer for the current spring days and upcoming summer months.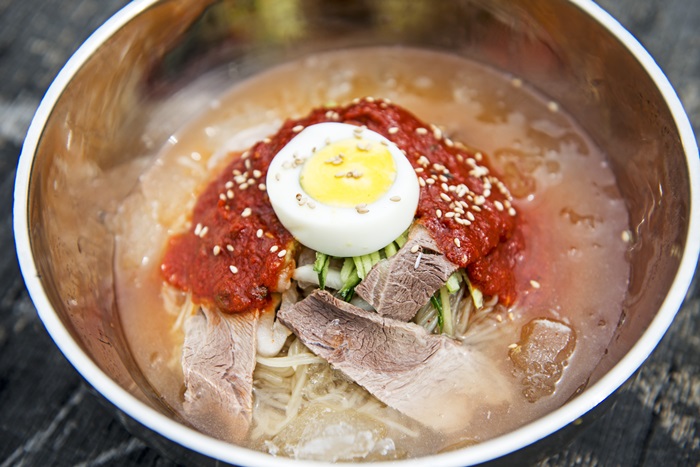 △ Milmyeon is a Busan Korean War-era creation that delights diners every year.
The dish comes in two forms: bibim-milmyeon (spicy and without soup) and mul-milmyeon (not necessarily spicy and containing soup). Milmyeon is chewier than other kinds of typical Korean noodles. The broth is made by boiling beef bone or brisket, and a garnish of toppings including beef, boiled eggs, cu-cumbers, pears and radishes frequently decorates your meal. Red pepper powder is the main ingredient for a sweet, spicy, flavorful sauce. Served cold, all come together for an amazing treat to keep you cool as the days grow warmer.
Milmyeon, which was designated as Busan's representative dish in 2009, was born in the early 1950s during the Korean War. Refugees fleeing the north were accustomed to making naengmyeon (cold noodles) with potato starch or buckwheat, but with ingredients made scarce due to the war, alterations had to be made. As a result, people began making noodles by mixing starch with flour, ingredients that came as aid from the United States' military. Thus was born the dish that came to be known as "milmyeon."

△ Mul-naengmyeon in Naeho Naengmyeon.
Naeho Naengmyeon (내호냉면)
Naeho Naengmyeon may be the best place for an introduction to Busan milmyeon, because the restaurant was the beginning of the dish's history.
In the beginning, the establishment was a simple naengmyeon house that began operations in North Korea in 1919. The owner fled to Busan during the war and opened her new restaurant in 1953. Currently, Naeho Naengmyeon is owned by a fourth-generation family member.
While the type of noodles between naengmyeon and milmyeon differ, the broth is the same. Both are also garnished in the same manner: matured stingray with seasoning.
One useful tip, especially for those who are tasting these noodles for the first time, is to try the dish on its own with no additional sauces or alterations. Give the meal a taste on its own to get the purest flavor, and then add or change whatever you like!
A bowl of naengmyeon costs 10,000 won, and milmyeon runs diners 7,000 won.
How to get there: Beomil Station (metro line 1), exit 8. Take the Namgu-3 village bus at Beomil Station stop. Get off at Donghang Catholic Church stop.
Hours: 10:30 a.m. to 8 p.m.
Address: 17, Uambeonyeong-ro 26beon-gil, Nam-gu

△ Naeho Naengmyeon has a long history.
Haeundae Gaya Milmyeon (해운대 가야밀면)
Haeundae Gaya Milmyeon, near Haeundae Beach, is a destination visited by many out-of-towners. The broth here is unlike any other: Beef brisket, beef shank, chicken feet and medicinal herbs go into the pot to boil for up to 60 hours. Then, the mixture is fermented for an entire year. All this time-consuming effort results in an unbelievable taste that attracts visitors from around the nation. Milmyeon costs 7,000 won.
How to get there: Jung-dong Station (metro line 2), exit 10. Go straight for 5 minutes.
Hours: 9 a.m to 9 p.m.
Address: 27, Jwadongsunhwan-ro, Haeundae-gu

△ Noodles and veggies make for a healthy meal.
Gukje Milmyeon (국제밀면본점)
Gukje Milmyeon is a place that meat eaters will especially enjoy. The broth is made exclusively with beef bone, and the meat that is used to garnish the bowl of noodles is cut by hand, which is in contrast to the more common machine-cut method of most establishments. This spot is another good one for first-timers, because the sauce here isn't as spicy as usual. Milmyeon here costs 7,000 won.
How to get there: Busan National University of Education Station (metro line 1), exit 5. Go straight for 5 minutes.
Hours: 10 a.m. to 8 p.m.
Address: 23-6, Jungang-daero 1235beon-gil, Yeonje-gu