Enjoy Busan
Tourism back on track
Ride Along To Explore Busan ⑧ Train tours
Outside of multiple window panes, witness Busan shipping lanes. After passing through a short tunnel, the European-style train stops for one to two minutes to pick up passengers and leave again.
Through the train car's large windows lie green forests and blue water stretching as far as the eye can see. Hop aboard from the edge of Haeundae Beach around Mipo, through Cheongsapo to Songjeong, to trace and enjoy the scenes of "Haeundae Blue Line Park," which just opened over two years ago. All aboard to explore the city with Dynamic Busan.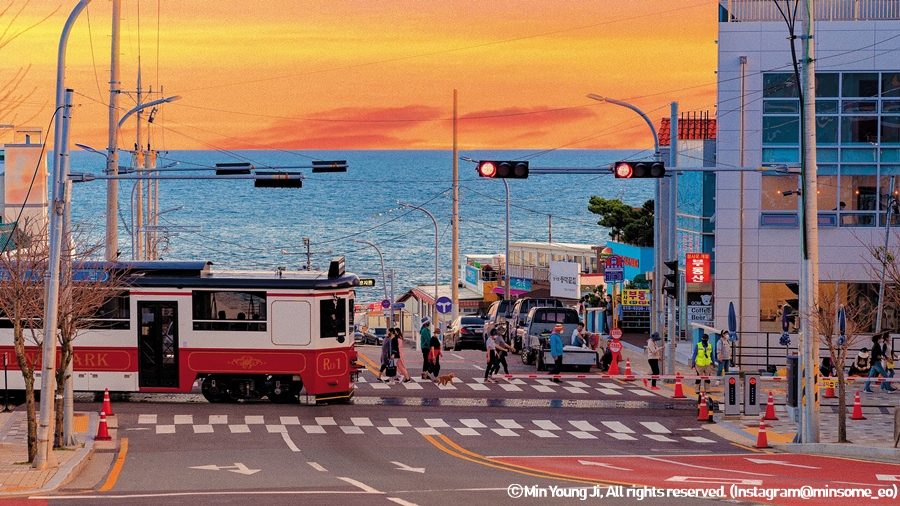 Catch a ride on the European-style Haeundae Beach Train at dusk to soak in a panoramic view of the sun setting over Busan's east coast waters.

"Haeundae Blue Line Park," a must-visit course
Trams in Hong Kong run along railways around the city, helping residents commute and tourists sightsee. Similarly, Haeundae has a line for traveling around and above the city's dynamic landscapes.
The "Haeundae Beach Train" course, a repurposed 4.8-kilometer-long abandoned railway created to share the area's unique topography, consists of six stops which are Mipo Station, Dalmaji Tunnel, Cheongsapo Station, Daritdol Observatory, Gudeokpo and Songjeong Station. Next to the tracks is a walkable wooden deck trail and situated above both lies the "Sky Capsule" railway with just two stops, Mipo Station and Cheongsapo Station. No matter your preference, experience the wonders of Busan's coast.

Since October 2020, the Haeundae Blue Line Park's Haeundae Beach Train and Sky Capsule offer guests dynamic views and a one-of-a-kind experience.

Leisurely enjoy the beach
The "Haeundae Beach Train" runs 15 kilometers per hour from the Mipo area, at the eastern edge of Haeundae Beach, to Songjeong. Watch skyscrapers, the Gwangan Bridge and the beach pass along the 30-minute ride from Mipo Station to the last station. The four angular designed trains (red, green, yellow and blue) each operate with bench seats facing the beach. English and Korean commentary is played during the trip.
The "Sky Capsule" offers a view of the sea from above. Gazing out of one of the capsules, which looks like a cable car, offers a similar view to its larger related mode of transport. Providing a more intimate experience, the two to four-person vehicle departs from the second floor at Mipo Station. Each capsule shuttles passengers, at four kilometers per hour, along a rail about 10 meters above the beach train's railway for approximately two kilometers from Mipo to Cheongsapo Station. A one-way trip takes about 30 minutes and packages are available for those wanting to experience both the Sky capsule and beach train.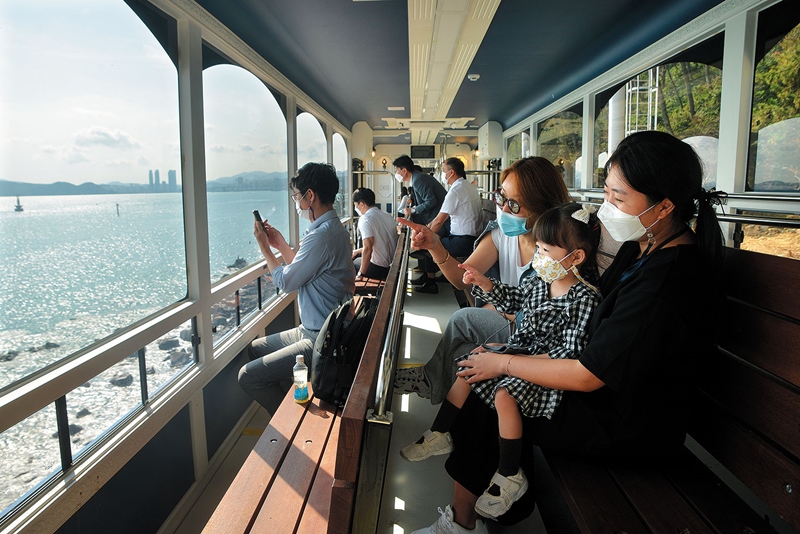 Bench seats face the beach.

Blue Line Park Mipo Station
Address: 948-1, Jung-dong, Haeundae-gu
How to get there: Jangsan Station (metro line 2), exit 7. Walk along the road, and go straight for about 600 meters until Mipoogeori. Then cross the street toward Wonjo Halmae Bokguk, go straight for about 140 meters and cross the street again.
Blue Line Park Cheongsapo Station
Address: 116, Cheongsapo-ro, Haeundae-gu
How to get there: From Jangsan Station (metro line 2), exit 5 and take Haeundae-gu village bus 2. Get off at the Cheongsapo bus stop, the last stop, and walk for about four minutes down the main street away from the water.
Website: www.bluelinepark.com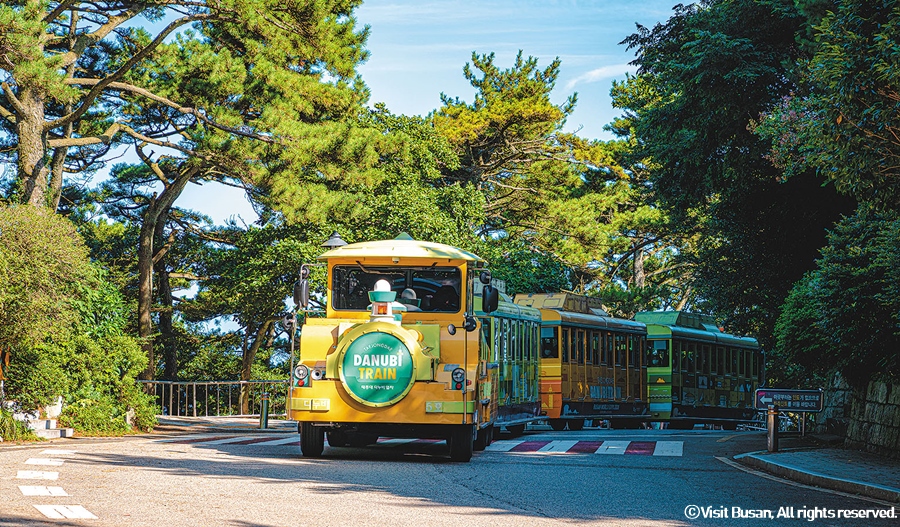 Hop aboard the Danubi Train for a one-of-a-kind tour.

Travel Taejongdae via circulatory train
There is also a tourist train in Taejongdae, a popular locale on Yeongdo Island. Board the Danubi Train to journey around green forests, steep cliffs and strange-looking rocks.
Taejongdae is full of sightseeing spots, including "Taejongsa Temple" with a Buddha relic and two Sacred Fig trees donated by Sri Lanka's government, Busan's first manned lighthouse, "Yeongdo Light-house" and an observatory with a view of Daemado Island on clear days. It takes about two hours to walk around the park. The trail is about 4.5 kilometers from the gate, past the square, Taejongsa Temple, Yeongdo Lighthouse, an observatory, South Port viewing point, Gumyeongsa Temple and back to the beginning.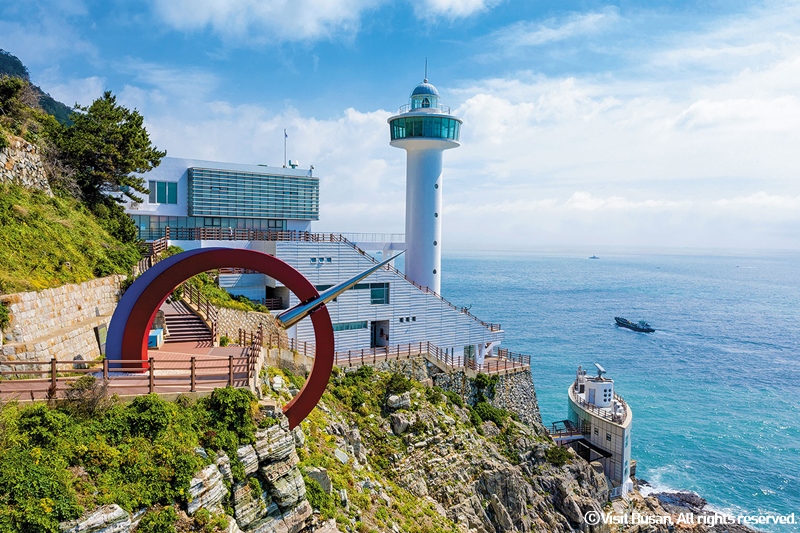 Taejeongdae Resort Park sits on the coast of Yeongdo Island.

With Danubi Circulatory Train, you can venture around Taejongdae Park. Even though it looks and moves like a train, the locomotive and three trailing passenger cars travel on the road.
The "Danubi Train" operates at 30-minute intervals on weekdays. It stops by five stations- Jagalmadang, Gumyeongsa Temple, Observatory, Yeongdo Lighthouse and Taejongsa Temple.
Travelers may get on and off the train at will, upon showing their ticket. Therefore, you can feel comfortable disembarking to walk around and enjoy the scenery.

Tickets cost 3,000 won for adults, 2,000 won for teenagers (middle and high school students) and 1,500 won for children (4 years old to elementary school students). Children under the age of four may ride for free.