Enjoy Busan
Down by the sea, where water sports are found
One of the most dynamic tourism locales in Korea is Busan. Marine activities only add to the joy of breathtaking scenery, exotic attractions and delicious dishes. As the country's "maritime city," a variety of options are available, so let's jump right into a variety of these local pastimes.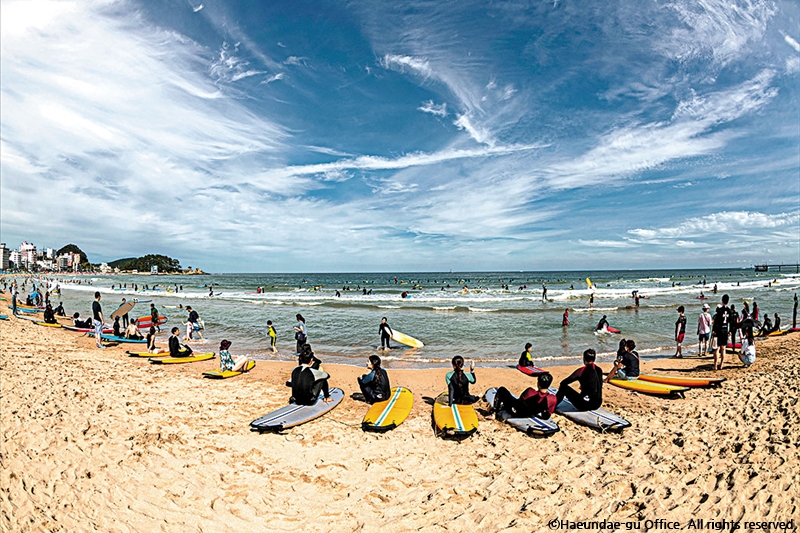 Surfing is growing increasingly popular.

■ Popular marine sports - Songjeong Beach
Atop a surfboard, we can feel the motion of the ocean waves. It is one of the most popular marine leisure sports for beginners and Songjeong is the ideal spot for learning. The warm water, shallow floor and calm atmosphere create a perfect infrastructure for training. Along the beach are many surf schools and rental shops. One such example is Surf Holic. With its organized curriculum, rentable surfboard and equipment, almost anyone can learn to surf; after two hours, you can enjoy the waves on your own.
▶Surf Holic
Address: 50, Songjeonghaebyeon-ro, Haeundae-gu
Price: one-time training, including equipment and shower usage, is 65,000 won.
Information: surfholic.co.kr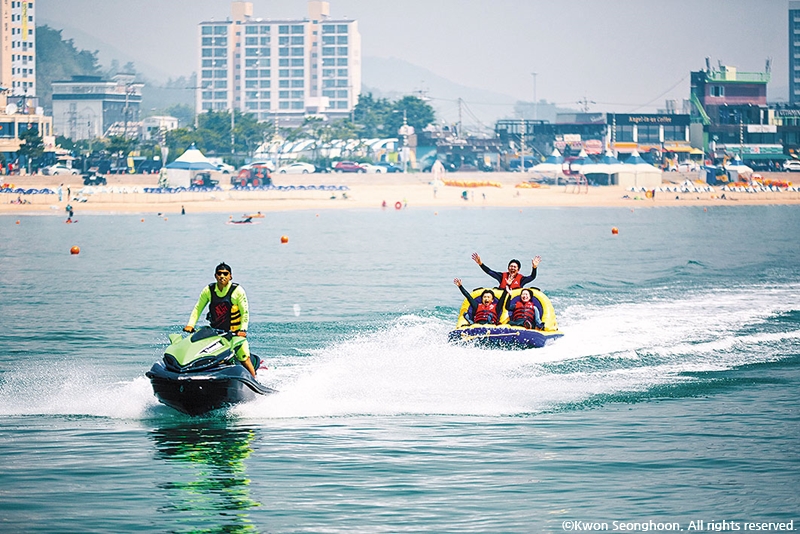 Hop aboard an inflatable raft for the ride of your life.

■ Diverse marine activities - Gwangalli Beach
Gwangalli Beach is lined with companies offering stand-up paddle boarding and surfing. Join beach cleanups, meet-ups or yoga classes. In addition to the sports on the sand and in the water, the beach is home to numerous water sport races and festivals.
For those looking for something a little different, check out the southwestern edge of the beach. You can't miss the Gwangalli Ocean Leports Center, where anyone can enjoy a variety of marine activities. Water playgrounds are surrounded by rides led by motorized boats, including a banana boat, a bandwagon and a disco boat. Rides on high-speed boats, airboats and luxurious yachts are available. Additional packages for rental of non-powered equipment like kayaks and powered vehicles, such as recreational watercrafts are purchasable.
These days, one such package called "SEAnema Package" is gaining popularity. With this package, you can take a tour and watch a movie on a paddle board; it is only available to those 19 or older.
▶Gwangalli Ocean Leports Center
Address: 222, Gwanganhaebyeon-ro 54beon-gil, Suyeong-gu
Price: Stand-up paddle boarding for one hour is 11,000 won. Kayaking for two hours is 16,500 won. Packages range from 33,000 won to 88,000 won.
Information: gwanganli.co.kr

Powered marine vehicles are available for rent with a license.

■ Out to sea - Songdo Beach
A beach growing in popularity with the addition of the Busan Air Cruise cable car is Songdo Beach. The area is known for its relaxing vibe and reasonably priced marine leisure sports.
The Songdo Ocean Leports Center gives visitors the opportunity to enjoy kayaking, boating, water skiing and more. They also offer sailing and maritime disaster safety classes.
▶Songdo Ocean Leports Center
Address: 50, Songdohaebyeon-ro, Seo-gu
Price: Marine leisure sports experiences range from 7,000 won to 20,000 won. Sea kayaking tours are about 30,000 won.
Information: solsc.co.kr
※ Dates and prices are subject to change without notice. Please refer to each location's website for the most up-to-date information.