Enjoy Busan
Comfortable jaunts around favored haunts
Ride Along To Explore Busan ⑥ Busan City Tour Bus Blue Line
The City Tour Bus Blue Line course is ideal for visiting the azure Haeundae and Gijang Beaches; the ocean color gives the line its "blue" name. Unlike the other tour courses, it departs from Yonghoman Sightseeing Boat Terminal, which is not easy to get to by subway. Therefore, taking the Red Line course from Busan Station and transferring to Yonghoman Sightseeing Boat Terminal or at Haeundae Beach is possible and recommended.

In March, Lotte World Adventure Busan opened the doors to its 158,000-square-meter amusement park, making it the only one in the city.

Haeundae Beach to Moontan Road, the first street of tourism
Starting at Yonghoman Sightseeing Boat Terminal, City Tour Bus rides toward Haeundae Beach via Gwangan Bridge. Haeundae Beach, a well-known tourist spot, is full of sights to see and activities to enjoy. After getting to the beach, you can enjoy a walk along the shore or around Dongbaek Island, The Bay 101 and Nurimaru APEC House.
For families, the "SEA LIFE Busan" aquarium is located around the entrance of Haeundae Beach. The site covers 1.3 hectares, including one ground level, three basement floors and an 80-meter-long underwater tunnel. It boasts 40 themed areas and over 10,000 sea creatures, including approximately 250 species. Adventurous guests can enjoy special performances and events such as live creature feeding experiences.

Dive into a memorable marine experience at the beach-adjacent aquarium.

Close by, "Busan X the SKY" (411.6 meters) inside LCT the Sharp, Busan's tallest building, awaits. This landmark destination helps visitors appreciate popular tourist hot spots, including Gwangan Bridge, Dongbaek Island and Dalmaji Pass.

Busan X the SKY observatory provides one-of-a-kind views. 
Lately, the interest in "Blue Line Park" near Cheongsapo Beach, toward the eastern end of Haeundae Beach, is on the rise. The Moontan Road bus stop is linked to the Blue Line Park's Beach Train Mipo Station. The train runs 4.8 kilometers to Songjeong Station at 15 kilometers per hour and tickets can be purchased at the station. For those who would prefer to walk, there is a wooden path along the track, stretching the entire way.

The Blue Line Park's Sky Capsule and Beach Train depart from Mipo Station in Haeundae.

Songjeong Beach, a surfer's paradise
The next stop on the course is Songjeong Beach. This area is popular with those who love marine leisure sports and surfing. Due to the soft sand and shallow waters, it is also beloved by families with children. The two-kilometer-long beach is lined with cafes and restaurants, perfect for enjoying a beverage and the sights.
In front of Songjeong Beach lies Jukdo Park, where the red and white Songjeong Lighthouses await. A pavilion named "Songiljeong" can also be found at the park, where visitors can appreciate a view of the beach and neighboring pine forest. Take a stroll or enjoy one of the numerous marine leisure sports.
Songjeong is known as the Korean surfing mecca. The water temperature throughout the year doesn't drop exceptionally low; it's perfect for surfers, no matter the skill level. Surf schools near the beach provide rental equipment and lessons.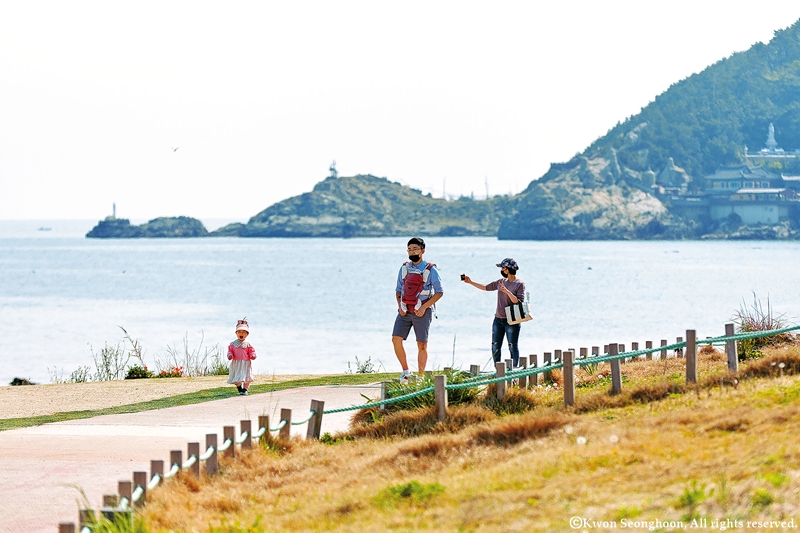 Galmaet-gil Trails are found throughout the city and this trail connects Yonggungsa Temple to Orangdae Cliff.

Gijang spots for shopping, theme parks and relaxation
The next stop is the Gijang area, the hottest tourist attraction in Busan these days. Various tourism facilities and interactive events are available around "Osiria Tourism Complex." The bus passes by Osiria Station on the Donghae Line, Haedong Yonggungsa Temple, Hilton Busan, Jukdo Island (Yeonhwa-ri), Osiria Theme Park (in front of the Skyline Luge), Lotte Premium Outlets, Lotte World Adventure and Busan National Science Museum.
At Skyline Luge, carts fly down the steep 100-meter hill. The attraction is composed of four courses totaling 2.4 kilometers. The entrance is at the base of the hill, where visitors board one of the two Skyride lifts to the top. Guests then board the carts and ride them all the way down one of the courses. This branch of Skyline Luge is open at 10 a.m. and stays open till 6 p.m. on weekdays and 9 p.m. on weekends. The twice-use ticket is 22,000 won per person. However, if riding with a child, 6,000 won is added. Tickets may be purchased online (skylineluge.kr).
"Lotte World Adventure," themed "Fairy Tale Kingdom," has over 15 attractions, including "The Giant Digger" (roller coaster) and "PowerSplash" (water coaster), which cover about 16 hectares of land. A variety of parades and performances, which some consider the highlight of the theme park, are held at intervals throughout the day. An all-day ticket is 47,000 won for adults, 39,000 won for teenagers aged 13 to 18 years old, 33,000 won for children three to 12 and 12,000 won for children under three. Tickets are available through the official website (adventurebusan.lotteworld.com).
Gijang is also famous for its seaside scenery. The Haedong Yonggungsa Temple, just inside this developing area, is an ideal place for one-of-a-kind views and relaxation. A 3.2-kilometer promenade from the temple along one of the famed Galmaet-gil Trails leads to Orangdae Park. The tour course departs from the temple and passes ANANTI COVE at Hilton Busan to get to the park via backroads at Maritime & Fisheries Science Museum.
In fact, one day is simply not enough to explore all of these courses. Choose the stop or stops you want to check out according to your taste and journey around popular locales from Haeundae to Gijang.
Busan City Tour Bus TIPS
Busan City Tour Bus departs from a designated stop in front of the Ramada Encore Hotel near Busan Station. Tickets can be purchased from the bus driver or reserved online by credit card. The Blue Line is currently accessible Wednesdays, Thursdays and Fridays only. It departs at 9:30 a.m. from Yonghoman Sightseeing Boat Terminal and operates nine times a day at 50-minute intervals.
The ticket comes in the form of a wristband. The fare is 15,000 won for adults, 8,000 won for children over four to teenagers. Entry is free for children aged four or under. Proof of age is required.
Some facilities offer special discounts for those with tickets. SEA LIFE Busan Aquarium, for example, gives a 10,000 won deduction. Addit-ional details, including the stops for the other two courses, can be found online (citytourbusan.com).
※All tourism attractions, including the City Tour Bus, may be suspended due to COVID-19 restrictions. Be sure to check before visiting.