Enjoy Busan
Next stop, a spring adventure!
Ride Along To Explore Busan ④ Metro lines 3 & 4
Busan's riverside, forest and mountain have begun to bloom. So, let us guide you through the 15-minute city, with seasonal spots along metro lines 3 and 4.


△As the whirling winter winds make their exit, blushing blossoms open on fresh floral features of Daejeo Eco Park, along Nakdong river.
■ Mandeok Station along the cherry blossom road
Metro line 3 has 17 stations, from Suyeong Station to Daejeo Station, spanning over 18 kilometers. Hidden in the middle of this route is Mandeok Station, a picture-perfect picnic place. It is a wonder, in and of itself, the station is nine stories, over 60 meters, underground. At first, an escalator was used, but since it took 10 minutes to ride, it was closed in preference of an elevator. The second to eighth basement floors are used only during emergencies.
Nearby the station is Mandeok-dong (neighborhood), a village located in the valley between Geumjeongsan Mountain and Baegyangsan Mountain. After walking along the road toward "Mandeok 1 Tunnel" from exit 2, sits a path leading to the mountain.
As you climb up the organized deck road, you'll begin to spot the well-maintained Mandeok-ro (road) cherry blossom path. Cherry blossoms fill both sides of the 2.7 kilometer-long trail; traversing it, visitors can reach the "Mandeok Pass Trail Observation Deck," where the whole of Dongnae awaits. On the way to the observation deck is a public parking lot following the connected road that will lead visitors to the Seokbulsa Temple. The temple, built in 1930, also known as "Byeongpungsa Temple," is named as such because the Buddha stone statues are carved on the rock like a folding screen.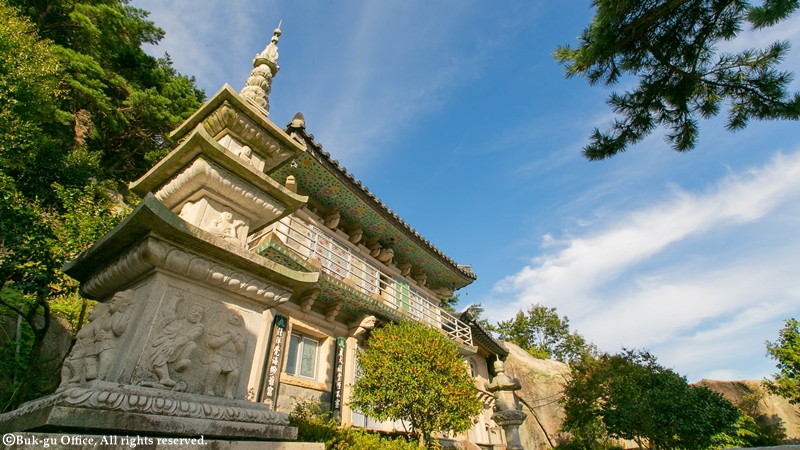 △Seokbulsa Temple is nestled in a cliff just outside the heart of Mandeok-dong.
The temple is built between couplings of natural rocks, creating a unique atmosphere. The entrance, featuring 20-meter-tall Buddhist statues, connects to the main building through a basement.
After descending the mountain, it's time to find delicious food. The local specialty is duck meat. Across "Gumandeok-ro," the road just before the cherry blossom path, is a neighborhood full of restaurants and nicknamed "Mandeok duck folk village." The name comes from a story that over 40 years ago, locals caught and served ducks to Buddhists visiting the Mandeok Temple. Many local buildings have been remodeled from old houses into restaurants and cottages. There are various duck dishes, but the most popular menu is "Duck bulgogi." The duck meat is marinated in sweet and spicy sauce then aged. A typical serving for two to three people costs about 45,000 won.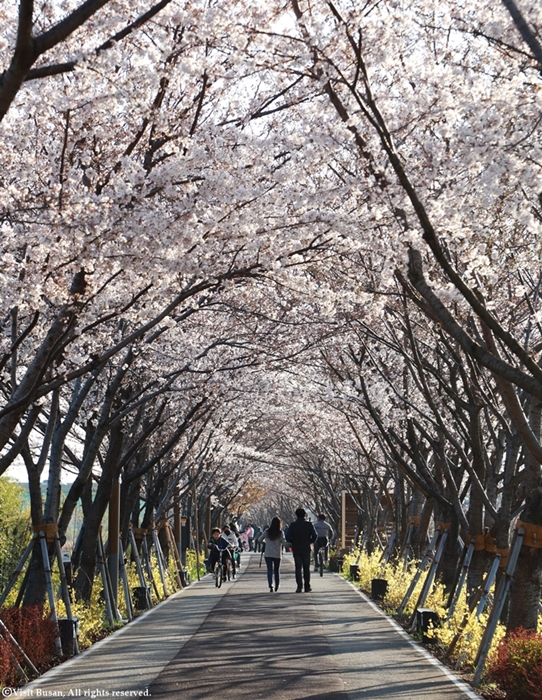 △Take a relaxing stroll beneath a canopy of cherry blossom trees at Daejeo Eco Park.
■ Gangseo-gu Office Station along Nakdong river floral fields
For a taste of riverside spring, take metro line 3 toward Daejeo and disembark at Gangseo-gu Office Station, which is located just 10 minutes from Mandeok Station by subway, to reach Daejeo Eco Park. The park is a famous spot for springtime photography and is composed of wetlands, grasslands, a canola garden and fitness amenities. It covers 2.66 square kilometers near Gimhae Airport. This season, a flurry of florets join the fields of canola flowers. Since there are no stores inside the park, make sure to stop along the six-minute walk from the station to pick up some snacks or a beverage to quench your thirst.
After leaving Gangseo-gu Office Station from exit 1, cross the crosswalk and the main road (Gonghang-ro) to reach Daejeo Ecological Park. Casually promenade through the aisles of flora or along the riverbank to take pictures among the fields of yellow canola flowers. Even if you arrive too late in the month to catch the blossoms in bloom, there's still plenty to enjoy. The area is home to soccer fields, basketball courts and more.
For those who wish to travel further, a bike rental shop is in front of the Daejeo Eco Park office. Anyone can borrow a bike by leaving their ID card. An hour is 3,000 won for an adult and 500 won for each additional 15 minutes. A tandem bike is 6,000 won per hour and 1,000 won for every 15 minutes after that.
An interesting local specialty is the "Jjabjari tomato," nicknamed such for its signature salty flavor. They are grown by the mouth of the Nakdong River Estuary in sodium-rich soil adjacent to the sea. Unlike standard tomatoes, they are typically smaller and meant to be eaten when they are green.
Every April, the "Daejeo Tomato Festival" is held at Daejeo Ecological Park, where you can purchase the eponymous tomatoes at an affordable price. Unfortunately, the festival is canceled this year, but don't worry; you can still purchase them online (daejeononghyupmall.co.kr). Currently, 2.5 kilograms of the juicy fruit is available for about 20,000 won to 25,000 won.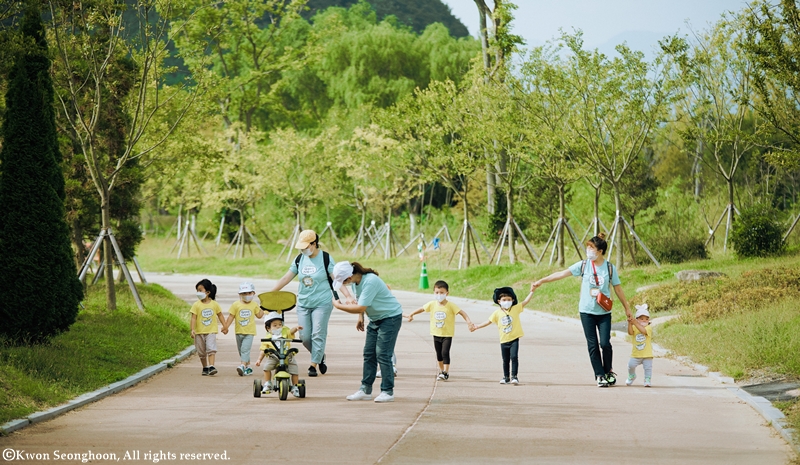 △Picnicking on the lush grassy lawns is an activity Busanites of all ages can enjoy.
■ Banyeo Agricultural Market Station toward Haeundae Arboretum
Haeundae is, of course, a summertime representative tourist destination in Busan and now a springtime one, too. The new and dynamic "Haeundae Arboretum" near Banyeo Agricultural Market Station is a locale that can't be missed.
In 2009, the city established the arboretum creation plan to redevelop the Seokdae Garbage Landfill. The first phase of construction was completed in 2017. Last year, the first space of the arboretum, "Healing Forest," opened. It spans over 400,000 square meters. The area was covered with soil and seedlings from countless plant and flower species. There are small amenities such as a miniature zoo, flower gardens and a plaza.
Haeundae Arboretum is Busan's third public arboretum and when construction is complete, it is anticipated to be over 620,000 square meters. It will host additional conveniences such as greenhouses, exhibition halls and sports facilities, making it approximately 1.4 times the size of Busan Citizens Park.

△The arboretum's rose garden joins the ranks of Hwamyeong Rose Park and Jeonggwan Rose Park.
The arboretum takes just three minutes by free shuttle bus from exit 1 of Banyeo Agricultural Market Station. It is divided into several areas, including the zoo, complete with donkeys and goats and an eco marsh garden. Climbing uphill, past the zoo, about a two-minute walk from the entrance, lies a panoramic view of downtown Busan and behind the hill sits a rose garden, herb path and grass square. The additional facilities are expected to open around May 2025.
While exploring the Haeundae Arboretum, you may decide to bring a green baby into your home. At "Seokdae Flower Market," about 150 meters away from exit 1, you can purchase plants and everything you need to care for them, including pots, soil, fertilizers and more.
As April rolls in, spring begins. Let's get away from the hustle and bustle of everyday life without arduous planning and preparations. With only a transpo-rtation card and a light jacket, easily embrace the season before it's gone.