Enjoy Busan
Summer scenes for night owls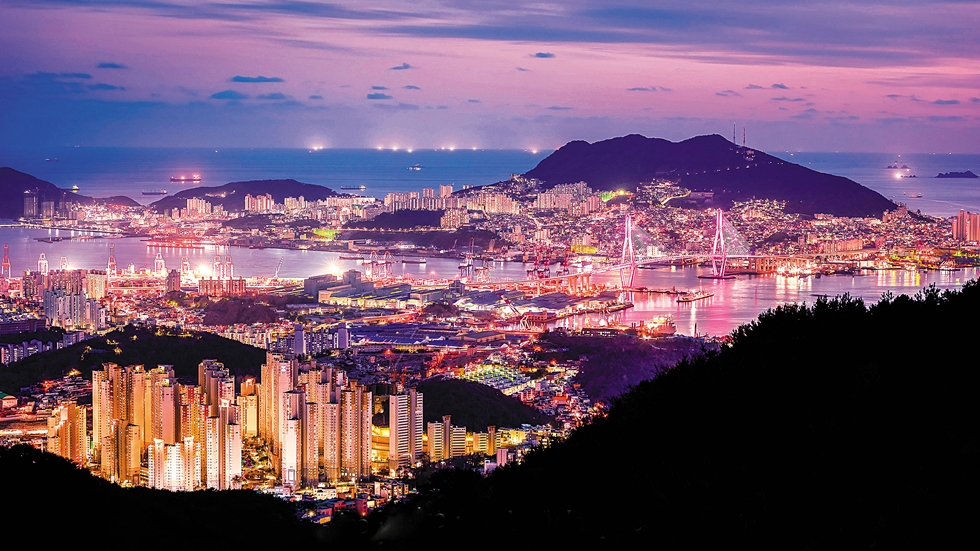 ▲ The ocean isn't the only thing worth diving into this summer; the pool of night lights and the pink-purple sunsets the city has to offer are ever-growing and changing. (Source: Michael Kazemi)

People from all over the country know that Busan's beaches are the place to be in the summer sun.

But where can night owls get their nature fix?
We have some mountain, downtown, village and beach locales for you.

▲ No need for a night light when the sun sets because the city glows with multicolor lights.

■ Mountain - Hwangnyeongsan Viewing Lounge (Beacon)
 The premier nightspot for a picturesque sparkling skyline is the Hwangnyeongsan Viewing Lounge. Atop the 427 meters tall Hwangnyeongsan mountain, the whole of Busan can be seen. Once used as a beacon for soldiers during the Joseon Dynasty, the platform now serves as a comfortable place for anyone to take a stroll.
 While visiting the mountain beacon observatory, you can gaze out at the panoramic view of Seom-yeon, Gwangandaegyo Bridge and Haeundae. Peer off the edge to see Busanhang port, mountainside road, Busanhangdaegyo bridge and buildings from Seomyeon to Yeonsan-dong (neighborhood).
 A cafe aptly named the "Viewing Lounge,"located just under the observatory platform, sells coffee, snacks and other goodies to satiate visitors. One side of the cafe is a wavy-designed window that gifts visitors with a vibrant view of the dense forest and sparkling city. Open from 10 a.m. to 11 p.m., friends and family can enjoy a brilliant sunset, a dark sky filled with colored lights or a sweet treat together. So, grab a croffle, a mix between a croissant and a waffle, and enjoy the view.
◎ Address: 391-39, Hwangnyeongsan-ro, Nam-gu
◎ How to get there: About 10 minutes by taxi from Geumnyeonsan Station (metro line 2) or Mulmangol Station (metro line 3).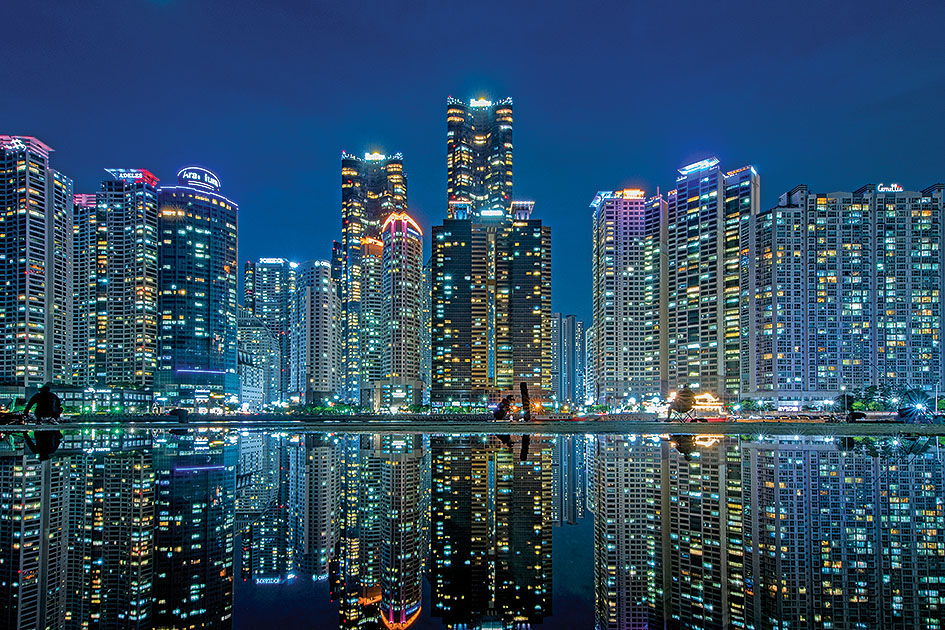 ▲ The reflection of the twinkling city lights bounces off the water.
■ Downtown - Dongbaek Island and TheBay101
 The Haeundae area is full of contemporary architecture, restaurants, and cafes for those who enjoy a modern atmosphere. Dongbaek Island is known for its panoramic view of the Haeundae night skyline. Toward the island entrance is TheBay101, where people can enjoy a diverse range of marine leisure sports, including yachting, kayaking and surfing. If a relaxing night is more your speed, restaurants, bars and cafes are an ideal place to soak in the city lights.
 For those who'd like to stroll along the ocean but avoid the sand, head down the trail along Dongbaek Island. While walking the path, you'll come across the famed Nurimaru APEC House. Built in 2005 to host APEC Economic Leaders' Meeting, it was designed to resemble a traditional Korean pavilion. It is now open to the public from 9 a.m. to 5 p.m.
◎ Address: 52, Dongbaek-ro, Haeundae-gu
◎ How to get there: Dongbaek Station (metro line 2), exit 1. Go straight about 440 meters. Next, cross the intersection and pass the bridge. Then, it should be on your right.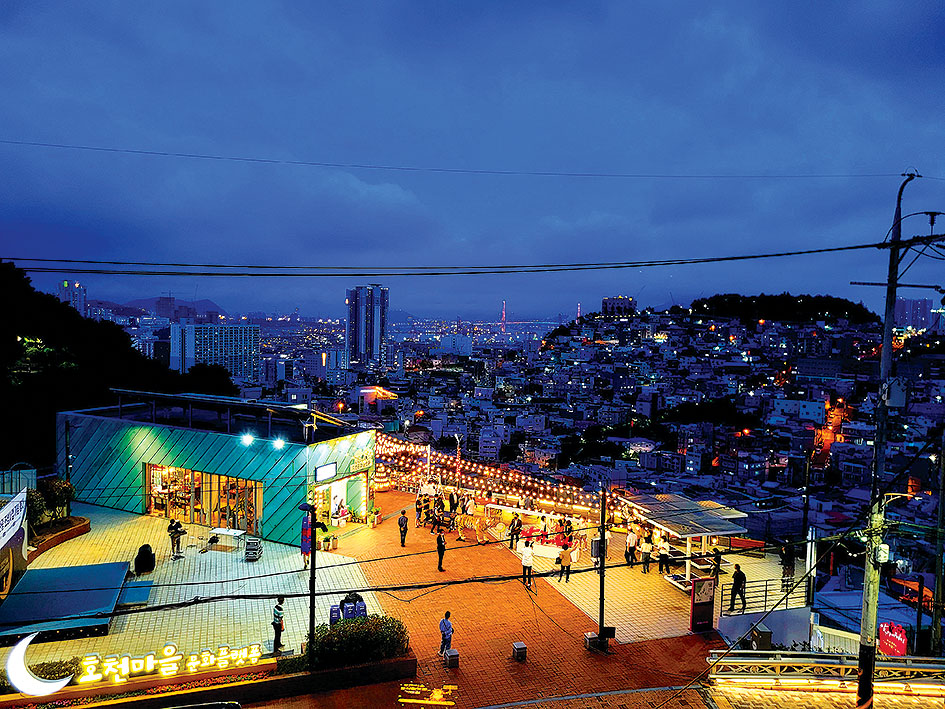 ▲ Hocheon Village has numerous photo zones against the night sky. (Source: Busanjin-gu Office)
■ Village - Drama filming location "Hocheon Village"
 Want to journey beyond the sea of skyscrapers to enjoy a clear night sky? Gamcheon Culture Village isn't the only place to go. Another village's reputation has been taking center stage. It began its rise to fame as the filming location of K-drama "Fight for My Way" in 2017. Far from the hustle and bustle of the city center, this hot spot is very cool, even in the summer heat, due to its primo platform and photo zones. The "Hocheon Village Cultural Platform," is a 950-meter square deck with benches, strings of lights and unique props. When it gets dark, the low buildings, open view and calm atmosphere give visitors a memory they're not likely to forget. Don't miss out on Namil Bar, the outdoor picnic-like spot on the platform. It's a perfect place to grab a drink or photo with friends. The tea and tea cocktails are particularly sought-after for their flavor and grammability.
◎ Address: 491, Eomgwang-ro, Busanjin-gu
◎ How to get there: Buam Station (metro line 2), exit 8. Take bus 87. Get off at Hocheon Village stop.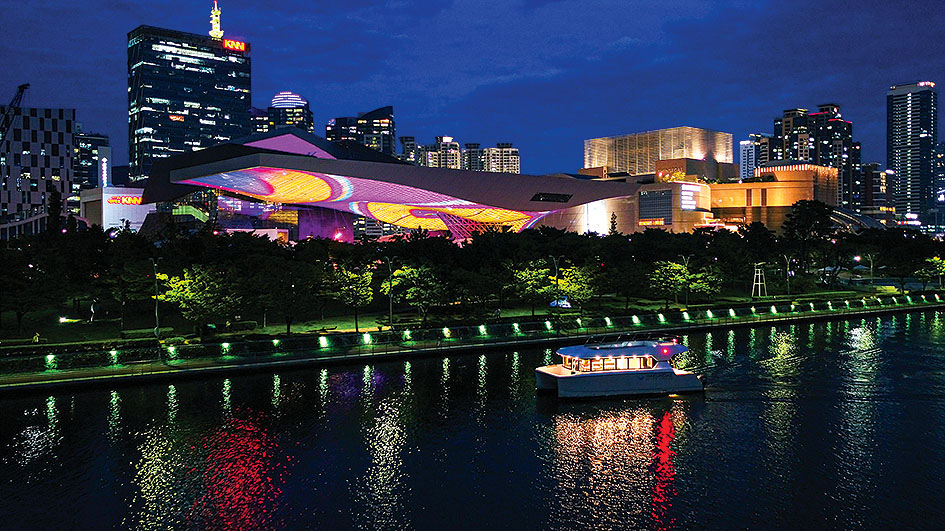 ▲ The Busan Cinema Center can't be missed on a night cruise. (Source: Haeundae-gu Office)
■ Beach - Cruise and yacht night view tours
 Soak in the shoreline and the glittering lights of Gwangandaegyo Bridge with a river cruise or a yacht tour. "Haeundae river cruise," established last Nov-ember, takes up to 20 passengers on a trip around the Suyeong River. To catch a ride on this scenic tour, head to the wharf in APEC Naru Park, in front of Busan Cinema Center. The cruise sails near Gwajeonggyo Bridge and heads back to the dock after passing by Millak Waterside Park. Each journey takes about 60 minutes, and they begin at noon and end at 10 p.m.
 Prices can vary depending on date, time and availability. Day courses end at 6 p.m. and cost 20,000 won on weekdays and 25,000 won on weekends. Night courses begin at 7 p.m. and cost 25,000 won on weekdays and 30,000 won on weekends. Tickets are available on-site or online (www.haeundaerivercruise.com).
◎ How to get there: Centum City Station (metro line 2), exit 12. Walk for about 170 meters toward the river.
 Lately, yacht group packages are growing in popularity. At the Busan Yachting Center, people can rent yachts with 10 to 15 seats. Reminiscent of a house, these yachts have bedrooms, bathrooms, a refrigerator, a microwave and some even have a TV. For groups of 10 or more, it can cost about 400,000 won per hour. Cruising on a yacht for a public tour usually ranges from 20,000 to 30,000 won per person, per hour. For an overnight excursion, it's about 350,000 won. However, prices and routes can vary from one company to another.
◎ How to get to there: Dongbaek Station (metro line 2), exit 3. Walk for about 10 minutes.
※ Schedules and services can change or be suspended depending on the social distancing level. We recommend checking whether the location is open or the service is offered ahead of time, online or by phone.