Enjoy Busan
You gotta go to Gadeokdo
▲ Busan's largest island is a historical site in the city and is equipped with a strong tourist infrastructure for solo hiking, sightseeing and visits with families. (Source: Kwon Seonghoon)
With Busan's new airport now within reach, Gadeokdo Island is the talk of the town. As the largest island in the city, it is the natural choice for the site of a new gateway to the Korean peninsula and the world.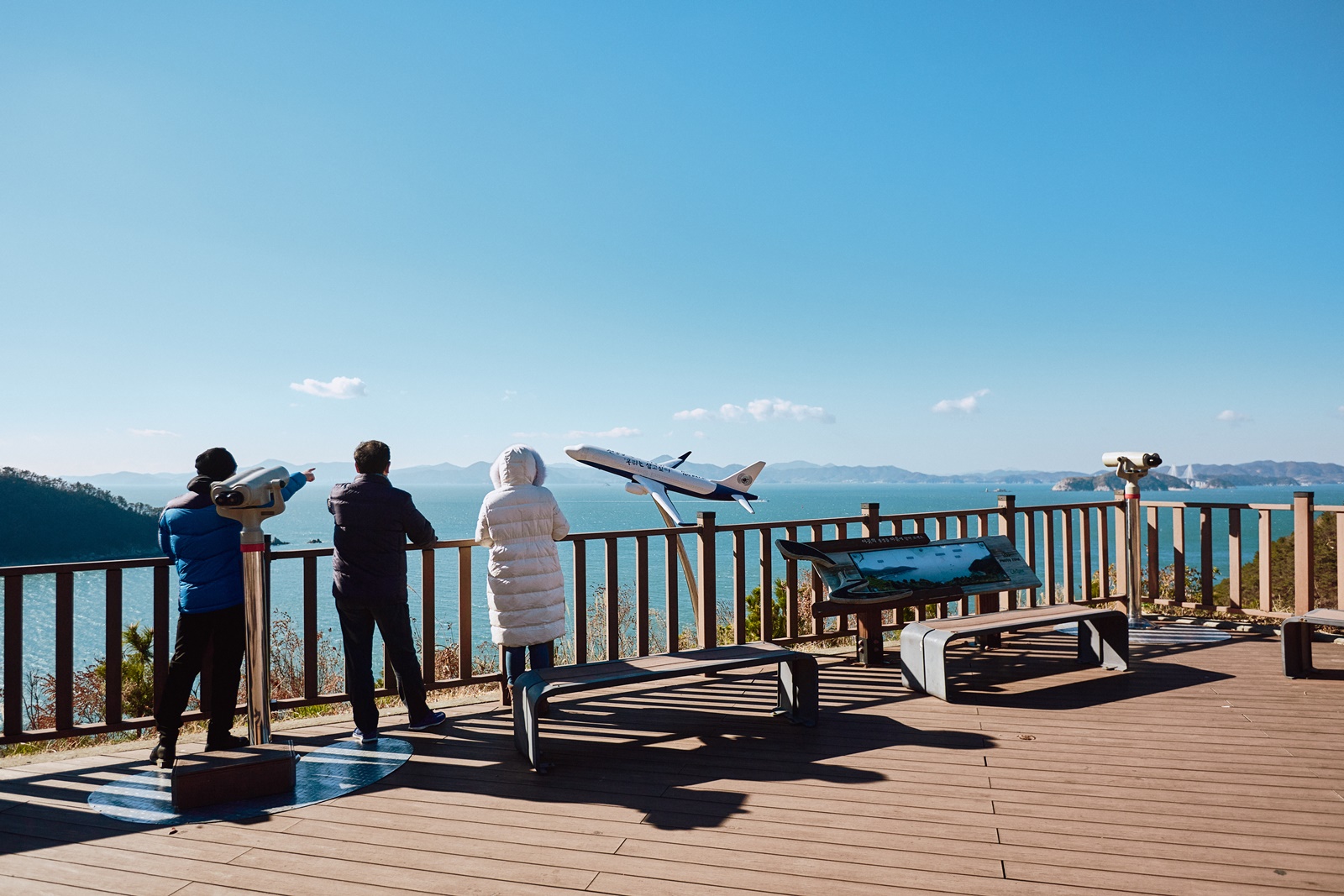 ▲ Gadeokdo Island is home to a new airport the city has needed for over two decades. (Source: Kwon Seonghoon)
■ Strategic location
Gadeokdo Island is located in southwestern Busan and is the city's largest island. It was a peaceful fishing village until the mid-2000s, when the island's transportation infrastructure developed to make it a container terminal for Busan's New Port. By then, Gadeokdo Island had been a major marine transportation hub for centuries. From the seventh to 10th centuries, it was a strategic location for trade with China. In the late 16th century, Japanese forces fixed the island as a strategic location during their invasion of Korea. The Joseon Dynasty also knew that Gadeokdo Island had potential as an important point of marine transport; Heungseon Daewongun, the father of King Gojong, set up the cheokhwabi, coastal defenses that still remain on the island.
While on the cusp of war with Russia in the early 20th century, Japan pointed to Gadeokdo Island as a prime location to prepare for battle against Russia's navy. Guns and artillery were set up around the island, which was further expanded militarily after the conflict.
To this day, the island remains important for South Korea. The country's naval academy and submarine force command are both located there, and now it will be the site of Gadeokdo International, Busan's brand new state-of-the-art airport.

▲ Gadeokdo Island's New Port is Busan's beating heart. (Source: Kwon Seonghoon)
■ Driving growth
Gadeokdo Island is now representative of Busan's bright future. Along with the airport, the site is also home to the Busan Newport project, which is being hailed as the new heart of the city. The current port has reached capacity, and the New Port project aims to make room and improvement for the cargo of the future. Unlike the current port, the Newport will feature reprocessing and port automation facilities. The Newport is also connected by rail. While used exclusively for cargo at the moment, it is possible that the train will accept passengers once the airport is constructed and operational. The Noksan National Industrial Complex, which aims to become the center of Busan's industry, is also under development on Gadeokdo Island.
The new airport on Gadeokdo Island will repair many problems currently plaguing Gimhae International Airport. Despite being an international airport for commercial flights, Gimhae airport is shared by civilian airlines and the nation's air force. This is problematic on its own, but especially when noise pollution makes flights possible exclusively between 6 a.m. and 11 p.m and is a problem residents have complained about for years. Furthermore, large aircraft have difficulty taking off and landing from its shared runways. The landings in particular can be bothersome due to the turbulence.
Gadeokdo Island's new airport will make it possible for large planes to take off 24 hours a day, which will mean that passengers will be able to travel internationally from Busan whenever they choose and without having to travel to Incheon International Airport beforehand.
The new airport in Gadeokdo will also go a long way in improving logistics for Busanites and travelers, and it will also help to attract more people to the city for tourism and transfers. Overall, Gadeokdo Island will become Busan's economic and transportation hub, connecting the land, sea and sky into perfect synergy for Busanites, Koreans and citizens of the world.
■ Gadeokdo's future
While Busan eyes 2021 as the year it puts the pandemic in the ground, it also plans tourist development of Gadeokdo Island. Already, the island features convenient and picturesque roads for driving, trails for walking and sights for seeing. The island's main attractions are Yeondaebong Peak, Dahang Observatory, Saebaji's artificial cave, Oeyangpo Port and local lighthouses.
◎ Yeondaebong Peak
Grab your hiking boots and reach Yeondaebong Peak via its beautiful hiking trail, which is the island's most famous. Historically, the summit was used for signal fires warning of imminent foreign invasion. At almost 500 meters high and taking two to three hours to scale, visitors to it, will see why the peak was given this most important job in the line of national defense. From the top, take in the gorgeous view encompassing Oeyangpo port.
▲ Marvel at the emerald sea that sparkles at Saebaji. (Source: Kwon Seonghoon)
◎ Dahang Observatory and Saebaji
Dahang Observatory is a must-visit on Gadeokdo Island. Once here, you'll be able to see a view you may very well have never seen before. A quiet fishing village sits below waiting for the eye of your camera. Look upon the scenic view and walk along the path to Saebaji, a small and picture-worthy fishing village. Take photos at its local dock and unique lighthouse that serves as the village's mascot.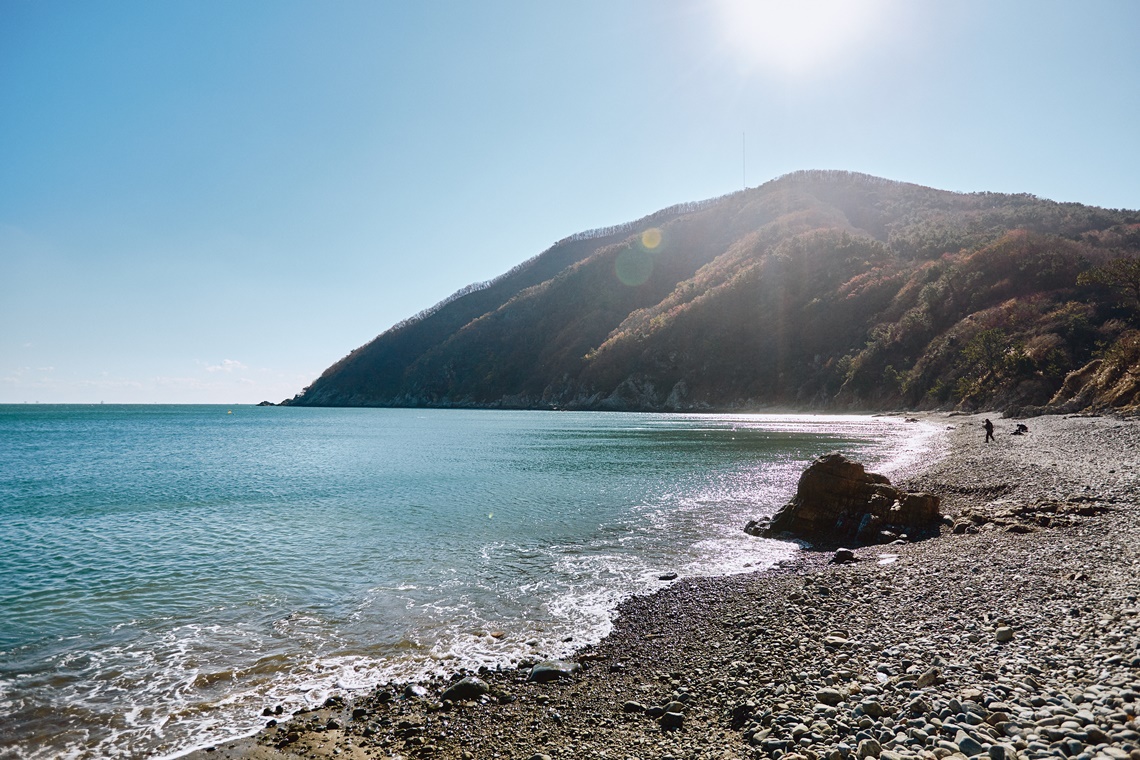 ▲ The island is home to some beautiful natural beaches. (Source: Kwon Seonghoon)
At the end of the village, you can visit Saebaji's man-made cave, which was built by the Japanese to defend themselves against aerial bombings and other assaults during World War II. Explore what the cave has offer, then take a stroll along the coast, and listen to the elegant sound of the waves as they crash along the shore.
※ How to get there: Hadan station (metro line 1), exit 3. Take bus 520, and get off at Dahang Observatory.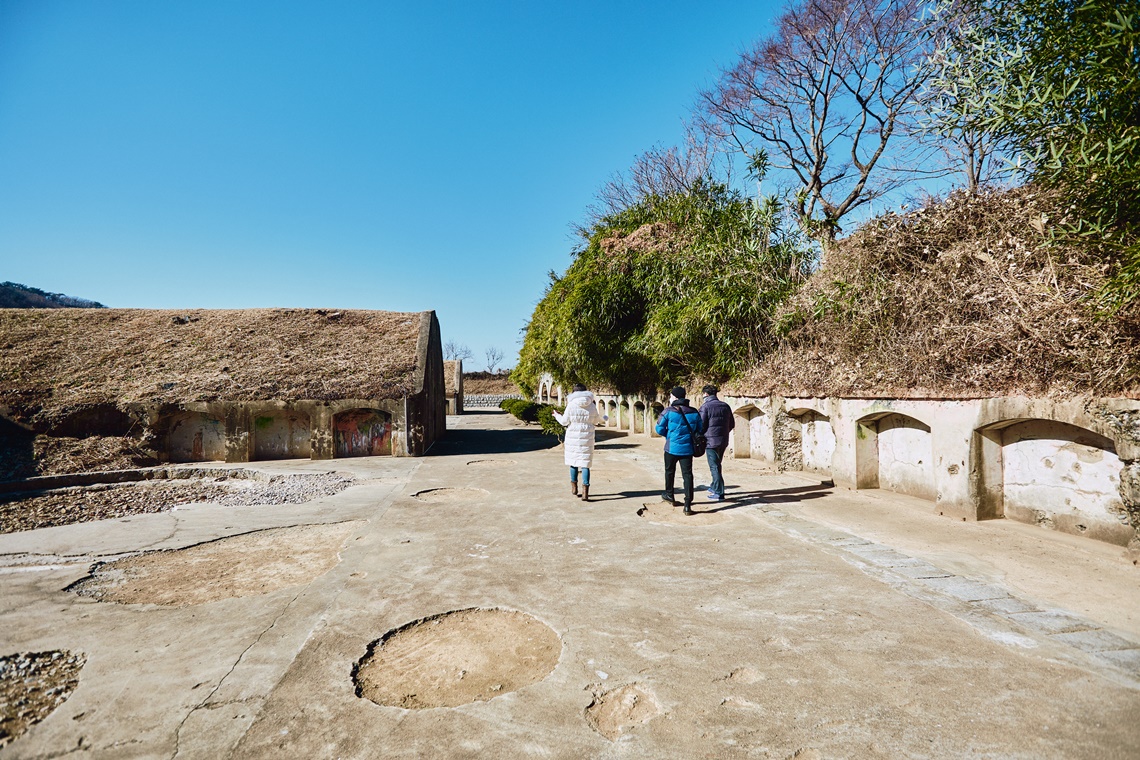 ▲ Busan's past comes to life on Gadeokdo Island. (Source: Kwon Seonghoon)
◎ Oeyangpo Port
Oeyangpo Port is the former home of households that were kicked out by Japanese forces in the past. In preparation for what would be known as the Russo-Japanese War of 1905, Japanese soliders set up Howitzers and light guns as coastal defense against Russia's imposing navy.
While the locals were able to return to their homes after Japan's defeat in 1945, many of the military installations, such as a spot used to fire artillery, may still be seen today. As a result of Gadeokdo Island's use as a strategic military position and South Korea's own past with foreign powers, Oeyangpo Port and the island serve as a fascinating tourist attraction and a sobering history lesson.
◎ Lighthouses
Gadeokdo Island is also famous for lighthouses both old and new. One structure, constructed in 1909, stands next to its modern sibling, built in 2002. The former is regarded to be the oldest lighthouse in the country. At two stories, it was built in the contemporary Western style. It is said that a Japanese lighthouse keeper resided in it, and so an old tatami mat is still inside. In September 2003, it was designated as one of the nation's tangible cultural assets. The newer lighthouse is about 40 meters tall, making it the country's second tallest.
Permission in advance is required to visit either lighthouse, because they are both under military care and supervision. Visitors to the lighthouses should sign in upon entry, and while photographs are restricted, they are not entirely forbidden, so make sure your phone is charged!
COVID-19 has put further limitations upon visitors. For more information, visit the website of the Busan Regional Maritime Affairs and Port Office.
Website: portbusan.go.kr