Enjoy Busan
Stand Up Paddle Boarding is making waves

Crazy Surfers crew members pose for a photo with the Diamond Bridge in the background.

Surfing might be the more famous, more glamorous activity on the ocean. But, Stand Up Paddle Boarding might just be the most fun. Here in Korea, interest in this watery activity has been steadily increasing. With coverage in a number of popular television programs over the last few years, the Stand Up Paddle Board promotion machine has achieved significant returns on its investment. That Stand Up Paddle Boarding strengthens core muscles and is also easy to learn, even for beginners, means the sport's popularity is likely to only increase for years to come.
There are almost 100 Stand Up Paddle Board-related clubs in Korea, comprised of about 10,000 members. Popular SUP spots outside Busan include Hamdeok and Gwakji beaches on Jeju Island, Gyeongpodae Pavilion and Sokcho in Gangwon-do (province) and the Han River in Seoul. But, Gwangalli and Dadaepo beaches offer lessons a lot closer to home.
A SUP competition held in Gwangalli.
So, what is it? Stand Up Paddle Boarding is a marine sport where a participant stands on the board, then paddles with oars in order to propel themselves forward. The activity originated in Hawaii as a way for people to travel from one island to another.
It's easier to find balance on a Stand Up Paddle Board than on a surf board. The high level of buoyancy gives increased stability, resulting in a relatively easier way to ride. No wind is needed, and it can be enjoyed anywhere with access to water.
Gwangalli Beach in particular offers very suitable conditions for Stand Up Paddle Boarding, such as tranquil wind and waves (plus, easy access to a number of great bars and restaurants after you're done). Stand Up Paddle Board lessons received funding from Suyeong-gu last year, which allows all visitors to partake in SUP lessons for free.
*Busan loves marine sports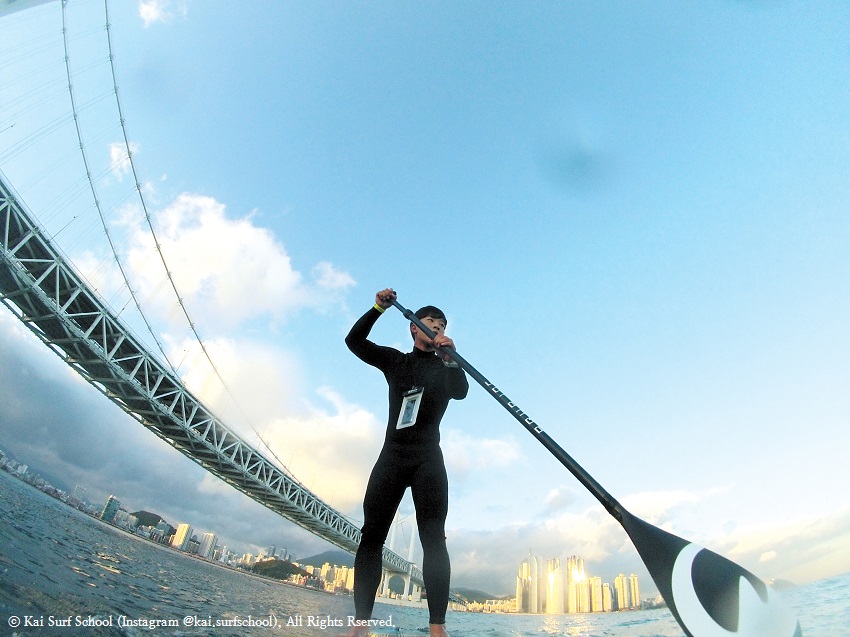 The city has recently designated Stand Up Paddle Boarding as a "promising business field," with Busan planning to create promotion and tourism products to support it. The city has been pushing marine sports in general for several years, starting with launching the Busan Leisure Marine Show in 2015.
Besides paddle boarding in Gwangalli, there's surfing at Songjeong Beach, kite boarding at Dadaepo Beach, kayaking at Songdo Beach, canoeing and rowing in Gangseo-gu (district) and more.
Where to go
■ Crazy Surfers

Sunrise and sunset programs are offered by Crazy Surfers.

Crazy Surfers is a Stand Up Paddle Board lesson and rental business situated near Gwangalli Beach. Crazy Surfers holds an International Teacher Certificate from ASI (Academy of Surfing Instructors) and the business 15 years of experience, primarily in the Gwangalli area.
Three-hour equipment rental and basic lesson packages at Crazy Surfers can be purchased for 32,000 won. Their popular two-hour sunrise/sunset packages, held from 6 to 8 a.m. and 6 to 8 p.m., cost 25,000 won each.
Crazy Surfers also offers various SUP-related packages and events including SUP yoga, children's classes, paddle race and more. Participants can capture memories of their watery adventures with special photos taken with the Diamond Bridge in the background. The store is equipped with shower booths, lockers for personal belongings and a washing machine.
-Address: 29, Gwangnam-ro 48beon-gil, Suyeong-gu (https://goo.gl/maps/tDLGKZ8xmFq)
-How to get there: Geumnyeonsan Station (Metro line 2), exit 5. Walk for three minutes. Once you reach Starbucks, turn left and walk another five minutes along an alley. Crazy Surfers is located behind the telephone pole just before passing Gwangnam Elementary School.
-Information: crazysurfers.co.kr (Korean), @crazysurfers_no.1 on Instagram
■ Kai Surf School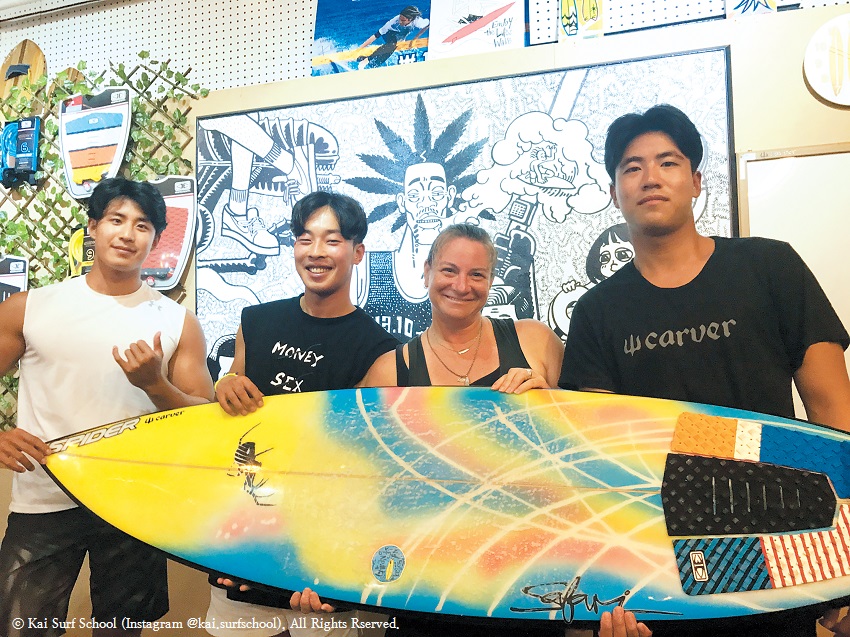 Kai Surf School offers lessons in English.

The proprietors of Kai Surf School want to make it hard to resist choosing their business for all of your Stand Up Paddle Boarding needs. First, any foreigners who attend lessons at Kai Surf School can be instructed in English by a foreign instructor. Kai Surf is also extremely easy to get to from Gwangalli Beach. A wide variety of lessons are available, as well, including paddle board, surfing, carver skateboarding and more. Indeed, not only are there plenty of surfboards in their shop, there are skateboards, as well.
Kai Surf employees hold International Surf Instructor certifications as well as life-guard qualifications. Three-hour rentals and basic Stand Up Paddle Board instructions cost 30,000 won.
-Address: 133, Gwanganhaebyeon-ro, basement floor, Suyeong-gu (https://goo.gl/maps/Mgc9qGKVtRS2)
-How to get there: Geumnyeonsan Station (Metro line 2), exit 1. Walk toward Gwangalli Beach. Turn right when reaching the beach and then pass an apartment complex. Cross the next street and pass the Ministop convenience store. Kai Surf's wooden building can be seen from here.
-Information: kaisurf.co.kr or "kaisurfschool" on Facebook
■ The Surf

Dalae, the surfer dog of Songjeong Beach, is a regular fixture there.

For those looking to enjoy Stand Up Paddle Boarding elsewhere in Busan, The Surf is a great option to consider.
The Surf is located in Songjeong, which has developed a reputation for being a dog-friendly SUP destination. Indeed, the Songjeong Beach mascot has become "Dalae,"the surfer dog. A dog surf competition was even held at Songjeong Beach two years ago. The Surf offers strong curriculum with highly experienced instructors with the kind of know-how SUP newcomers are looking for when choosing a school. Participants can learn through a number of avenues including hands-on instruction, videos and more. Their founder has over 10 years of surfing experience and most coaches offer at least five years.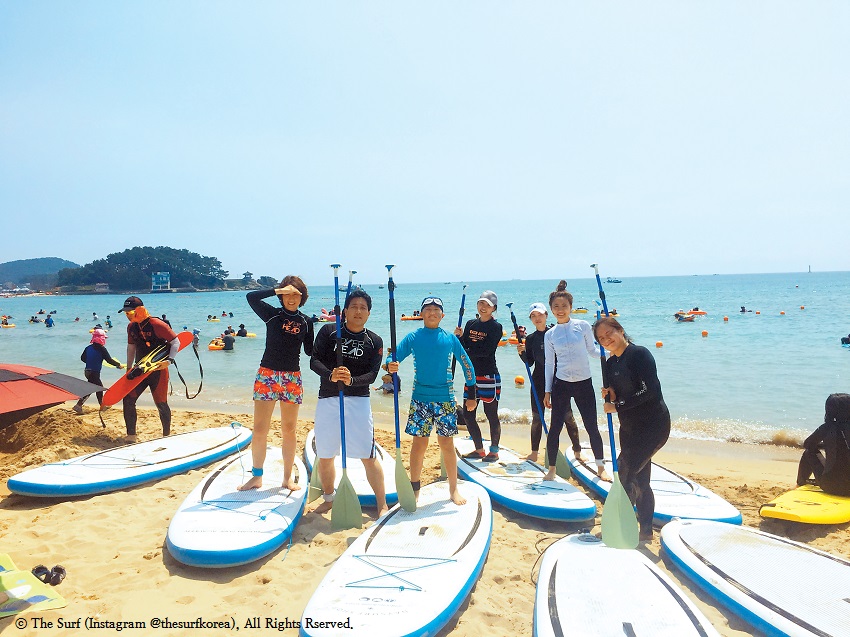 Getting ready to get on a paddle board at Songjeong Beach.

A wide selection of equipment is available to choose from, including 120 paddle boards, wet suits in a multitude of sizes and more. Many SUP programs are available, including sunset surfing, fishing and nighttime SUP. The Surf will take photos of participants that they can take home as souvenirs.
-Address: 36-9, Songjeongjungang-ro 36beon-gil, second floor, Haeundae-gu (https://goo.gl/maps/ycp7bk4tPw82)
-How to get there: Haeundae Station (Metro line 2), exit 7. Take buses 38, 39, 63, 141, 200 or 1001 and get off at Songjeong Beach entrance bus stop and walk toward the beach. Find the Starbucks near the shore and walk straight along the alley between Starbucks and the beach convenience store 50 meters.
-Information: thesurf.co.kr, @thesurfkorea on Instagram