Enjoy Busan
Many flavors of fantastic cafes for many tastes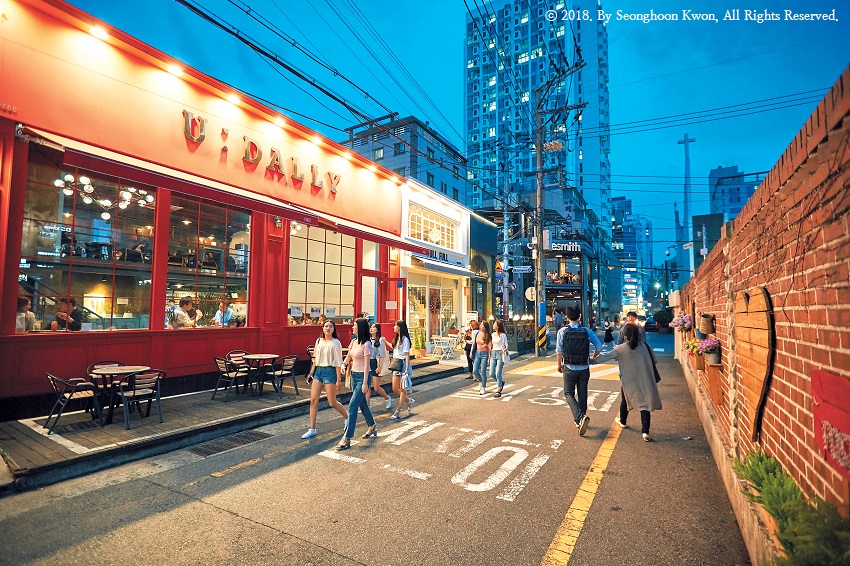 Great coffee can be found all over the city. With so many options, however, where should you go? A great first choice should be to check out one of several designated "cafe streets." This month, Dynamic Busan offers a primer on where to achieve your caffeinated nirvana.
Jeonpo Cafe Street
The Seomyeon area is easily one of Busan's busiest hubs. Filled with restaurants, bars, stores and lots of people, it can be a little overwhelming, at times.
But, there is respite not far from the heart of down-town. Just a short walk away lies Jeonpo-dong (neighborhood). It's where Jeonpo Cafe Street provides numerous calmer opportunities for a lovely cup of coffee, a tasty dessert and unique atmosphere.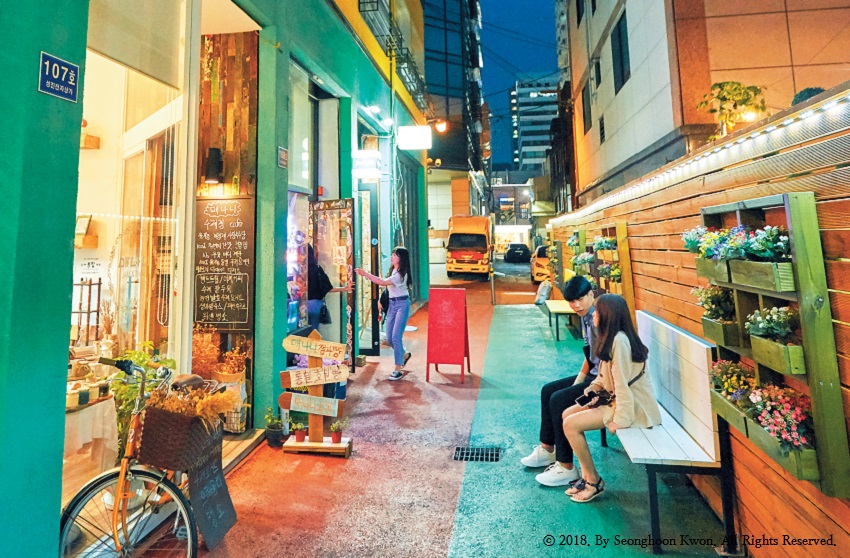 More than one street, the Jeonpo Cafe Street area occupies several roads in an area that had previously housed mostly industrial shops. Starting in 2009 with only a few businesses, word-of-mouth helped gain the area a loyal following and new businesses, expanding beyond coffee to also offer Japanese-style curry and sushi, Thai food, soups, burgers, teas, beer and much more. The area's popularity really surged last year, however, when The New York Times included Jeonpo Cafe Street when citing Busan in its annual "52 Places to Go" list for 2017. While new cafes continue to pop up around the area, remnants of that old industrial world remain, lending this area an interesting identity that can be enjoyed over a well-crafted cup of coffee, dessert, sandwich or simply a happy stroll.
■ Coffee Museum
Korea loves coffee. In fact, it was widely reported in 2015 that coffee had surpassed kimchi as the country's most consumed food product. So, it makes sense that an area focused on coffee and coffee culture would have a coffee museum.
Located within the Jeonpo Cafe Street area, this new museum features more than 280 coffee-related items. Items of note include coffee grinders, roasters, threshers, brewing devices and classic coffee cups. Some items are more than 100 years old. A soft opening is currently underway. Once the museum is officially open, foreign interpreters and guides are expected to become available.
-Admission: Free
-How to get there: Jeonpo Station (Metro line 2), exit 7. Turn left. The museum is on the left, on the second floor of the Landmark building.
■ Art Market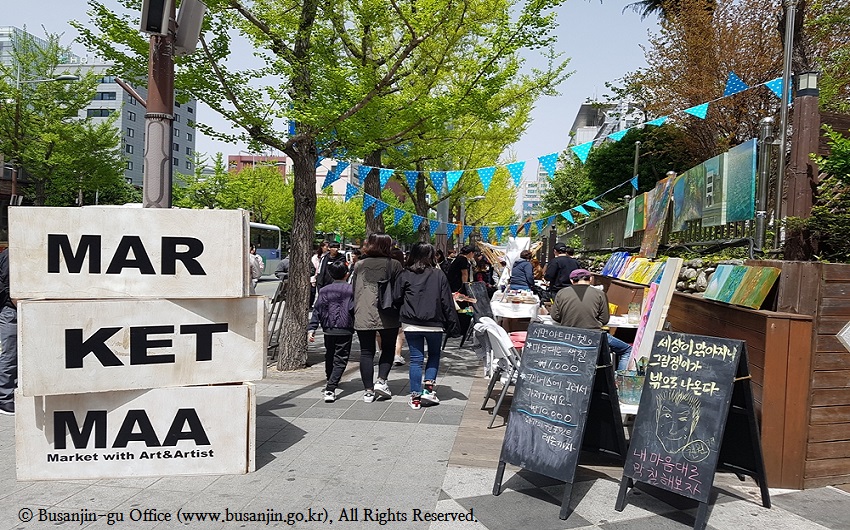 This market offers a number of handmade goods from local artisans. It is open along the main road that divides Jeonpo and Seomyeon at the beginning of Jeonpo Cafe Street every weekend until the end of the year. Nearly 50 booths welcome customers on Saturdays and Sundays from noon to 6 p.m. Homemade candles, accessories, pouches, cookies and more are available for sale.
-How to get there: Jeonpo Station (Metro line 2), exit 7. Turn left and walk straight until the next traffic signal. Turn right and walk until you see the market.
■ Cafes to visit
▷FM Coffee House
A member of the first generation of Jeonpo Cafe Street. Their flagship location (a satellite cafe is located across from Seomyeon NC Department Store) used to be home to a hardware store and car park until 2010. Despite having stiff competition from international chains and other popular independent shops in the area, FM Coffee House is often filled to capacity. Coffee beans are roasted on the first floor, which also has a number of (often occupied) seats. A second floor offers more seating, both inside and outside, offering a perfect view of the street below.
-Address: 26, Jeonpo-daero 199beon-gil, Jeonpo
-How to get there: Jeonpo Station (Metro line 2), exit 7. Turn left. Walk one minute and FM Coffee House is on the right.
-Information: @fmcoffeehouse on Instagram
▷Coffee Salon Louis
Located near Kyungnam Engineering High School, Coffee Salon Louie is one of the oldest constantly-operating cafes in the area, opening in 2009. With its interesting interior, and most importantly outstanding coffee, this cafe has withstood every passing fad thrown at it. Wooden tables, soft lighting and a generally warm atmosphere make a cup of coffee or other drinks, including black tea or a chocolate beverage made of Belgian chocolate, go down even smoother.
-Address: 41, Jeonpo-daero 175beon-gil, Jeonpo
-How to get there: Jeonpo Station (Metro line 2), exit 3. Turn around and turn right. Walk a couple minutes to find the Coffee Salon Louie on the left. Its sign is written in Korean, "커피 샬롱 루이."
-Information: @coffee_louis on Instagram
▷Cafe 3002
This charming destination developed a reputation for its fun, quirky interior. But, lately, it has gained even stronger recognition for its pour over coffees made with fine beans from Guatemala and Ethiopia. The first floor is arranged with tables and chairs, while upstairs people must sit on the floor in a more traditional Korean style.
-Address: 43-13, Seojeon-ro 38beon-gil, Jeonpo
-How to get there: Jeonpo Station (Metro line 2), exit 7. Turn left, then immediately turn right. Walk three blocks and turn left. The cafe is on the right. It is closed on Tuesdays.
Songjeong Cafe Street
Songjeong Cafe Street, while not as centrally-located as the one near Seomyeon, is still worth a visit, especially for those with personal transportation.
While Songjeong Beach has gained popularity in recent years, it's still generally quieter than its more famous neighbor, Haeundae Beach. Known as a good place to surf, it has also become known as a good place to get a great cup of coffee. Both local and franchised cafes have found homes here, running the gamut from single-story dwellings to two, three, even four stories, as well as rooftop seating in some.
-How to get there: Centum City Station (Metro line 2), exit 1. Take bus 39, 40, 63, 141, or 181. Get off at the Songjeong Beach bus stop. Walk toward Gudeokpo-gil for 15 minutes.
■ Cafes to visit
▷Port 1902
Located at the end of Songjeong Beach, Port 1902 is known for fantastic atmosphere, not the least of which is supported by a swimming pool. Trendy cafe by day, it transforms into a lounge bar at night. Their tiramisu cake, in particular, is recommended.
-Address: 170-5, Songjeonggudeokpo-gil, Haeundae
-Information: @port1902 on Instagram
▷Violet Atelier
Besides coffee, Violet Atelier also sells small souvenirs and even offers vacation rentals. In-season fruit juices such as green grape smoothies are very popular. Their lunch menu includes salads and sausages.
-Address: 64, Songjeonggudeokpo-gil, Haeundae
-Information: @violetcho8861 on Instagram
Mangmidan-gil Street
Mangmi-dong is becoming the latest hot spot for coffee consumers in Busan. This residential area has even garnered a new nickname, Mangmidan-gil, after the popular cafe area Gyeongnidan-gil Road in Seoul. The best thing about Mangmidan-gil is that, unlike other popular coffee-centric areas, this area remains very quiet. While there are many cafes, its residential surroundings ensure a certain consistent level of calm. The unofficial Mangmidan-gil area is divided into two sections, alleys between Mangmi metro station and Suyeong Sajeok Park, along the riverside. Many cafes near the Mangmi Station area are in renovated houses, which adds an instant level of ease and familiarity while enjoying a hot or cold beverage. Meanwhile, those along the Suyeong riverside have beautiful views of the water that cannot be beat.
■ Cafes to visit
▷Terarosa (Suyeong branch)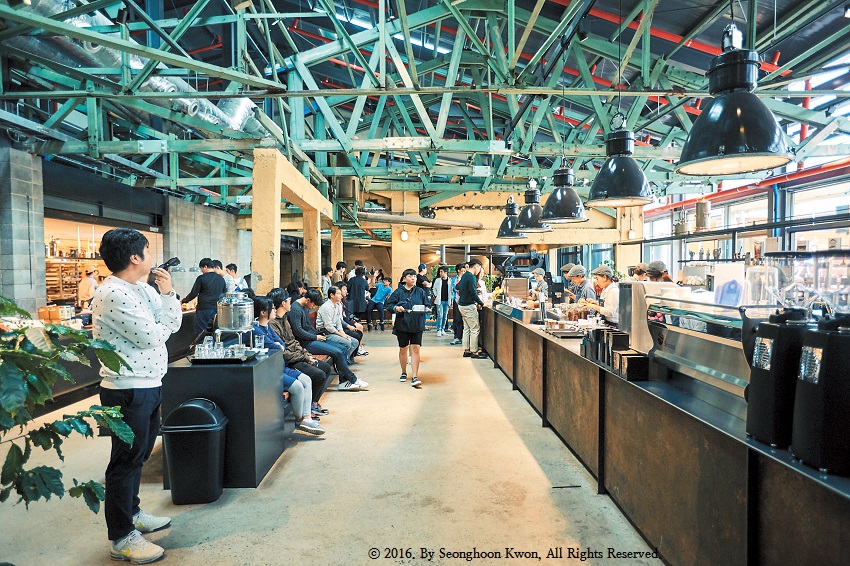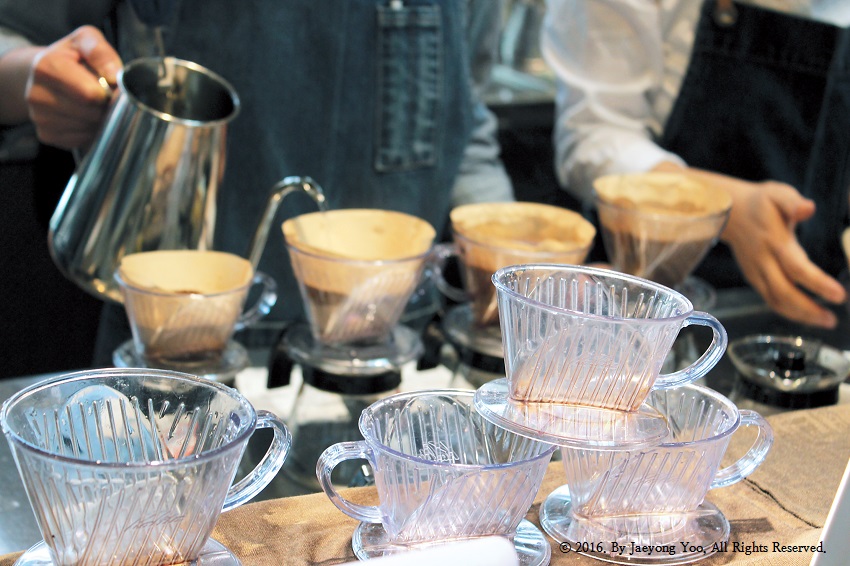 Located in the F1963 art complex near Costco, Teraosa is a very open and spacious cafe that is perfect for both single visitors or for very large groups. The wide-open exposed framework and industrial setting (working in conjunction with the buildings origins as a former wire manufacturing plant) are unique and impressive. Exhibition halls, the YES24 book store and the Praha 993 Czech craft beer and restaurant here make this a must-visit.
-Address: 20, Gurak-ro 123beon-gil, Suyeong-gu
-How to get there: Suyeong Station (Metro lines 2 and 3), exit 1. Take bus 54 and get off at the KISWIRE bus stop. Or, Mangmi Station (Metro line 3), exit 2. Transfer to Suyeong-gu mini bus 2 and get off at the Sanjeong Apartment bus stop.
-Information: terarosa.com
▷Fruto Fruta
This business sells fresh fruits and blended fruit juices. Fruto Fruta remains popular, despite being one of the first cafes to open at Mangmidan-gil's inception. It is small, but offers a mighty selection inside. Smoothies made of seasonal fruits such as mango and strawberry, mixed juices made of mixed melons and Korean melons, as well as fruit cups and assorted fruit packages are available to purchase.
-Address: 35, Yeonsu-ro 357beon-gil, Suyeong-gu.
-How to get there: Mangmi Station (Metro line 3), exit 2. Turn left and walk straight several blocks past CU convenience store. Fruto Fruta is on the left.
-Information: @fruto_fruta on Instagram
▷Things to Do
Their cakes, including red velvet, Oreo cookie and blueberry will make most mouths water. Different cakes are served daily and customers can purchase either a whole one or by the slice.
-Address: 27-4, Yeonsu-ro 379beon-gil, Suyeong-gu.
-How to get there: Mangmi Station (Metro line 3), exit 2. Walk straight and turn right at the next corner. Walk straight three blocks and turn left. Things to Do is up the road and on the left.
-Information: @ttdchef on Instagram