Enjoy Busan
Eat, drink and browse Yeongdo
​​
Should you find yourself on the hunt for perfect pics, the best brew or a serene space, then venture to the record-breaking P.ARK for one-of-a-kind open layouts and multitiered architecture.
 As spring begins, discover the newly transformed Yeongdo Island, now dubbed the "Coffee Island." The region is blooming with new unique and eye-catching cafes, many of which you can visit to witness a multitude of coffee processes. Experience a range of styles and find the perfect one to suit your tastes, from small cozy interiors to the country's largest cafe, immersing yourself in the coffee culture of Busan's Yeongdo Island.
Coffee in Korea, beans in Busan
 According to a 2018 survey, Korea's annual average coffee consumption per capita was 353 cups, more than double the global average of 132 cups. Over the years, these numbers have increased, and interest in coffee culture followed suit. Busan, a global hub in its own right, has also became the country's coffee hub, supplying 95% of its coffee beans.
 Yeongdo Island, once a maritime industrial center, is becoming a frequented travel destination and the core of the city's coffee culture. From under 10 cafes in 2012 to having over 200, it earned the nickname "Coffee Island."
​
Piles of coffee beans welcome guests to the beginning of the brewing process.
​

Customers have the rare opportunity to be served by award-winning baristas.
Momos Roastery & Coffee Bar (모모스 로스터리 & 커피 바)
 From humble beginnings in 2007, Momos Coffee has grown into one of the biggest specialty coffee brands in the country. In December 2021, Momos Coffee opened "Momos Roastery & Coffee Bar" on Yeongdo Island. Keeping with the island's roots, the new locale's interior retains its previous warehouse-like feel with its open floor plan, high ceilings and industrial decor. Floor-to-ceiling windows invite visitors to experience the coffee brewing process, from bean storage to packaging or drinking.
 At this branch, you can find world-class competition winners serving coffee, including current co-head of Momos Coffee Jeon Joo-yeon, the first Korean to win the World Barista Championship in 2019 and Charlie Chu Kyoung-ha, winner of the 2021 World Cup Tasters Championship. Also, once customers order they are able to recieve one on one barista service, complete with a detailed explanation of the coffee, as they watch their beverage being prepared.

※ Address: 160 Bongnaenaru-ro, Yeongdo-gu
※ Hours: 9 a.m. to 6 p.m. every day.
※ Website: momos.co.kr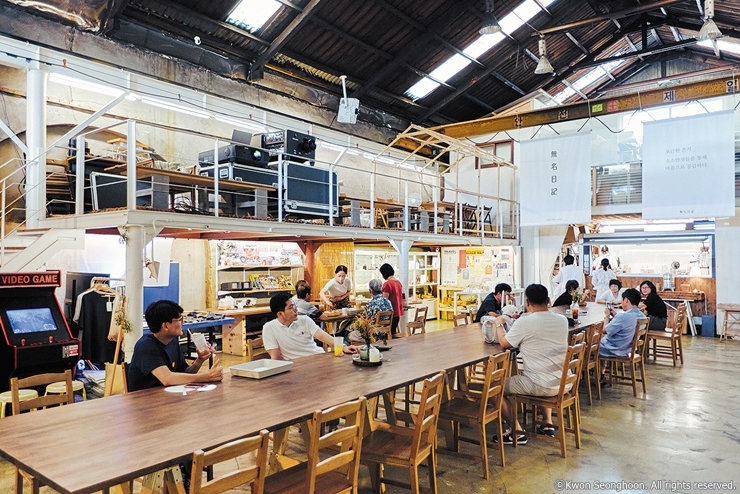 Take a seat to soak in the blend of modern and retro ambiance.
Cotton Diary (무명일기)
 Recently converted from an abandoned 1950s warehouse sits Cotton Diary, a new cultural space. Below the original ceilings stand contemporary-esque white walls around luxurious wooden tables. During the day, skylights help illuminate the interior and steam from the coffee machines, creating a dreamlike experience. This multifaceted spot also offers a unique selection of goods for sale, such as clothes, diffusers and beer. Sometimes, the space plays host to events such as garage sales and concerts.
 One of the signature menus at the cafe is the Yeongdo-soban, a Korean-style brunch platter filled with the island's specialties. It consists of a croquette made with sweet potatoes from Jonaegi (said to be location of Korea's first attempt at cultivating the root vegetable), a salad with vegetables from Bongnaesan Mountain, pesto made with gamtae (bright green regional specific seaweed [Ulva prolifera]) and rice balls. Reservations are highly recommended.
※ Address: 178 Bongnaenaru-ro, Yeongdo-gu
※ Hours: Noon to 10 p.m. every day.
※ Website: cottondiary.kr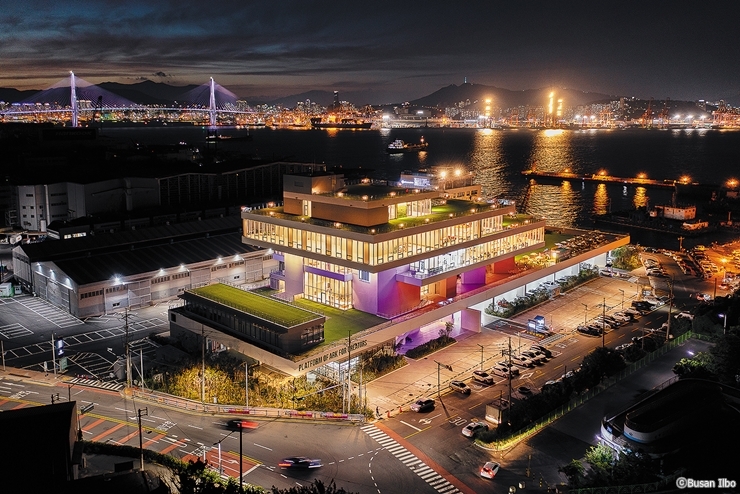 A dynamically stunning culture complex sits atop a former shipyard.
P.ARK (피아크)
 The largest cafe in Yeongdo and all of Korea is the 1,693 square-meter cultural space entitled "P.ARK," which is meant to represent a "Platform of Ark for Creators." After its opening in May 2021, the structure's unique exterior and square footage have made this locale a Yeongdo landmark.
 On the first floor, customers can visit the P.ARK bread factory, where 30 patissiers diligently bake fresh pastries and desserts. An outdoor garden on the second floor provides greenery and a place to enjoy a wonderful time with your loved ones on the picnic mat when the weather is allowed. The P.ARK Cafe & Bakery, located on the fourth floor, serves a wide selection of pastries and desserts, sweet and savory. The interior was curated to bring the outer scenery in through the use of strategically placed large windows, giving guests easy access to overlook the sea. At night, visitors can enjoy the unforgettable night view of Busan Harbor Bridge's LED lights.

※ Address: 180 Haeyang-ro 195beon-gil, Yeongdo-gu
※ Hours: 10 a.m. to 11 p.m. every day.
※ Website: p-ark.kr