Enjoy Busan
Cutting edge media art
​
In February, the coldest month in Korea, people want to find indoor places to relax. Why not spend some of your leisure time at museums that feature various media art exhibitions?
Sit back, relax and dive into a sea of tranquility to experience the endless waves of relaxation in the main hall of MUSEUM 1's breathtaking media art installation, on display till May 7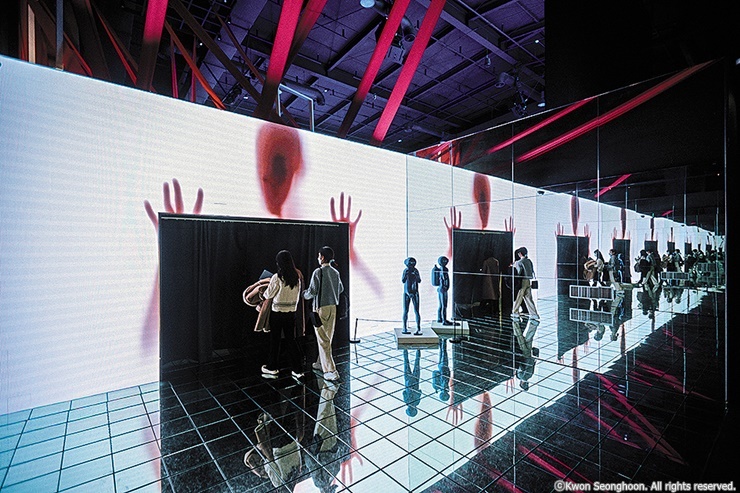 MUSEUM 1 simultaneously provides movement and mirrors.
Alternately, bask in contrasting dark walls and dynamic media.
Museum-goers get to be surrounded by cats without pesky fur.
MUSEUM 1, media art museum
 White light pours in behind large installations as red, blue and yellow lights cover the ceiling and floor. Soon after, they change to pale oranges, dark blues and various purples. Cheerful music floods the wide space as constantly changing images, such as water and leaves, rotate on the massive screens.
 In 2019, the Kunst1 group established "Museum DAH." The two-story 2,314-square-meter building is the first media art exhibition center in Korea. Around this time last year, it was reborn as "MUSEUM 1," a locale that introduces art in diverse medi-ums, including video, installation, paintings, sculptures and more. To commemorate the reopening, the "Healing Technology" exhibition was added to the 80 million LED light-emitting diodes installed on the existing museum's floor, ceiling and walls.
 Located on the first floor in the main hall is "Miracle Garden," the focus piece. It consists of a 6,000-inch super-large LED panel that screens media art. Museum officials hope it provides visitors with a fantasy escape from reality. With a total running time of 58 minutes, the background of the space changes sequentially as the glass floor creates the illusion of interdimensional transport.
 Two other popular pieces are "Individual Sky," where visitors can see leaves surround the sky and "Someday I'll Fly," which features a school of fish spinning towards the sea. On the second floor is a lounge complete with a cafe offering coffee and tea. Venture around the museum to find other exhibits, installations and displays.
 The current "Healing Technology" exhibition is on display until May 7 and is recommended for those in need of comfort and relaxation. Contrary to many other museums, visitors are welcome to sit wherever they please; chairs and couches are even available throughout for guests to use. While they explore the hall, museum-goers can delve into the artists' thoughts and ideas behind their creations.
 In the main hall, media arts are on constant display, featuring 16 different videos with themes ranging from the sky to the ocean. Experience new-age media art on a whole new level at MUSEUM 1 located behind the Busan Cinema Center in Centum City, Haeundae.
Hours: 10 a.m. to 7 p.m. Monday through Friday.10 a.m. to 8 p.m. on weekends and national holidays.
Tickets: 18,000 won for adults, 15,000 won for adolescents aged 14 to 19, 13,000 won for children aged 48 months to 13 years and free for children under 48 months.
How to get there: Centum City Station (metro line 2), exit 6 or 8. Walk toward Busan Cinema Center for about five minutes.
Website: kunst1.co.kr/museumone
​
MUSEUM 1 etiquette
★ Preschoolers and elementary school students must be accompanied by a parent or guardian.
★ Tripods, backpacks, food and beverages must be left outside the exhibition hall.
★ The floor is mirrored, so you may want to consider this when choosing your outfit.
★ Please avoid making excessive noise and talking loudly.
★ Running, pushing, and roughhousing are not allowed in the museum.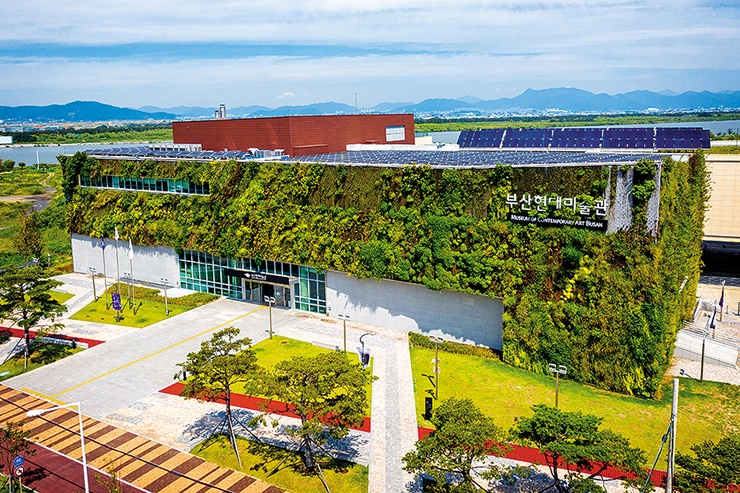 Vines envelop the public MOCA Busan. (Source: Visit Busan)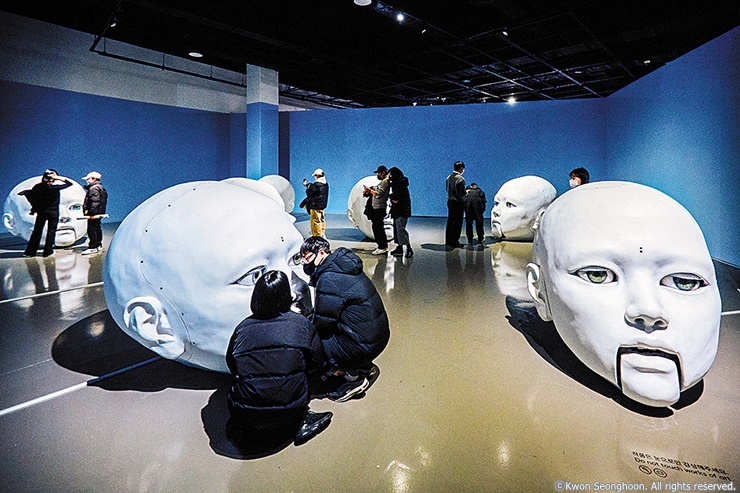 Head Eulsukdo Island to come face to face with modern art.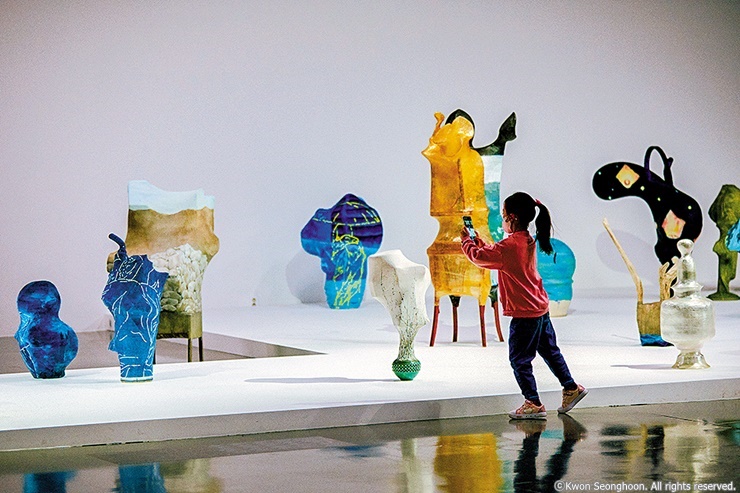 Certain exhibits are interactive as much as they are speculative.
​
Enthusiasts of all ages are encouraged to attend and enjoy.
Museum of Contemporary Art (MOCA) Busan
 Inaugurated in June 2018, the Museum of Contemporary Art (MOCA) Busan on Eulsukdo Island has since introduced interesting and experimental art spanning nature, humanity and new media themes. Enter the unique and captivating museum after gazing upon the creative exterior, resembling a box wrapped in greenery.
 The collection of varied plants covering the museum's exterior is art itself. "Vertical Garden" by botanist and artist Patrick Blanc is home to over 175 plants, including 30 Indigenous species, which change colors and shapes at varying times through the seasons, providing a new view for onlookers.
 Unlike its natural first impression, the inside is full of artificial beauty. The two-story building stretches over 5,000 square meters, equipped with five main exhibition spaces, a lecture room, a children's art museum and a cafeteria. MOCA displays a range of various installation art incorporating elements such as video, sound and light. Currently, three exhibitions await visitors "Whose Story Is This," "The Uncanny World," and "The Postmodern Child."
 "Whose Story Is This" proposes solutions and practices about various societal issues, including the environment, human rights and gender equality. The exhibition is named after the book "Whose story is this?" written by Rebecca Solnit, a social activist and cultural critic. Several types of art by artists spanning genders and generations are presented. One such piece is Hong Soun's "Memoriscape," an installation made of objects the artist found where the incidents took place, for example, the oil spill in the Yeosu, a city to the south of Busan.
 "The Uncanny World" focuses on everyday anxiety, specifically that which is based on Sigmund Freud and Martin Heidegger's theories. The feeling of being anxious is often considered a harmful and unwanted emotion. However, the exhibition highlights it as a core sense of humanity that helps us recognize unfamiliar things. The exhibition is composed of works by 11 artists from Korea, Thailand, the U.S. and the U.K. A unique piece featured is "Cooperating Machines" by Jinah Roh, an interactive AI robot head aiming to insight "uncanny" feelings. The exhibition runs till March 26.
 "The Postmodern Child" argues that the reason the state of existence of being a child is inevitably defined as one of discipline. The exhibition consists of 130 pieces presented in a way a child could easily understand. Young visitors are encouraged to focus their thoughts as they walk around. Footstep guide marks on the floor are installed to help children venture around the artwork. The free exhibition will end April 26 and the second part of this will open this May.
Hours: 10 a.m. to 6 p.m. Tuesday through Sunday. Closed on Mondays and national holidays.
How to get there: Hadan Station (metro line 1), exit 3. Take bus 168, 3, 520 55, 58, 58-1, 58-2 or 221.
Website: busan.go.kr/moca